With investors squarely focused on Europe's debt troubles, we're wondering if there are any foreign financials with bullish options sentiment.

Below we have compiled a list of foreign financial companies with a large number of open call option contracts relative to put option contracts, suggesting that options traders expect more upside from these names over the coming weeks.

Options data sourced from Schaeffer's (sourced on Sunday evening), short float and performance data sourced from Finviz.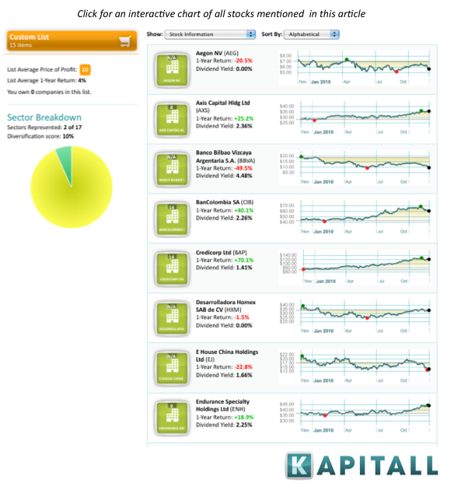 The list has been sorted by the Put/Call ratio.

1. AEGON N.V. (NYSE:AEG): Netherlands. Life Insurance Industry. Market cap of $9.96B. Call open interest at 688 contracts vs. put open interest at 106 contracts (Put/Call ratio at 0.15). Short float at 0.06%, which implies a short ratio of 1.09 days. The stock has lost -23.09% over the last year.

2. Mitsubishi UFJ Financial Group, Inc. (NYSE:MTU): Japan. Foreign Bank. Market cap of $66.96B. Call open interest at 4,687 contracts vs. put open interest at 877 contracts (Put/Call ratio at 0.19). Short float at 0.03%, which implies a short ratio of 1.61 days. The stock has lost -7.6% over the last year.

3. Homex Development Corp. (NYSE:HXM): Mexico. Property Management Industry. Market cap of $1.89B. Call open interest at 1,031 contracts vs. put open interest at 245 contracts (Put/Call ratio at 0.24). Short float at 8.65%, which implies a short ratio of 13.9 days. The stock has lost -3.29% over the last year.

4. E-House Holdings Limited (NYSE:EJ): China. Property Management Industry. Market cap of $1.11B. Call open interest at 3,942 contracts vs. put open interest at 1,367 contracts (Put/Call ratio at 0.35). Short float at 4.53%, which implies a short ratio of 7.09 days. The stock has lost -26.21% over the last year.

5. Montpelier Re Holdings Ltd. (NYSE:MRH): Bermuda. Property & Casualty Insurance Industry. Market cap of $1.32B. Call open interest at 346 contracts vs. put open interest at 125 contracts (Put/Call ratio at 0.36). Short float at 6.4%, which implies a short ratio of 6.68 days. The stock has gained 17.62% over the last year.

6. Endurance Specialty Holdings Ltd. (NYSE:ENH): Bermuda. Property & Casualty Insurance Industry. Market cap of $2.16B. Call open interest at 1,504 contracts vs. put open interest at 557 contracts (Put/Call ratio at 0.37). Short float at 7.39%, which implies a short ratio of 10.29 days. The stock has gained 20.84% over the last year.

7. XL Group plc (NYSE:XL): Ireland. Property & Casualty Insurance Industry. Market cap of $6.38B. Call open interest at 102,154 contracts vs. put open interest at 50,796 contracts (Put/Call ratio at 0.5). Short float at 4.01%, which implies a short ratio of 2.81 days. The stock has gained 10.15% over the last year.

8. Axis Capital Holdings Ltd. (NYSE:AXS): Bermuda. Property & Casualty Insurance Industry. Market cap of $4.41B. Call open interest at 829 contracts vs. put open interest at 414 contracts (Put/Call ratio at 0.5). Short float at 1.21%, which implies a short ratio of 1.7 days. The stock has gained 25.48% over the last year.

9. Banco Bilbao Vizcaya Argentaria, S.A. (NYSE:BBVA): Spain. Foreign Regional Bank. Market cap of $38.68B. Call open interest at 28,860 contracts vs. put open interest at 14,529 contracts (Put/Call ratio at 0.5). Short float at 0.24%, which implies a short ratio of 4.32 days. The stock has lost -45.16% over the last year.

10. Credicorp Ltd. (NYSE:BAP): Peru. Foreign Bank. Market cap of $9.65B. Call open interest at 635 contracts vs. put open interest at 342 contracts (Put/Call ratio at 0.54). Short float at 1.05%, which implies a short ratio of 1.77 days. The stock has gained 66.99% over the last year.

11. Terra Nova Royalty Corporation (NYSEARCA:TTT): Canada. Diversified Investments Industry. Market cap of $313.05M. Call open interest at 2,427 contracts vs. put open interest at 1,329 contracts (Put/Call ratio at 0.55). Short float at 0.72%, which implies a short ratio of 0.88 days. The stock has lost -5.82% over the last year.

12. Bancolombia S.A. (NYSE:CIB): Colombia. Foreign Regional Bank. Market cap of $11.95B. Call open interest at 265 contracts vs. put open interest at 149 contracts (Put/Call ratio at 0.56). Short float at 0.97%, which implies a short ratio of 2.8 days. The stock has gained 42.67% over the last year.

13. UBS AG (NYSE:UBS): Switzerland. Foreign Bank. Market cap of $30.69B. Call open interest at 54,724 contracts vs. put open interest at 30,810 contracts (Put/Call ratio at 0.56). Short float at 0.48%, which implies a short ratio of 2.2 days. The stock has lost -4.54% over the last year.

14. ING Groep NV (NYSE:ING): Netherlands. Life Insurance Industry. Market cap of $36.04B. Call open interest at 6,474 contracts vs. put open interest at 3,821 contracts (Put/Call ratio at 0.59). Short float at 0.08%, which implies a short ratio of 1.17 days. The stock has lost -22.39% over the last year.

15. Willis Group Holdings Public Limited Company (WSH): United Kingdom. Insurance Brokers Industry. Market cap of $5.54B. Call open interest at 220 contracts vs. put open interest at 131 contracts (Put/Call ratio at 0.6). Short float at 0.36%, which implies a short ratio of 1.07 days. The stock has gained 21.38% over the last year.

Disclosure: No positions