By Chris McKhann
Traders appear to be calling a bottom in a key global exchange-traded fund, even as it has given up 10 percent in the last three weeks.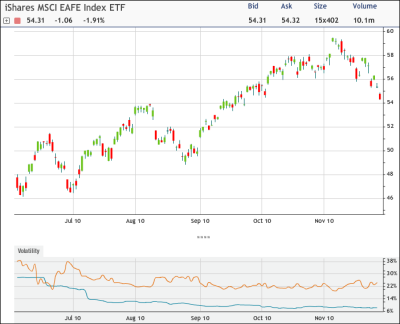 The iShares MSCI EAFE Index Fund (EFA), which follows Europe, Australia, and Asia, trades at $54.57 this morning. That is down 1.4 percent on the day as it continues to give up ground from a multi-year high of $59.51 set on Nov. 4. Shares bounced several times off support around $46 in May and June.
Almost 100,000 options trade in the EFA this morning, compared to an average of 18,000 a day in the last month. Calls make up fewer than 7,000 of that volume.
Leading the action are the March 45 puts, with almost 50,000 traded against open interest of 6,559. The largest block of 45,800 went for $0.96, which appears to have been sold on the bid.
This put selling is a bet that shares will remain above $45 through expiration. Shares haven't been that low since July 2009. The trader will be obligated to buy EFA shares for $45 at expiration if the stock is below that strike price at expiration.
Disclosure: No position