The Smart Grid projects have been a huge controversy nationwide since the roll-out of smart electrical meters to local neighborhoods. For those not familiar with this technology, Smart Grid is an interface with two-way communications to control energy usage and increase reliability and transparency between the utility suppliers and consumers.
Click to enlarge
This growth technology has hit the market running thanks to our current administration. The Obama administration provided utilities with a $3.4 billion injection of federal stimulus money to install smart meters in order to modernize the national grid.
Centerpoint Energy (NYSE:CNP), a major energy provider in Houston, has actually been installing the smart meters into my neighborhood within the past week. I will have to keep you posted on the usage change that is likely to unfold.
Click to enlarge
Centerpoint is currently working with eMeter, which supplies the software for the smart meter program; Itron (NASDAQ:ITRI), which provides the meters and network, and IBM (NYSE:IBM), which takes up the project management and integration duties.The program is estimated to deploy 2 million meters by 2013 with a total project cost of $640 million.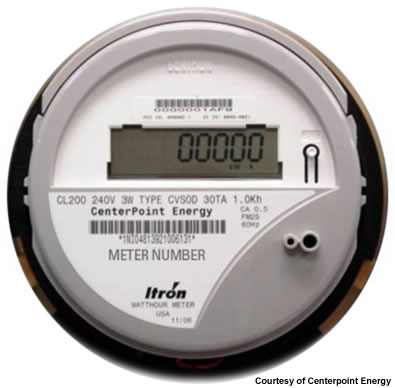 eMeter is a data management software company that implements a system referred to as EnergyIP. The system includes energy engage, customer portal, connect/disconnect, outage event management and deployment management. Don't be fooled though, eMeter doesn't limit itself to just meter systems. eMeter's systems range from billing systems to other specialized hardware and software. This is another company to put on your watchlist. Even though the company is not publicly-traded at this time, the proposed IPO doesn't seem to be far away.
Other heavyweight tech companies such as Google (NASDAQ:GOOG), Cisco Systems (NASDAQ:CSCO) and Microsoft (NASDAQ:MSFT) have also jumped into the Smart Grid arena.
Cisco teamed up with Duke Energy (NYSE:DUK) to develop and pilot a home energy management system. The pilot test will be conducted in Charlotte and Cincinnati where digital smart grid technology has been employed.
Click to enlarge
You might have seen the article in The Wall Street Journal regarding the smart meter, and the customer complaints that have ensued, which led to the state-ordered analysis by an independent research firm, Structure Consulting Group. The firm found the smart meter to be accurate for the most part and concluded the rise in usage was more due to either old meters under-reporting usage in the past, heat waves or changes in personal behavior.
The major problem here doesn't seem to be with the smart meters but rather the lack of knowledge on how to take advantage of this new technology. This is pretty typical when new advances are commercialized.
This problem could be easily solved by providing educational resources to the end-users. Not only will it help consumers become more familiar with the product, but this will also build a stronger customer service relationship with energy provider.
Wrap-up
Overall the Smart Grid technology seems to be well on its way. There are a number of new start-ups jumping into the mix, but the sector will definitely face some consolidation in the near future. I will be keeping an eye on eMeter in hopes of the announcement of its new IPO. The sky could very well be the limit for this potential IPO.
Disclosure: No positions.