In the seminal book The New Market Wizards, Monroe Trout, a legendary macro trader, once said that indexes were attracted to round numbers as if those round numbers were magnets. Trout liked to buy below round numbers, knowing that the index would likely rally to those round levels.
Nearly a quarter century later, with the S&P 500 is very close to the big round number of 2,000, just how relevant is the magnet effect?
Magnet caveat
There's quite a bit of evidence showing that good strategies don't last forever. Once a secret is out, many market participants will try and game the strategy. This cumulative gaming often reduces a strategy's effectiveness.
One example of this is when Richard Dennis, another market wizard, taught several of his students (or turtles) his method of turning $5,000 into $100 million.
Although his turtles made Dennis a great deal of money, several years after Dennis taught his turtles, his formula did not work. Below is a picture of the hypothetical returns of the turtle trend following strategy backtesting.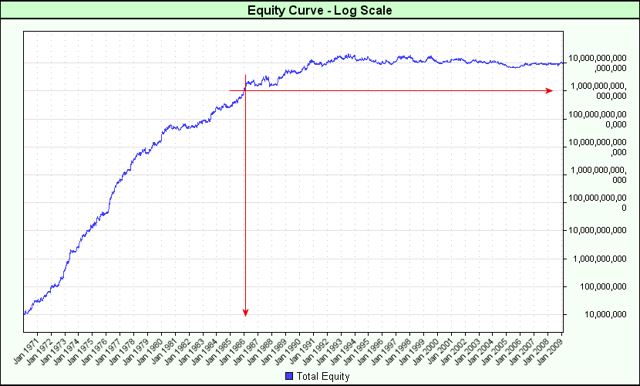 Click to enlarge
Source: financialfreezeframe.wordpress.com/2010/.../
While it is not known why the formula did not work, one can imagine that eventually, other market participants indirectly learned Dennis' formula and their cumulative efforts to game his strategy removed the alpha.
So from this perspective, because the magnet effect became public knowledge, it did not work as well as a simple indexing strategy because too many market participants were gaming it (such as using the level for liquidity).
Question of market top
Ultimately the question of whether the S&P 500 is attracted to 2,000 is a question of whether this is the top.
If the S&P 500 has topped, then the magnet effect is not relevant, as the price never reached 2,000.
If the S&P 500 has not topped, the magnet effect will be right in this instance as the S&P will rally to 2,000 and higher.
Personally, I think there are many indications that the market has topped. There is, for example, a great deal of geopolitical uncertainty that could prompt many large institutions to sell in order to preserve their gains. This could lead to a sustained rush to the exits. In addition, as the Federal Reserve tightens, companies may execute fewer stock buybacks as the cost of money rises.
Yet in some ways, history shows that this is not the top. The market is not supposed to be easy to figure out. When everything points to one outcome, the market often goes the other way. Given that it is almost impossible to call a market top, the odds are very good that this is not the top.
Barring sustained hyperinflation, stocks don't just go straight up. Eventually gravity will set in and this will determine whether the magnet effect works for S&P 2000 or not.
Disclosure: The author has no positions in any stocks mentioned, and no plans to initiate any positions within the next 72 hours. The author wrote this article themselves, and it expresses their own opinions. The author is not receiving compensation for it (other than from Seeking Alpha). The author has no business relationship with any company whose stock is mentioned in this article.