Summary:
The United States shale boom will make the US a larger oil producer than any country in OPEC with the exception of Saudi Arabia. EOG Resources (NYSE:EOG) is one of the largest oil and natural gas producers in the United States, with proven reserves in the U.S.A, Canada, Trinidad, the UK and China. EOG shares recently hit an all time high of $118.89 per share before declining about $10 per share into the second quarter earnings release on August 5th. I admit that I too held my breath a little bit when I saw the .03 cent EPS miss, because I knew in current market conditions it likely spelled one thing: selloff. But I think you should look past the slight EPS miss and consider all of EOG's catalysts for continued future growth.
Second Quarter Financial Results:
On Tuesday, August 5th, EOG Resources announced earnings for the 2nd quarter of 2014 of $1.29 per share (GAAP) - slightly missing consensus estimates of $1.32 per share. That includes a 17% increase in production year-over-year and a 33% increase in US oil and condensate production year-over-year. Lastly, EOG announced an annual dividend increase from $0.50 per share to $0.67 cents per share.
Bull Case:
In my eyes, the bull case for this company springs from three catalysts:
The first is EOG's vertical integration within the industry. The company self-sources the sand used in hydraulic fracturing from its mine in Texas. The company also owns crude-by-rail infrastructure which allows it to transport crude oil to the most profitable markets at a lower cost.
The second is EOG's oil production growth. EOG has recently expanded in three regions: the Permian Basin, the Eagle Ford, and Wyoming DJ Basin.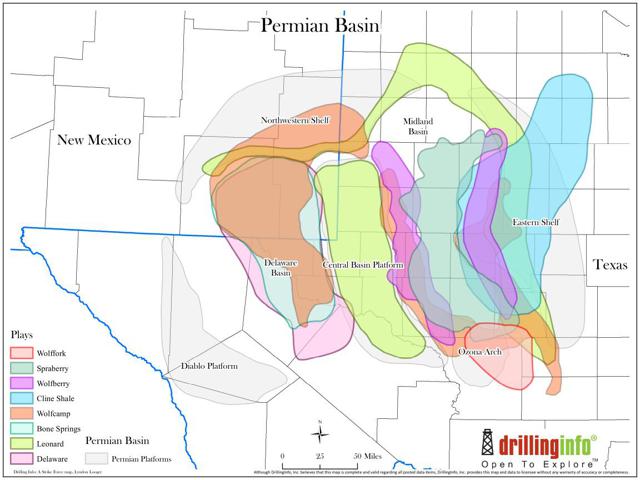 The Permian Basin has been a source of oil since the early 1900's. In the 1990's and 2000's when fracking technologies became available, oil exploration companies returned to the region to attempt to unlock oil reserves located deeper within the basin. EOG announced in its most recent earnings report that two of their wells in the new bone springs drilling section of the Delaware basin produced "robust" results. They plan to drill several more wells in that region. EOG currently owns 134,000 acres in the Delaware basin as well as 186,000 acres in other nearby basins. When speaking about the Delaware and Leonard regions in the earnings release, CEO Bill Thomas was quoted as saying:
"The Second Bone Spring Sand is yet another example of how EOG organically increases its high return crude oil inventory. Its potential, combined with down spacing results from the Leonard Shale play, positions EOG for steady long-term exploration and development activity in the Delaware Basin. We have the momentum to unlock additional high rate-of-return growth from EOG's oil-rich acreage for years to come."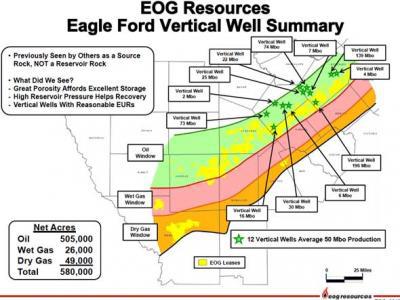 The second and perhaps most exciting region is the Eagle Ford Formation. The Eagle Ford could possibly be one of the largest onshore oil reserves ever discovered in the United States, and EOG is the largest landowner with a massive 639,000 acres! The US Geological survey estimates the Eagle Ford Formation holds 7 to 10 Billion barrels of oil. For comparison, at the end of 2013, EOG had total proven net reserves of roughly 2.1 billion barrels of oil equivalent. The Eagle Ford holds roughly three times EOG's total reserves! EOG mentioned in the second quarter conference call that their view on Eagle Ford has not changed since the last conference call.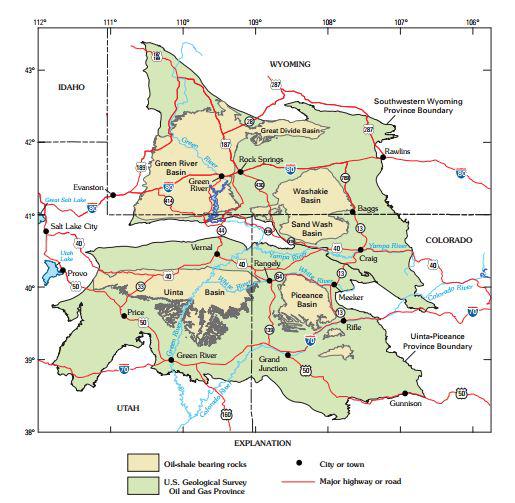 The third region is the Wyoming DJ Basin. It's another huge basin with an estimated 4 billion barrels of oil. EOG has 215,000 net acres in this area. The Wyoming plays alone could provide EOG 10 more years of inventory.
The third catalyst that will continue to drive EOG's growth going forward is a fairly new development in the oil industry called Downspacing. Downspacing is the practice of decreasing the space between wells in an attempt to see if a closer proximity between wells affects the production of either well. Previously, companies figured that putting two wells too close to one another would just make the wells compete for the same oil. But it has been shown that moving two wells closer together does not affect the production of either well.
In EOG's case, over the past two years they have begun to decrease the space between wells from 660 feet to 300 feet. That means they could significantly increase oil production on the same amount of land owned. If they keep downspacing current wells and build future wells at the new closer proximity, EOG could significantly increase their production. EOG is currently testing multiple spacing patterns to determine which is most efficient. I believe these four factors that I just discussed will play a huge role in continuing to drive EOG's production and earnings growth.
Valuation:
Forward P/E is a fair 16.7 (based on 2015 EPS of $6.52).
Forward PEG is a low 1.3 (based on 18.7 Forward P/E and 14.3% earnings growth rate in 2015)
Revenue growth projected at 31% for 2015.
EOG also has a healthy level of debt. Enough for expansion, but not enough to negatively affect the company's financial health:
Debt/Assets: 0.18
Debt/Equity: 0.37
Risks:
The risks included with this company would be a large drop in oil and/or gas prices in the long-term(short term is hedged), or if one of their oil and gas production zones proved significantly less reserves than previously thought.
Macro:
Given the current market conditions, this is a perfect time to start a position in EOG Resources. The Dow is trading off of recent highs and recent market weakness has affected EOG shares in an equally negative way. At this point in time I believe EOG is a BUY and will continue to be a buy on weakness.
Technical Analysis: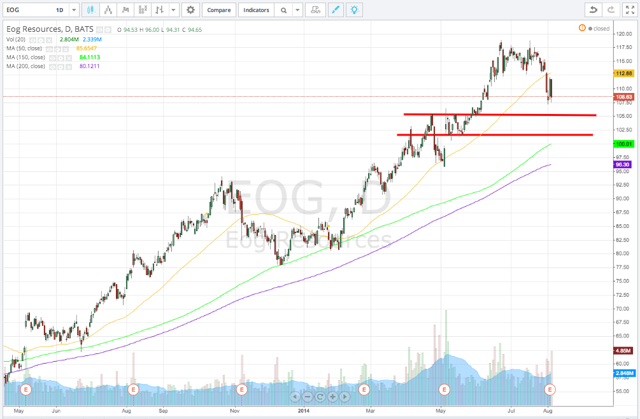 Here you can see EOG's recent pullback from the 52 week high. You can also see that it recently crossed below its 50-day moving average. This is normally a bearish sign, and depending on how much more the market declines, I think EOG may be forced down to the $105 support level or even its $102 support level which would be at the 150-day moving average. I believe you could start a position in EOG at current levels, but at those lower levels EOG would be a STRONG BUY.
Conclusion:
In conclusion, I believe EOG resources remains a BUY after the second quarter 2014 earnings results. Current analyst price targets range from $110 to $147.
Disclosure: The author is long EOG. The author wrote this article themselves, and it expresses their own opinions. The author is not receiving compensation for it (other than from Seeking Alpha). The author has no business relationship with any company whose stock is mentioned in this article.