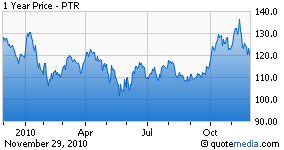 Buy-recommended PetroChina (NYSE:PTR) offers unlevered appreciation potential of 32% to a McDep Ratio of 1.0 where stock price would equal Net Present Value (NPV) of $170 a share. On the strength of rising natural gas price and refined product margin, NPV is up from $150. Third quarter results released on October 27 verify a long-awaited upward adjustment of government-controlled natural gas price along with better profit margin on price-controlled refined products. Third quarter earnings of 34,700 million renminbi (RMB) prompt us to raise our estimate of cash flow for the next twelve months.
Because the company reports earnings by segment only on a half-yearly basis we surmise that the added strength comes from other (downstream) businesses that include refining/marketing, petrochemicals and natural gas transmission/distribution. Higher cash flow boosts the value of natural gas and downstream to 15% and 22% of NPV.
PetroChina is demonstrating solid growth in investment value as the most important oil and gas company in the country whose rapid growth has made it the world's largest energy consumer. Scoring a total return of 28% a year for the past nine years, the stock can continue to be rewarding, we believe.
Originally published on October 28, 2010.