This is the second installment on a series covering the three highest-yielding holdings in my retirement income portfolio. As I've noted previously, the portfolio contains a diverse set of holdings selected to provide high income with reasonably secure capital preservation. The portfolio is broadly diversified. It includes several large-cap domestic blue-chips, municipal bond funds, REITs as both individual holdings and funds, domestic and international income-equity funds, and a range of global fixed-income funds of various sorts. In this set of articles I cover the three top-yielders from that group. Each is generating double-digit income and each has a pending ex-date later this month. In the first entry of the series (here), I discussed Awilco Drilling (OTCPK:AWLCF), a small, North Sea owner of two drilling rigs whose stock pays a dividend of 18.6%. In the third I considered Oxford Lane Capital (NASDAQ:OXLC), a closed-end fund that holds CLOs. Here, I cover a leveraged ETN from ETRACS that follows an index of closed-end funds.
ETRACS Monthly Pay 2xLeveraged Closed-End Fund ETN
ETRACS Monthly Pay 2xLeveraged Closed-End Fund ETN (NYSEARCA:CEFL) is a fairly recent entry to the UBS-ETRACS' line-up of ETNs (exchange traded notes). These products provide high-income driven by 2x leveraged exposure to a range of investment opportunities. Most cover specialized asset-classes such as mortgage REITs (NYSEARCA:MORL), business development companies (NYSEARCA:BDCL) and master limited partnerships (MLPL and LMLP). CEFL differs in that it does not cover an asset class; its index tracks a range of closed-end funds representing a broad array of asset classes. Another diversified ETN in the line up is ETRACS Monthly Pay 2xLeveraged Diversified High Income ETN (NYSEARCA:DVHL) paying 12.9% annualized. I find DVHL to be less attractive than CEFL for reasons I've outline here.
Earlier this year I had a detailed look at CEFL (here and here). As I said at the time, I went into that exercise skeptical of the product's appropriateness as an income investment, but as I looked more closely, I became increasingly intrigued. I ended up opening a position in April 2014 and have added to it several times since. It is now the second-highest holding in my income portfolio. I've not been alone; the fund has proven to be quite popular. In April, when I first wrote about CEFL it held $60M in assets; AUM currently stands at $176.8M, nearly a three-fold increase in four months.
What I like most about CEFL is the diversification it carries. The ETN is not tied to a single asset class. Instead, it tracks an index of 30 closed-end funds representing domestic and international equity, credit and debt holdings across the global and quality spectrums, currency, and resources. Although there are holdings I find unpalatable and would not consider for my own portfolio (more on this below), overall I felt it was of sufficient quality and sufficiently well diversified to back its high income with reasonably moderated risk.
So, what about that income? ETRACS announced its August coupon amounts today and lists CEFL at an annualized yield of 16.1%. Ex-date is Friday, 8 August. It is a monthly payer; the annualized yield is calculated as the sum of the most recently announced coupon amount plus the two immediately preceding coupon amounts, multiplied by four. August's coupon amount is $0.2888/share.
Note that these payouts are not dividends, they are coupon payments. That is because CEFL is not a fund; as an exchange traded note, or ETN, it is a credit instrument. This has several implications. The first is that the sponsors are not required to hold any of the index constituents. They merely agree to pay a monthly coupon amount based on the ISE High Incom Index (YLDA) less a 0.85% tracking fee. This fact introduces a credit-risk factor that has been much discussed here at Seeking Alpha in the context of this and other ETNs. I am inclined to minimize the significance of that credit risk based on the strength of the sponsor, UBS (NYSE:UBS). Others may feel differently.
For me, a more meaningful consequence of its status as an ETN is the nature of the distributions. As coupon payments, these distributions are ordinary income, which has tax consequences for the higher income investor. Many of the constituents of the index are managed for tax efficiency; these efficiencies are lost in the translation to the ETN. One has to accept that as a consequence of the high yield.
As I noted above, I appreciate the diversification of the ETN. In my earlier article, I looked closely at the index constituents with an eye toward documenting this factor. Using Morningstar's CEF categories, the index's constituents break down like this: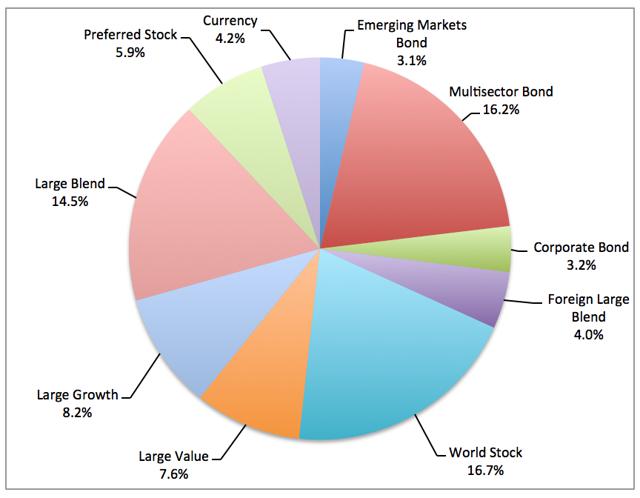 Or, using cefconnect.com's categories, it looks like this: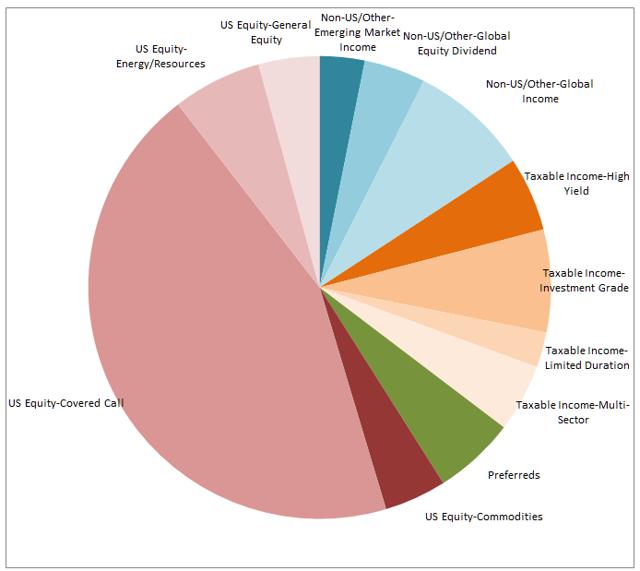 This second chart is a bit misleading, however, as cefconnect's US Equity categories contain a large percentage of global funds, so the international equity component is not reflected in the chart. (Both charts by author.)
As I note in a previous article there are some questionable choices in the index. In particular, I find the inclusion of PIMCO High Income Fund (NYSE:PHK), with an average premium exceeding 50%, hard to understand, especially when one considers that the index claims to rank discount to NAV as a primary criterion in its selections. Indeed, as I write this the ETN is down 7.5% over the past four sessions. This reflects the broad downturn in the market, of course, but a large contributor to this outsized drop has to be the decline in PHK's premium, which has moved from 59% to under 40% over the last five days and continues dropping as I write this (mid-day, 5 August). This has produced an 11% decline in PHK's market price, even as its NAV has increased slightly. To my mind this was an inevitable (and predictable) consequence of PHK's unsustainable premium.
Clearly, one does not generate yields at this level without some risk. But it's my view that the risks here will be moderated that over a reasonable holding period. My initial buy remains slightly in the green, but with my more recent additions I am down about 2.5% on capital value. This is consistent with many other holdings in my portfolio for the same period, but precious few of these are returning anything close to CEFL's 16.7%.
One objection to CEFL is that it puts leverage on leverage. It is true that many CEFs are leveraged. And it is true that several of the 30 funds comprising the index are leveraged. I submit that this will matter more for the equity funds than the rest of the portfolio and here leverage is minimal. In fact, there is only one leveraged equity fund in the index: Gabelli Equity Trust (NYSE:GAB).
Overall, I continue to consider CEFL a solid high-yield investment. With the current turmoil in the market, this may not be the optimum time to purchase the ETN, although the recent steep drop could potentially be a buying opportunity. Ex-dividend date is 8 August; but as the ETN is a monthly payer, this should matter less than would be the case for one that pays quarterly.
Disclosure: The author is long CEFL. The author wrote this article themselves, and it expresses their own opinions. The author is not receiving compensation for it (other than from Seeking Alpha). The author has no business relationship with any company whose stock is mentioned in this article.