Background
China Finance Online (NASDAQ:JRJC) is a leading Chinese financial services firm. JRJC, through its subsidiary iStar Finance, provides securities trading, futures trading, and securities management services. In April 2012, the company began transitioning to its new core business model of fee-based investment and wealth management services. In 2013, the company also began providing precious metals trading services. JRJC also launched "Yinglibao" later in 2013, providing cash-management and mutual fund products to its clients. JRJC's prior core business model focused on subscription and software services (similar to what Bloomberg offers). Jrj.com, stockstar.com, and Shenzhen Genius were the primary portals which JRJC operated through. Currently, JRJC still offers these services to existing clients, but is no longer accepting new clients as it continues to transition to its new core business model. JRJC plans to leverage its existing client base to expand its new core business model.
Investment Thesis
I recently wrote an article detailing my investment thesis for the broader Chinese equity markets. As equity markets improve, transaction volumes should increase. JRJC's financial services segment will help JRJC profit from improved equity markets and higher transaction volume. The financial services segment generated $30.1M in revenue for JRJC in 2013 (FYI - segment was launched in the middle of Q2 2013). This accounted for 57% of JRJC's total revenue for the fiscal year. In Q1 2014 alone, JRJC generated $18M from its financial services segment.
Fundamental Analysis

Above is a table of JRJC's cash flows. Cash flows from operating activities showed substantial growth, indicating that the business model transition has been successful and that the financial services segment continues to grow.
Noah Holdings (NYSE:NOAH) is a direct competitor of JRJC that offers its own suite of asset and wealth management services. NOAH trades at a price/sales (P/S) ratio of 4.82, while JRJC trades at P/S ratio of 1.31. NOAH is growing faster, is profitable, and is paying a dividend. Accordingly, it deserves a higher market multiple. However, if JRJC can continue to grow its business and expand its client base, JRJC will command a higher market multiple. Below is a table with JRJC's intrinsic value at certain P/S ratios. The revenue per share data (trailing twelve months) is sourced from Yahoo Finance. This table errs on the side of conservatism, because the revenue/share is held constant. Needless to say, the intrinsic values would be higher if expected growth was accounted for.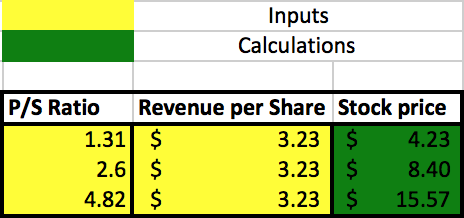 Technical Analysis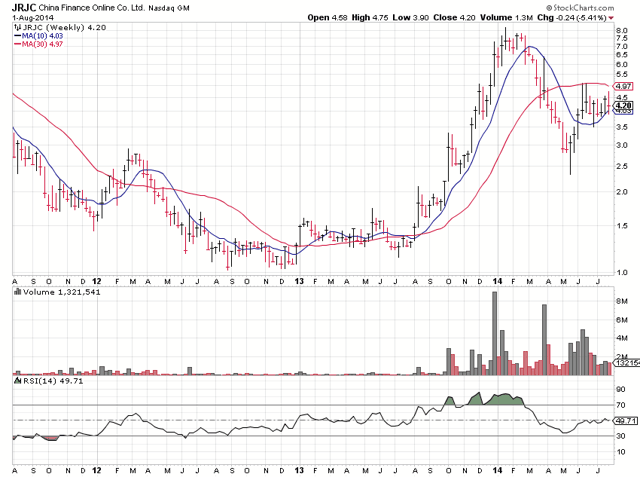 Above is the weekly chart of JRJC. JRJC has been respecting its 10-WMA, which is now upward sloping. Weekly volume has dried up, and the trading range has narrowed considerably. These are the "boring" and "dull" setups that I love to buy.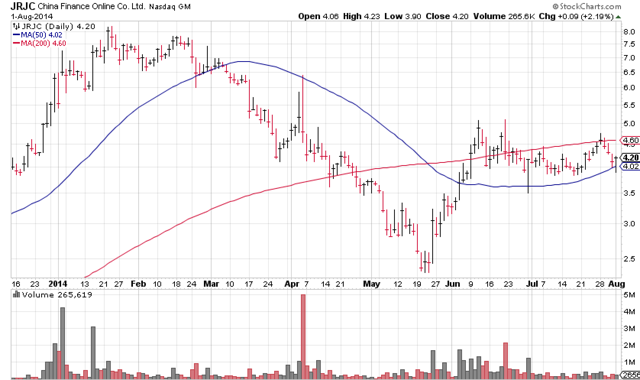 Above is the daily chart of JRJC. It has been consolidating in a "boring" sideways pattern for two months now. Daily volume has also dried up, as JRJC continues to find support at the 50-DMA.
Risks
Many investors have been left scarred from fraudulent Chinese companies that have taken the reverse merger route to go public. Reverse mergers carry less regulation than an IPO process does. Thus, reverse mergers are both more time- and-cost effective. JRJC was NOT a reverse merger, and completed its IPO in October 2003. In 2011, JRJC's ADR shares were elevated to trade on the Nasdaq Global Select Market. This is designated for public companies that meet the highest initial listing standards in the world (JRJC Form 20-F). This noteworthy accomplishment demonstrates the character of JRJC's management and the commitment management has to JRJC's stakeholders.
Additionally, JRJC's management disclosed that its system of internal control was not operating effectively as of December 31, 2013. Management is taking measured steps to correct this control deficiency (specifically, complex financial transactions) by providing U.S. GAAP training to its corporate accounting team.
Conclusion
JRJC has efficiently and effectively transitioned to its new core business model. The already large market for financial services is growing, and JRJC is positioned well to gain additional market share. As sentiment picks up and the Chinese equity markets gain some momentum, JRJC's could easily be worth $10 to $15 per share.
Disclosure: The author has no positions in any stocks mentioned, and no plans to initiate any positions within the next 72 hours. The author wrote this article themselves, and it expresses their own opinions. The author is not receiving compensation for it (other than from Seeking Alpha). The author has no business relationship with any company whose stock is mentioned in this article.
Editor's Note: This article covers one or more stocks trading at less than $1 per share and/or with less than a $100 million market cap. Please be aware of the risks associated with these stocks.