American International Group (NYSE:AIG) presented top second quarter results on Monday, which highlighted continued progress at the insurance company. Though AIG's stock price has been trading weakly in the last week as a result of a broader market sell-off, the insurance company is a top bet on a booming insurance business and a sizable increase in its market valuation in the years ahead.
Not too long ago, I have restructured my American International Group Long position and swapped the common stock for the long-term warrants (expiry date 2021). Reason for this is, that I think the insurance industry (both Property & Casualty and Life businesses) has massive upside potential in an environment of rising interest rates and a solidly growing U.S. economy. I particularly expect strong tailwinds for AIG's commercial insurance product lines in a cyclical upswing. Add to that, American International Group has positioned itself as a top notch capital allocator, which shells out substantial amounts of cash for shareholder remuneration.
Its second quarter 2014 results have highlighted, that the company is clearly on the right track in creating value for shareholders. All these aspects should make a compelling case for a narrowing book value discount going forward. In fact, I expect American International Group to trade at a premium to book value in a couple of years driven by continued earnings growth, operational improvements, share buybacks and multiple expansion.
Second quarter take-aways
American International Groups' second quarter results were more than solid. Diluted earnings per share rose 14% to $2.10 in the most recent quarter compared against last year's $1.84. More importantly, American International Group reported an after-tax return on equity of 7.7% underscoring that the company has indeed returned to respectable profitability.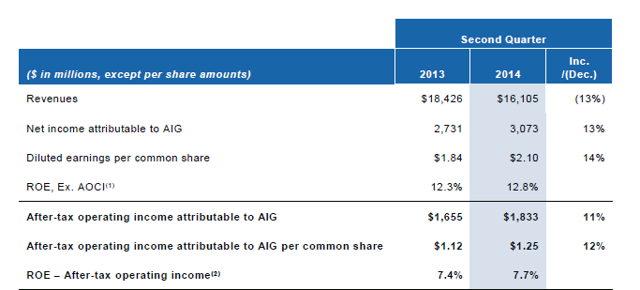 (Source: American International Group Second Quarter Earnings Presentation)
American International Group also closed the sale of ILFC to AerCap (NYSE:AER) and repurchased $1.1 billion of its own shares during the most recent quarter. The sale of AIG's aircraft leasing unit and the related cash windfall certainly can be regarded as a coup.
One of most praiseworthy accomplishments on the operating side of the business, however, was AIG's improvement in the combined ratio in its Property & Casualty business.
Combined ratios reflect how profitable a Property & Casualty business really is and whether an insurance company turns a profit on its policy writing.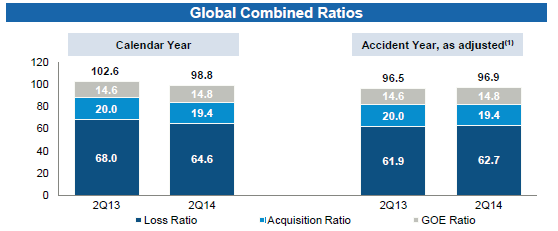 (Source: American International Group Second Quarter Earnings Presentation)
AIG's global combined ratio improved to 98.8 in the second quarter of 2014 vs. 102.6 in last year's quarter. A combined ratio below 100 indicates an underwriting profit and disciplined insurance pricing. For the most recent quarter, AIG reported an underwriting profit of $101 million vs. a loss of $223 million last year. The turnaround in underwriting income is also the reason why AIG reported a 25% higher pre-tax operating income in its Property & Casualty division in the most recent quarter. Its P&C performance can largely be credited for AIG's year-over-year increases in company profitability.
Book value
American International Group's book value rose by double-digits year-over-year. While this is certainly compelling, it gives investors a taste of what is possible in terms of book value growth if the economy provides tailwinds in an economic upswing.
AIG's second quarter book value including AOCI stood at $75.71 per share compared against $66.02 per share in the year ago quarter (a whopping 15%). AIG's discount to book value now stands at about 31% depicting a significant margin of safety.
It is also this margin of safety that makes American International Group a 'get it and forget it' story. AIG is a great bet on ongoing book value growth and investors should see a more realistic market valuation going forward. Patient investors certainly are facing a very attractive risk/reward ratio at this point.
Chart situation
AIG's stock has done 'ok' in 2014 even though the recent market consolidation affected the insurance company as well: The stock is up 3% since the beginning of the year and approximately 9% over the course of the last twelve months.
Though I find the pace of recovery in the stock price of AIG a bit disappointing, it has taught me a lot about patience as a critical quality serious investors need to have. Five years from now, AIG will likely look fundamentally different than now or, better yet, will be perceived differently by investors.
Let's not kid ourselves: AIG is not a favorite investment in the investor community, which I consider to be a good thing. As long AIG is not popular, investors will be able to snatch up the insurance company at such a massive discount to book value.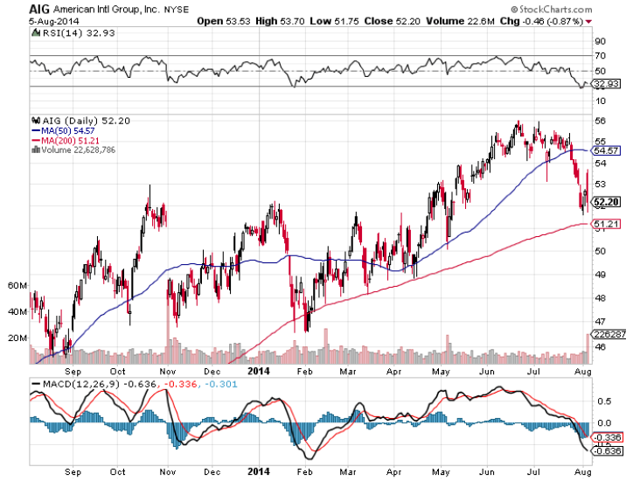 (Source: StockCharts.com)
Conclusion
Benmosche has done a great job at American International Group and his visionary, forward thinking can clearly be credited with the successful turnaround of the company. While I believe the restructuring has been completed, it is now time to focus on the continued improvement of insurance metrics such as the combined ratio and press ahead for accretive capital deployment aka share repurchases.
With strong business results and cyclical, economic tailwinds ahead, American International Group should be able to trade at a premium to book value in the coming years and attract a significantly larger group of retail investors. It is at this time, that investors should think about selling their AIG holdings. Until then: Strong Buy.
Disclosure: The author is long AIG. The author wrote this article themselves, and it expresses their own opinions. The author is not receiving compensation for it (other than from Seeking Alpha). The author has no business relationship with any company whose stock is mentioned in this article.
Additional disclosure: I am long via AIG long-term warrants.