It's evident that retailers often grapple with slowing sales. There comes a point when driving their organic growth requires innovation, R&D and advertising. This, in turn, requires lavish spending in the form of capital expenditures and promotional campaigning.
Fortunately, for investors, Amazon (NASDAQ: AMZN) is willing to grow inorganically as well. The e-retail giant has turned to India, with an experience-rich management and a $2 billion war chest, to support its growth momentum over the coming years.
Why India?
Despite its macroeconomic slowdown, India is still one of the fastest growing mature economies around the globe. Its GDP has grown 70.9% over the last five years - reaching $1.83 trillion in 2013 - and Standard Chartered still expects it to further expand 12.14% over the next two years. This explosive expected growth suggests that doing business in India will be a profitable affair going forward.
Plus, the Internet penetration rate in India stands at a paltry average of just 19%, meaning that about 1 billion Indians still don't have access to the Internet. To connect this huge user-base, several telecom providers - including Vodafone, Airtel and Reliance Jio - intend to introduce their Broadband, 3G and 4G services in unexplored telecom circles going forward. As a result, Morgan Stanley expects the Indian Internet penetration rate to rise 25% each year through 2018.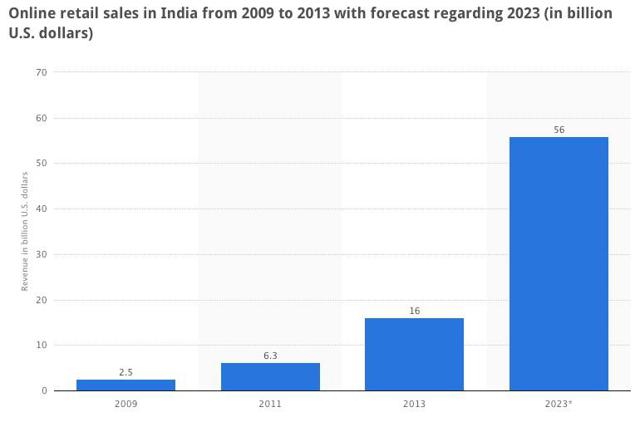 (Source: Statista)
Owing to the rapidly rising online presence, per-capita-income, GDP and consumer education, the Indian e-commerce industry is expected to grow at a scorching pace over the next ten years at least - evident in the chart above.
These bullish estimates have, in turn, led several global investment groups to fund Indian e-commerce startups over the last few years. The most prominent Indian e-retail startup, Flipkart, raised $1 billion at a $5 billion valuation last month. India's second largest e-retailer, Snapdeal, has already raised $230 million this year, and it may raise another $300 million by the end of 2014. Interestingly, both the companies operate with a marketplace model, very similar to Amazon's.
To avoid being left out, as a result, Amazon brought out its A-game and earmarked $2 billion to invest heavily in the country.
Growth strategy
Amazon entered India with the launch of its deal-aggregator, Junglee.com, back in 2012. The site collects user trends and popular keywords on the back-end, which Amazon later uses to drive the growth of its full-fledged marketplace in the country - Amazon.in.
The U.S-based e-retailer also used its deep pockets to launch seven fulfillment centers over the last two years. Warehousing shelf space is something that very few Indian e-commerce portals currently offer. As a result, small-scale merchants were now able to achieve economies of scale relatively sooner
This attracted Indian merchants in large numbers, which, in turn, propelled the growth of its product catalogue. Over a span of just two years, Amazon India has grown to offer 17 million products across 28 categories, from 8,500 sellers.
Indian E-Retailers

Amazon

Flipkart

Snapdeal

EBay (NASDAQ:EBAY)

Merchants

8,500

4,000

30,000

30,000
(Source: EBay, Flipkart, Snapdeal, Amazon)
Jeff Bezos recently noted, "At current scale and growth rates, India is on track to be our fastest country ever to a billion dollars in gross sales… We've never seen anything like it."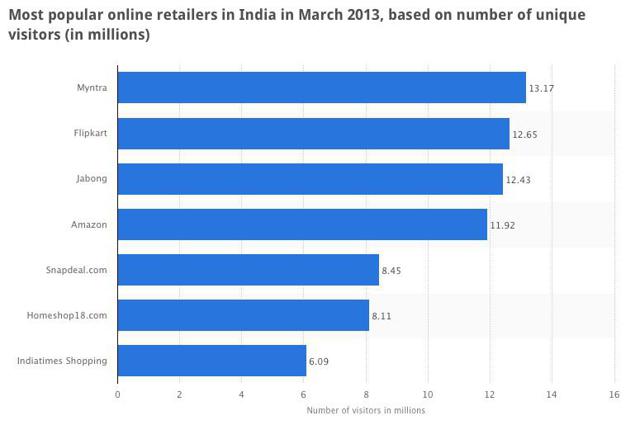 (Source: Statista)
Amazon India intends to launch five new fulfillment centers going forward. This should allow the e-retailer to furnish more same-day deliveries, further expand its product catalogue, accommodate more merchants and expand its geographical reach in India. These strategic moves should, in theory, attract more consumers and accelerate Amazon India's growth further.
Bonus nuggets
Amazon India reported about $200 million in revenues last year. Before Amazon announced its plans to invest $2 billion in the country, an analyst consensus conducted by Economic Times revealed that the e-retailer is set to post $1 billion revenue by 2016. Now that Amazon India has a bigger war chest, it may go onto post $1 billion in revenue much sooner.
Investors should also keep in mind that none of the major Indian e-retailers are currently profitable. Almost every e-retailer in the country is spending heavily on consumer acquisitions - the focus is on capturing a greater revenue-based market share. So, expect Amazon India to operate with a similar top-line driven approach, sporting low ROIs, for at least the next few years.
Disclosure: The author has no positions in any stocks mentioned, and no plans to initiate any positions within the next 72 hours. The author wrote this article themselves, and it expresses their own opinions. The author is not receiving compensation for it (other than from Seeking Alpha). The author has no business relationship with any company whose stock is mentioned in this article.