Take the good with the bad. The bad is that durable goods orders declined 3.3% last month…and transportation equipment orders fell 5.2%, according to the Commerce Department. But the good is that the drop in transportation was driven by defense aircraft and parts, and unfilled orders for transportation equipment increased by $3.7 billion (.8%) to $484.2 billion...the second consecutive monthly increase.
But that came after a hallmark earlier this month, when the Dow Theory gave the markets a bullish signal a few weeks ago. According to the theory, if transports take what industrials make then it's good news for the markets as a whole. And in the first week of November, both the Dow Jones Industrial Average and the Dow Jones Transportation Average closed above their spring highs (and a two-year high for the Transportation Average…and about 10% off its all-time high).
Dow Jones Transportation Average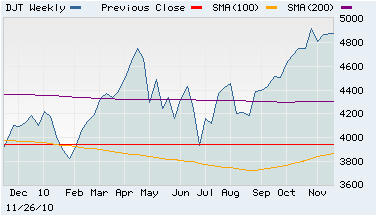 Source: DJ Averages.com
Dow Jones Industrial Average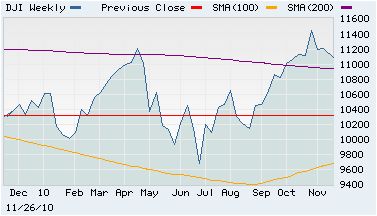 Source: DJ Averages.com
And what's driving the improvement? Within the Transportation Average, airlines and truckers are leading the way.
And that was confirmed last week: the American Trucking Associations' Truck Tonnage Index rose 6% in October (year-on-year), after gaining 5.3% the month prior. The reading also put tonnage at the highest level in three months.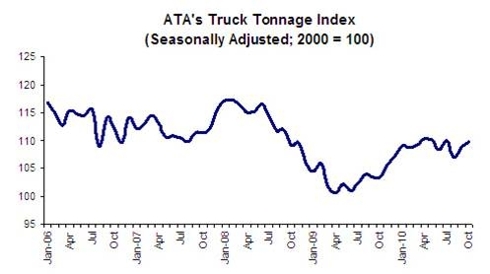 Source: American Trucking Association
This matters: trucking represents 68% of tonnage transported by all means of domestic freight, according to the ATA.
And airlines have soared (Guggenheim Airline (NYSEARCA:FAA), which holds United, Delta, Southwest and Airtran, is up almost 38% year-to-date).
Then there are railroads. Rail carloadings increased 9.5% in the current quarter through October, according to Barron's. And the railway industry backlog rose to 19,267 railcars as of the third quarter.
Now, the Dow Theory has been followed since the late 1800s, but we should note that the Transportation Average is "a broad market forecasting tool", and "not a sharp blade", according to Bank of America Merrill Lynch. But on the whole, transportation is something of an economic barometer, and that we are seeing upward momentum is a good thing.
Disclosure: No positions