One might have surmised that the $113 billion dollars to bail out country #2 of the European "PIIGS" would have calmed financial markets. Yet the ongoing debt crisis in Europe has been about as harmonious as it was to have my youngest sister dictating the course of conversation at the Thanksgiving Day dinner table.(Note: I'm counting on the fact that the majority of my relatives don't usually read my financial commentary. If the joke makes it through the grapevine, well then… I apologize for the humor at my sister's expense.)
Clearly, there are real risks in the investing world, from sovereign debt worries in Europe to Korean war games to escalating inflation in China. Nevertheless, there's equally compelling evidence for the continuation of worldwide economic recovery… as well as the asset appreciation that occurs alongside choppy recoveries.
For instance, since the U.S. market bottom in March of 2009, we've heard a great deal about the smallest businesses having difficulty getting access to credit for expansion; in contrast, only the biggest companies were able to shore up their balance sheets, sock away loads of cash and / or borrow for ridiculously low rates in the bond arena.
Let's assume that the above-mentioned headlines have been accurate. Then who are the intrepid investors willing to put dollars into Micro-Cap ETFs? Brave souls have witnessed iShares Russell MicroCap (NYSEARCA:IWC) significantly outperform the S&P 500 SPDR Trust (NYSEARCA:SPY) since March of 2009.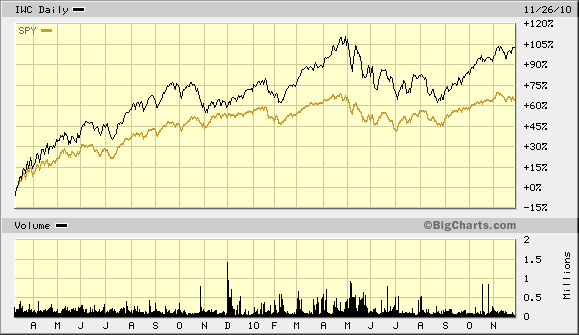 Indeed, this may be an indication on the part of the investing community to capture exceptional earnings growth rates from up-n-comers. It may also be an indication that a double-dip recession is hardly imminent… and that the U.S. economy may chug along in a choppy, but genuine, recovery.
What may make micro-caps particularly inviting for some is the notion that most of the geo-political risks are global (i.e., North Korea vs. South Korea, European country debt, China inflation). On the flip side, if employment trends stateside become more favorable… if consumers remain as confident as they were in the Black Friday spending frenzy… maybe the local economy will continue to mend.
Enter micro-cap corporations — businesses that primarily cater to the local U.S. economy. In contrast, almost all of the larger corporations count on larger earnings growth rates to come from overseas operations.
It may be true that iShares Russell MicroCap (IWC) is the most prominent fund in this class. However, First Trust MicroCap (NYSEARCA:FDM) and PowerShares MicroCap (NYSEARCA:PZI) also fit the bill; that is, you do have choice among baskets of the smallest-sized companies.
Year-to-date, IWC and FDM have gained approximately 15%, whereas PZI is up a bit less at 10%. The situation becomes much more pronounced over the last 3 years, however. Whereas IWC and FDM may have lost in the neighborhood of -11%, PZI is still down about -30% since November of 2007.
How might one account for this discrepancy? First Trust tracks a Dow Index and Blackrock iShares tracks a Russell index with less internal turnover; PowerShares MicroCap (PZI) tracks a more dynamic Zacks composite with a proprietary scoring system for "relative value." In the turbulence of 2008, the Zacks scoring system was likely overweight the consumer and financial segments.
Disclosure: Gary Gordon, MS, CFP is the president of Pacific Park Financial, Inc., a Registered Investment Adviser with the SEC. Gary Gordon, Pacific Park Financial, Inc, and/or its clients may hold positions in the ETFs, mutual funds, and/or any investment asset mentioned above. The commentary does not constitute individualized investment advice. The opinions offered herein are not personalized recommendations to buy, sell or hold securities. At times, issuers of exchange-traded products compensate Pacific Park Financial, Inc. or its subsidiaries for advertising at the ETF Expert web site. ETF Expert content is created independently of any advertising relationships.