I think the best way investors can get an edge is to focus on underfollowed small-cap companies with enormous potential markets and the following attributes:
Good arbitrages between potential value and current value (by looking at other companies in the sector)

Good co-investors

who are experts in the space and are buying shares.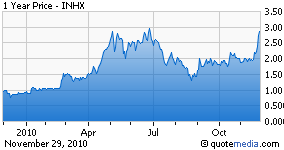 I've been looking at a small-cap stock in one of the largest sectors of biotech – cures for Hepatitis C. Inhibitex (NASDAQ:INHX) has a $180mm market cap, $24mm in cash, very favorable comparisons when placed side by side with its competitors (its main competitor is one year ahead of them in FDA trials but has a $1.5bb market cap, over 8 times bigger), and good institutional investors who have been steadily increasing their holdings.
The reason I got interested: INHX has a drug for Hepatitis C that is closely related to the drug in Phase II made by another company, Pharmasset (VRUS). Both drugs are "second generation" Hepatitis C drugs. Merck (NYSE:MRK) and Vertex (NASDAQ:VRTX) have the first generation drugs.

Huge market: Vertex is still in Phase III trials (no drug on the market yet) but has a $7bb market cap because of the potential importance of this drug and the enormous size of the hepatitis C market. Other than Dendreon (NASDAQ:DNDN), I can't think of another company that was in Phase III, had no drugs on the market, but had over a $5bb market cap. Investors believe the space is enormous. 170mm people worldwide have Hepatitis C although more than half of them at this point are unaware that they have it (it can be asymptomatic for 20-30 years after infection), leaving the room open for the drugs that are still in Phase 1-3 trials.
VRUS and INHX are a few years behind Vertex but avoid some of the complications in the first generation drugs. From a JMP report: "The key reasons that [..] patients decline therapy are 1) treatment burden (unattractive delivery, long treatment duration, high cost, and unfavorable side effects) and/or 2) interferon-contraindication. [..]Additionally, approximately 30% of diagnosed patients consist of a particularly dire group of 300K patients who received treatment but failed to be cured, the so called "treatment failure" patients."
Nevertheless, Vertex, without any drug on the market (their drug is still in Phase III) still has a $7bb market cap. (Interesting to note that the former Chief Medical Officer of Vertex, who helped develop their Hep C drug, is now senior medical officer of Inhibitex).
So let's look at the next in line candidates. Both VRUS and INHX use next-generation compounds for their Hepatitis C drugs. Let's do an apples to apples comparison. VRUS has a $1.5bb market cap and their drug is in Phase II. INHX has just a $180mm market cap and their drug is in Phase 1b. Phase 1a showed safety and Phase 1b is expanded to include more patients. They are approximately one year behind VRUS (the FDA has been fast-tracking Hep C drug trials).

The arbitrage: Let's discount back. VRUS has a $1.5bb market cap but is just a year ahead. Discount back at least 1/3 for that year. So now we have a $1bb potential value. Assume INHX has to raise money to get through Phase II trials (VRUS has over $100mm in the bank, INHX has $25mm in the bank). Assume INHX will have to give up 1/3 of the company during fundraising. That leaves us with a potential $666mm value for INHX's Hepatitis C drug.
Now, although VRUS and INX have similar drugs and VRUS has flown through Phase 1b and has already shown strong efficacy in early data coming out of Phase II, you have to discount back somewhat for the possibility that INHX might not get through Phase 1b. Chop off half from that $666mm potential market cap so we are left with a $333mm potential value for the INHX drug.
With 62mm shares outstanding, that gives us a potential price of $5 and change for INHX. INHX is worth at least this, given their Hepatitis C drug.
INHX's current price is $2.90, suggesting a significant spread between its current price and potential value. In fact, another company with a drug in a similar category for Hep C, Idenix (NASDAQ:IDIX) has a $300mm market cap, despite the FDA putting them on clinical hold because of the potential toxicity of their drug. So a $300mm+ (or $5 share price) value for INHX's Hep C drug is not unreasonable.
So why the spread? The reason for the spread is also a potential opportunity. INHX has a drug in Phase II trials for shingles. If the potential value of the Hep C drug for INHX is $5 a share and the share price of INHX is $2.90, we are getting the shingles drug for free. INHX is supposed to present data on shingles by the end of the year. The data is about whether or not their shingles drug reduces pain among shingles patients. If the data is good, the value of the drug could add another $2 to the share price of INHX. The shingles market is a $1bb market. The INHX shingles drug has two advantages over the other drugs currently used: less doses daily (1 versus 3-5) and reduces pain more quickly (the subject of the data that is to be released by the end of the year). Even if the data shows pain is not reduced over and above the other drugs out there, the fact that it can be administered just one time a day versus 3-5 is a significant benefit.
In fact, from a recent JMP report; "Should the [shingles drug] demonstrate a statistically significant reduction in pain in the ongoing Phase 2 study, we think it will have ample suitors. Our due diligence suggests that even in the absence of a pain benefit, a drug with similar efficacy to currently used generic anti-virals with improved convenience could command a premium."
In other words, the market hates uncertainty, but even if the data on pain reduction falls flat, the shingles drug has value greater than zero. Because of the uncertainty regarding the release of data, the market is discounting that value down to zero and below. I expect that after the data, regardless of the outcome, INHX will go to $5+, representing what I view as the current value of their Hep C drug (without giving any credit for the shingles drug) and then anywhere from $0-3 more depending on the results of the shingles data for a total value ranging from $5-8.

There's more. I'm not the only one who is excited about INHX.
The largest institutional shareholder in INHX is hedge fund QVT Financial. QVT is an expert in the space. Another stock they are the largest shareholder in is none other than Pharmasset, the primary competitor of INHX, and the company with the closest comparable drug in the Hepatitis C space. Clearly QVT's experts are believers that this generation of drugs will beat out the first generation.

Orbimed is the third largest institutional shareholder. Orbimed is a specialist in the biotech and pharma space. Their largest holdings include Amgen (NASDAQ:AMGN), Gilead (NASDAQ:GILD), and BMS (NYSE:BMY) (an important footnote to this article – BMY earlier this year spent $900mm for ZymoGenetics, another company in the Hep C space with a drug in Phase II trials).

The second largest shareholder of INHX is Fidelity, which added to its position this past quarter and now owns $7mm worth of the stock (QVT owns about $25mm worth of the stock).

I like knowing those three funds essentially work for me here. They work for me because I can be much more nimble than them in trading this position. They are in for the long haul, are experts in the field, and have done their due diligence.

So, in summary:

Huge potential market

Great comparable between the $180mm market cap of INHX and the $1.5bb market cap of VRUS which is its closest competitor.
The shingles drug is for free and by all indications there is some value there, albeit with uncertainty over the next few weeks. When that certainty is resolved in either direction the stock could move quickly to the value of the Hepatitis C drug plus the value of the shingles drug, post-data.
Great investors who have been buying more shares.
Disclosure: I'm long INHX. I also think VRUS is an interesting company to go long (given the spread between its $1.5bb market cap and VRTX's $6bb market cap).