To recap: I've been reviewing the top-yielding holdings from my income portfolio, which is the primary source of my retirement income. It contains a diverse set of holdings that include several large-cap, blue-chips stocks, municipal bond funds, REITs as both individual holdings and funds, domestic and international income-equity funds, and a range of fixed-income funds that cover various modes of credit and debt investments in domestic and international markets. In the first entry of the series (found here) I discussed Awilco Drilling (OTCPK:AWLCF), a small, North Sea owner of two drilling rigs whose stock pays a dividend of 18.6%. The subject of the second installment was the 2x leveraged ETN covering closed-end funds, ETRACS Monthly 2x Leveraged Closed End Fund ETN (NYSEARCA:CEFL) yielding 16.1% (see it here). I'll close out the series here with an individual closed-end fund, Oxford Lane Capital Corp. (NASDAQ:OXLC).
Oxford Lane Capital Corp
Oxford Lane Capital Corp is a closed-end fund that cefconnect shoehorns into its senior-loan category. Morningstar considers it in its bank-loan category, and gives it a five-star rating. It holds highly leveraged tranches of collateralized loan obligations (CLOs). My primary resource for understanding OXLC is Steven Bavaria, who has written about the fund extensively. He explains the complex financial mechanisms that drive the fund's yield in a clear and understandable manner. A good place to start for understanding the fund's strategies is this article and this one. The key thing to understand is that Oxford Lane buys CLOs, often at massive discounts, with about a 3% spread under conditions that leverage them up to 8 or 9 times. This provides up to a 30% return and allows a 14%-15% return to shareholders, leaving a substantial return to management.
Some will blanch at the fund's 8.38% management fees and reject it out of hand on that basis. I do not feel that way. The fund is returning nearly 15% net of fees backed by an impressive track record of solid performance. Fees are, of course, an important consideration in selecting a passive index fund, but this is much less true, in my view, for a fund with the level of professional, active management that OXLC's investment strategies require. The fact that the management can make money while paying shareholders as handsomely as they do will get no objection from me.
OXLC is currently trading at a small premium (0.55%). It has traded at a premium as high as 16.25% as recently as a few months ago and rarely drops into discount territory, as this chart shows.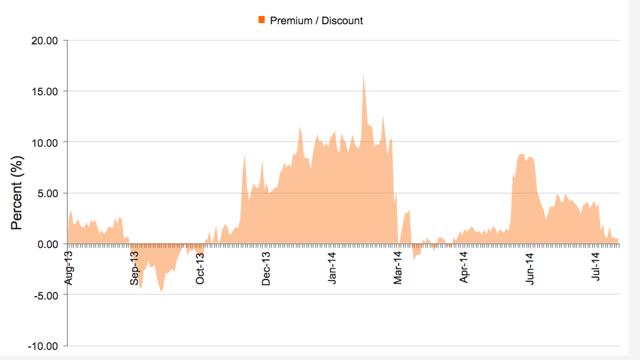 The table below (from Morningstar's analysis of the fund) shows how well OXLC has performed compared to its category.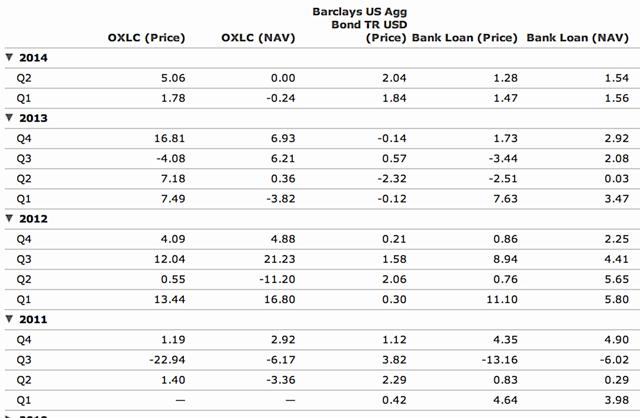 I don't pretend to fully understand the complexities of the financial instruments that comprise OXLC's portfolio. I've done enough to educate myself -- and I have enough confidence in the analyses of those more knowledgeable than I -- that I am confident OXLC is a solid holding that should continue to produce exceptionally high yields over time. The nature of its portfolio helps to insulate it from broader market moves, and it should be much less sensitive to a rising interest rate environment than most other fixed-income vehicles.
OXLC has not yet announced its next dividend, although past history would indicate an announcement should be forthcoming in the next week or so. Ex-dividend date should be sometime in early to mid-September. The fund's most recent distribution was for $0.60/share. The dividend has increased three times from an initial $0.25/share in 2011. The most recent increase was for 1Q 2014 when the dividend was raised from $0.55/share to its present rate. A $0.10/share special dividend was added to that distribution as well.
I first opened a small position in OXLC in April 2013 and have increased my stake in the fund several times as my understanding of the fund increased and the basis for its excellent yields became more clear to me. It remains a core position in my income portfolio, and is one that I would not hesitate to accumulate on dips as they occur.
Disclosure: The author is long OXLC, CEFL. The author wrote this article themselves, and it expresses their own opinions. The author is not receiving compensation for it (other than from Seeking Alpha). The author has no business relationship with any company whose stock is mentioned in this article.