It seems official when you turn on the television or pick up the paper, everyone is singing a chorus that natural gas is "set to explode". Many look at gas purely as an asset that has underperformed in an environment where commodities have soared. The problem is this; the majority of those making these claims do not understand this commodity at all. There is a reason that natural gas has underperformed and continues to do so, contrary to what popular opinion you hear otherwise, the market is always right. In doing research on the internet, I find so many articles about how the current price environment is below breakeven costs for many of the new unconventional plays. The problem I find is the estimates are all old, and based on expectations that are far outdated as we have learned best practices on how to drill and produce these plays. So I am going to update these expected breakevens with what we know at this point. Much of what I will use for estimating comes directly from company statements over the past several months.
Reading analysts expectations from 2008 and largely in 2009, there were many big name outspoken gas experts, claiming that shale would be a commercial disaster. They were largely based on expectations of very low levels of EUR (Expected Ultimate Recovery). What is now taking shape with the passage of time and using the knowledge learned, is the EUR's are increasing through restricted choke technique and how many stages of fracture stimulations per well, with an aggregate EUR of 6.5 to 7.5 BCFe.
Before we get into the data on breakeven estimates, I want to touch on a few other recently talked about items, the first one being the outright price of gas here.
There is a perception that natural gas is too cheap. What exactly is cheap? It is just a relative term as the value of anything is only worth what buyers and sellers agree upon, hence the futures market. Some will point out that natural gas is extremely cheap vs. oil when looking at the historical conversion ratio, and that it will revert back to the mean. I ask why? What is going to create this physical arbitrage other than large drops in global crude demand and a resultant low price? The problem is we are dealing with two different commodities that are by and large not interchangeable.
On a textbook basis, yes it makes enormous sense to heavily switch to gas from oil, but in the real world where reality is usually a far cry from textbook applications, there is a finite capability and all the available oil to gas switching occurred quite some time back and only comprises a very small piece of overall demand. There are calls for vehicle conversions and such, but that has zero relevance to the current situation and are likely further off from being a factor than we currently think. We will see more gas fired generation replace retiring coal facilities, but again, that is not tomorrow but a gradual cycle over the coming years.
The largest problem with natural gas is the physical limitations it has. It is rather unique in the commodity world for a few reasons. First, it is a commodity that must remain in a highly pressurized state throughout the trip from deep under the earth to the blue flame at the burner tip. The best way look at this physical limitation is that every cubic foot of gas that gets produced from a well, either must be burned by end user demand or it must go into underground storage. You cannot dump it on the ground like they do with corn when the silos are full, or store it in another warehouse like a bag of coffee or cocoa. These physical limitations are created by the availability of delivery infrastructure and underground storage capacity. Crude oil has far more options with a very large global delivery and storage network, and the fact that crude can be stored without pressurization.
Something else I'd like to touch on is the recent talk of Haynesville rigs finally declining. The breakneck pace to hold leases has been the primary component of the high rig counts in the play. What needs to be understood here is that these are mostly single wells that have been drilled on each 640 acre section; the companies will come back in at some later date and start drilling additional wells. However there are needs for these rigs in other shale plays for the same purposes of holding leases, so we will likely continue to see rig migration from Haynesville to other areas such as Eagleford and Marcellus in the coming weeks and months. Also to take notice of is this; as of November 18th, there are 809 producing wells, 511 wells "waiting on completion/fracturing/testing/other operations", 132 wells being currently drilled (.pdf) and 288 permitted but not yet drilling - that is 511 already drilled wells, waiting for completion. You can see clearly that even as rig counts drop in this particular play, production can grow for quite some time yet, not to mention more in the process of being drilled. It is a far better barometer to look at the overall US level of gas directed rigs on a 4-week running average, rather than singling out a single play. The pad drilling of the future in Haynesville will be extremely prolific; there is another pay zone that sits on a bit of this play at a shallower depth called the Mid-Bossier shale, and most of that play is held by the same leases that hold the deeper Haynesville.
Getting into the following tables, these are just averages to use for estimation purposes and do not include costs of capital. Different companies will have much different capital cost structure and really doesn't create much more material costs for this exercise with many joint ventures and the high first year commodity recoveries on initial production. You can make different assumptions on several parameters including the initial lease bonus and EUR (estimated ultimate recovery) of each well drilled. The outright range of what the lease bonuses were had an extremely large range over a fairly short period in 2008. Chesapeake (NYSE:CHK), Petrohawk (NYSE:HK) and a few others were acquiring acreage in Haynesville prior to the "mass discovery" of what was going on by spring of 2008, and in some cases were paying just a few hundred dollars per acre. And at the peak, there were cases of $20,000+ per acre. But again, we need to assess using aggregate means. These estimates are in two different tables. The first is the breakeven price which includes recovering 100% of the initial paid out lease bonus, drilling and a 25% royalty. The second table depicts estimated breakevens only for recovering the costs of drilling and completing additional wells without and lease bonus costs since that was used in the initial well. It also assumes a 25% royalty. The costs of pipeline gathering/transport are not depicted in the tables, prices for this can also vary greatly but it will add roughly .20 cents to the breakevens.
The estimates of higher average EUR comes from learning best practices and efficiency gains as time passes. Petrohawk started experimenting with a restricted choke technique. I found the following comments in italic, from a recent search of several companies, much can be found at sites like this one.
Comstock Resources -
We currently have 89,000 gross acres and 78,000 net acres that we believe are prospective for Haynesville Shale development; 56,000 acres are in North Louisiana, the better part of the play in our opinion. Given expected well spacing of 80 acres and expected pro-well recovery of 5 Bcfe per well, our acreage could have 3.7 Tcfe of reserve potential.
QEP Resources (Questar Spinoff) -
QEP Resources reported that its estimated ultimate recovery (EUR) per Haynesville Shale well ranges from 5 to 8 Bcf, and will cost from $8 million to $9 million each to drill.
Plains Exploration -"What says the Haynesville is every well we're drilling and each one of those units is really fine at 6 Bcf of gas."
GMX Resources (GMXR) - "Estimated Ultimate Recovery – 6.5 BCFE"
Chesapeake Energy - "Estimated Ultimate Recovery – 6.5 billion cubic feet equivalent"
Petrohawk - Contrary to the predictions of its skeptics, the company insists that its current Haynesville well-curve of 7.5 Bcfe can support viable EURs, assuming first-month average IP of 16 MMcfe/day and first year decline of 82 percent. Additionally, 80 percent of the total EUR, or 6.0 Bcfe, will be produced in the first ten years.
Petrohawk on the practice of "restricted choke":
June 2010- Petrohawk Energy is operating a restricted rate program in the Haynesville Shale in an attempt to increase the long-term performance of the wells. The program seems to be a success so far.
Restricted Rate Program:
Our restricted rate program in the Haynesville is yielding some very exciting results. Moderating rates and moderating withdrawal during the time of low natural gas prices is an interesting capacity capability.

And we've seen enough positive results from this that we're basically putting all new wells and most of our existing wells on a restricted rate program at varying choke size is depending on where they are within the field.

The decline rate is about half, it's 40% to 50% in the general sense, at the worst. The postponement of compression is, we haven't quite run the full study on that. But I think on an intuitive basis, we've said it is four, five years probably.

We have found out that in some of the earliest wells we drilled within the Haynesville, that we were considering compression on those. And we started restricting the producing rates on those and they're not going to need any compression anytime soon. So it's quite an economic jewel there to postpone compression. So four or five years is our best guess right now.
August 2010 -
We now have four wells with over 360 days of production, 13 wells with over 180 days of production and 22 wells with over 120 days of production. Based on the extent of this database, we now believe that restricted rate practices support a change in the average first year decline from approximately 80% to 85% to a first year decline approximating 45% to 55%, with some wells displaying declines that could be as low as 25% and 30%.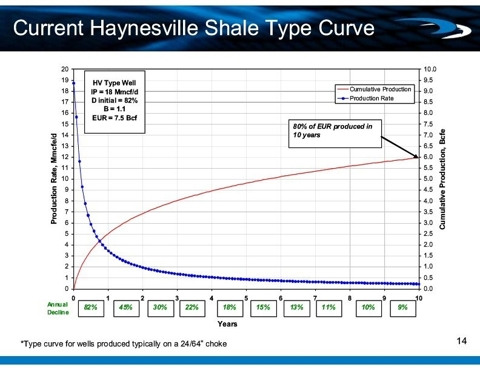 Based on the estimates presented, and a special attention towards the drilling of additional wells, the current forward curve value of the NYMEX depicts an environment that is profitable for continued drilling. The problem I see with this environment is that these highly prolific wells that continue to be brought online will likely continue to grow supply into an environment that is currently still in oversupply. We have near term relief with the onset of winter heating loads, taking the burden off of near-term production to curtail.
However, the likely large carryout in storage that will result in the spring will leave the smallest amount of available injection capacity in history for the summer cycle, and with companies that actively see this potential outcome and hedge accordingly, price will have to work even lower to illicit a proper response in supply. We have already had an expiry at $3.30 for November indices, and the supply had zero response and in fact set new daily records early in the month. Due to the earlier mentioned physical limitations of natural gas as a pressurized commodity, this is a trend that cannot continue. We will rapidly run out of of storage capacity if the market keeps with the current oversupply theme we have been in for a time now, (the balloon will reach maximum capacity), and the only sure-fire mechanism to create a required balance is price.
Looking at price history of the NYMEX, it may interest those that have only been in this market over the past several years to know indeed how low gas can trade. The entire decade of the 1990's had a NYMEX average settlement price of $2.026 (June 1990 to December of 1999). What is even more interesting is that the last 5 years of the 1990's decade had an average settlement of $2.598 (January 1995 to December 1999). Why is that interesting? Because looking at EIA demand data, total US demand has been rather flat for the last 15 years (1995 to current):
I am not suggesting we are heading back to some long-term low price environment like the 1990's, I am illustrating that prices can indeed trade much lower in the short term to force behavior necessary to curtail oversupply. As far as flat demand in an economy that has grown over the last 15 years, by and large most of that are massive efficiency gains across generation and construction techniques, out with the old, in with the new, as well as the large loss of exported manufacturing over the period (India, China).
The bottom line is this; until we see the market balance, the current oversupply will start to wreak havoc on the limited storage capacity we are working into for the next injection cycle, at which point the only way to balance is through large scale production curtailments. That will only happen via a price that creates an uneconomical environment that is likely much lower than many investors currently think. Every passing day that doesn't start to address this, only creates more imbalance over time to deal with. I hope the breakeven estimate tables will shed some light on possible price outcomes, especially if the La Nina winter verifies as advertised, (warm throughout the entire Production Area and southern East Consuming region), a sharp contrast to the winter that was well below normal in the same area last year.
December 2009 through February 2010: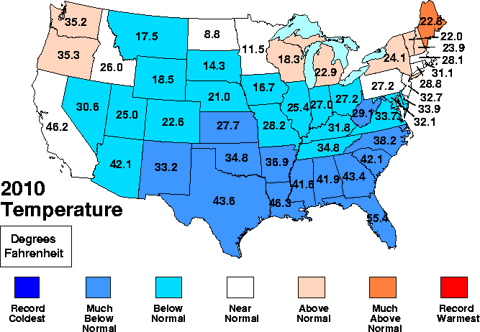 Current Winter Forecast: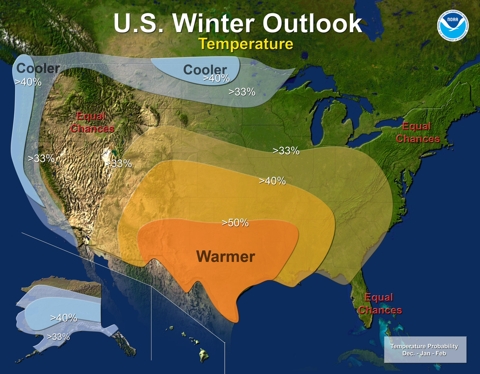 I continue to warn against using ETFs such as UNG, that hold futures as an investment vehicle, with the long term negative effects of contango. I believe the current spread valuations that create the rollover contangos for these vehicles are too tight for the second half of 2011, Producing Region available capacity will be short in the late summer and is not priced in yet; we truly may risk running out before injection season is over in the late summer, yet October to November is roughly a .21 cent contango and will likely trade much wider on limited availability. The best play for those that are looking for investment in this asset class is the E&P companies themselves. I believe at some point in the near future, there will be some great long term investment opportunities in lower priced stocks of these companies, (CHK, HK, APC, COP, STR, CVX, XOM, EOG, DVN, QEP, etc etc), I don't think we are there yet though.
Disclosure: I am not currently invested in any stock and/or ETF mentioned in this article.