Zynga (NASDAQ:ZNGA) is set to report earnings for its second fiscal quarter of 2014 after the market closes on Thursday, August 7th. Zynga is a mobile games studio best known for its smash hit franchise, FarmVille.
FarmVille originally launched in 2009 on Facebook (NASDAQ:FB) and Microsoft's (NASDAQ:MSFT) MSN Network. Within the game's first 6 weeks on Facebook it amassed over 10 million players, making it the most popular game on the social network. One of the reasons that was FarmVille was so successful was that it was one of the first titles to employ the freemium model, which dominates the games industry today.
Freemium games are free to download and play, but there's always a catch. After a brief introductory period where players get hooked on cultivating their virtual farms, the rate of progression in the game slows to crawl. To advance more quickly, players can either buy virtual in-game currency with real dollars, or recruit their friends to download the game. So many people were asking for help on Facebook that Time Magazine rated FarmVille one of the worst 50 technologies of 2010.
From a business standpoint, the freemium model has been tremendously successful in the games industry and has catapulted several studios into the limelight. Candy Crush maker King Digital Entertainment (BATS:KING) rode a single title to its IPO, which turned out to be disastrous. Taking a one-hit wonder games company public is a huge risk, and investors weren't buying it when shares of King first hit the market.
Zynga still has millions of players on the original FarmVille, but much of the game's audience has migrated to mobile games made by competitors such as King. The first edition of FarmVille was launched 5 years ago and the game was designed for a desktop experience on Facebook, not to be played on a smartphone. FarmVille players have been on the decline since the game peaked in 2010 with over 80 million users.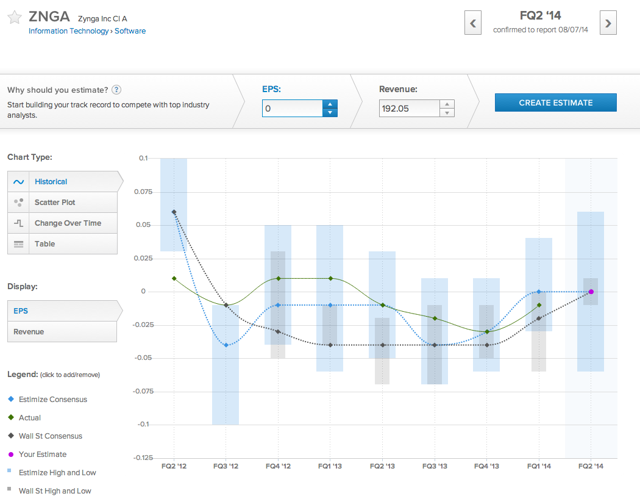 Click to enlarge
Zynga's earnings have been falling along with its customer base, but the company has been hard at work releasing 30+ games. To date Zynga has struggled to match the success of its first hit. On Thursday we will get our first look at the performance of Zynga's secret weapon, FarmVille 2: Country Escape.
Unlike the original FarmVille game, the new edition was designed with the mobile experience in mind. This will be the first game in the FarmVille serious that can be played on mobile, without internet access. FarmVille 2: Country Escape was launched with some fanfare in April of this year.
Click to enlarge
Zynga's earnings per share have declined on a year over year basis in each of the previous 8 quarters and the company has posted a loss 5 of 8 times. Zynga really needs the latest installment of the FarmVille franchise to be a winner, but there isn't much reason to be optimistic.
On Thursday, 40 buyside and independent contributing analysts on Estimize.com are forecasting that Zynga will report in-line with the Wall Street consensus of 0 cents per share in profits and $192 million in sales. Revenue is actually expected to fall compared to the same quarter of last year, while earnings come out 1 cent higher per share. Normally when a company has a big potential earnings catalyst like the launch of a game in its flagship franchise, the Estimize consensus tends to be higher and often more accurate than Wall Street's expectations.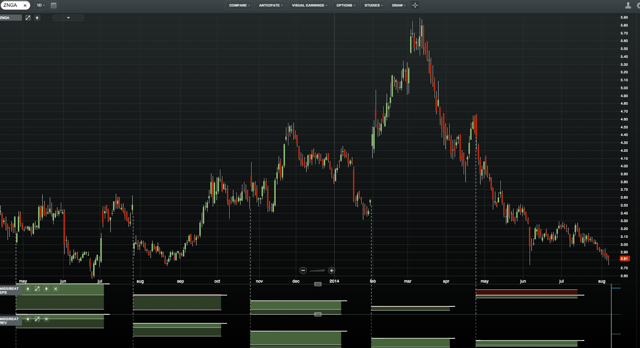 Click to enlarge
Since FarmVille 2: Country Escape's launch, shares of Zynga have been free falling. Investors in the market and on Estimize are sending a unified message: they think Zynga's new game will be a flop.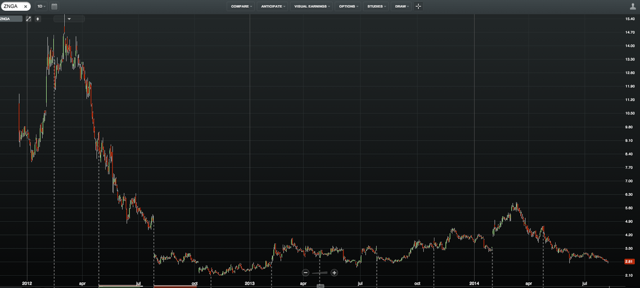 Click to enlarge
(Graph from ChartIQ Visual Earnings)
Zynga stock has been held down since the decline of FarmVille. As we wrote back in April, investing in one-hit wonder game studios can be risky business. But in the short run, earnings are an expectations game. This quarter we've seen Michael Kors (NYSE:KORS) deliver a great report beating expectations, but the stock fell on concerns over discounting and gross margins. At the same time, Kors' rival Coach (NYSE:COH) delivered lackluster results, but came in well ahead of expectations and saw a nice pop in its stock price. On Thursday, investors are not expecting much at all from Zynga. Let's see if the new FarmVille game is just as much of a dud as the Estimize community expects it to be.
Disclosure: None