For all the debate about J.C. Penney's (NYSE:JCP) prospects over the past year, it appears that the most likely scenario is going to be a middle ground one where J.C. Penney is neither thriving or dying. Although I have never argued that bankruptcy was likely, chatter about that has largely receded and it is now certainly not priced for bankruptcy. As well, J.C. Penney appears to have cut expenditures and grown sales by just enough to avoid needing additional liquidity, which I thought was a strong possibility before.
On the other hand, there appears to be little evidence that J.C. Penney is thriving and on track to recoup most of its lost market share. Top retail leaders are passing on the CEO position, recognizing the difficulties that J.C. Penney still faces. Various data charts show a J.C. Penney that is stabilized, but not leaping past rivals. J.C. Penney opened a store in Brooklyn, but also has quietly indicated that it is attempting to close two more stores in addition to the 33 stores it closed earlier this year. The picture painted is one of a relatively stabilized company that is on track to deliver some growth in the short-term, but also is facing a tough battle to claw back its lost market share.
Data Charts
The Alexa charts show that J.C. Penney is not really gaining position on its rivals in terms of Internet traffic. J.C. Penney's e-commerce growth itself has been strong, but Internet traffic reflects overall interest in J.C. Penney beyond online sales. The results show a relatively stable position for J.C. Penney, but it doesn't paint a picture of a company in rapid ascension. Instead, J.C. Penney remains behind its chief rivals.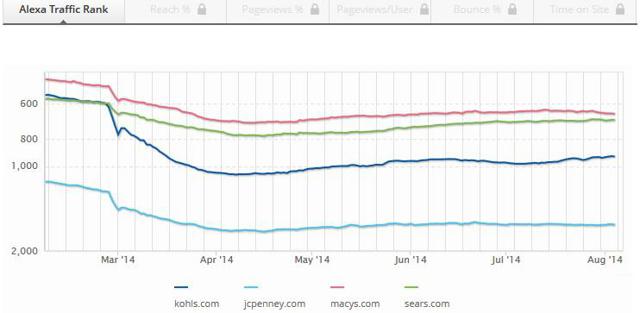 Click to enlarge
A similar tale is told by the Google Trends charts. The year-over-year decline interest in J.C. Penney has narrowed. At the same time, it hasn't improved either and interest trends look weaker than Macy's. This is another indication that J.C. Penney is in that middle ground between thriving and dying.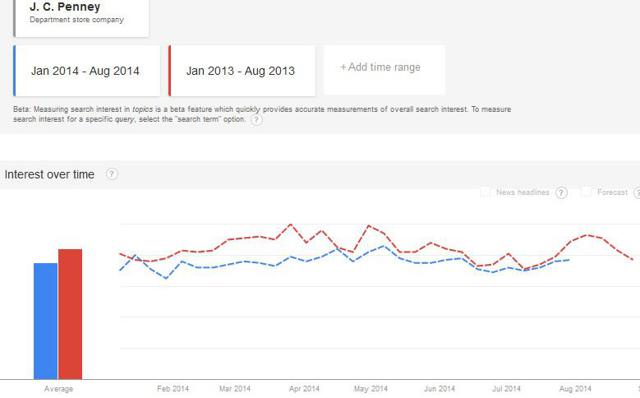 Click to enlarge
Both Google Trends charts compare January to August 2014 search interest to January to August 2013.
(click to enlarge)
Click to enlarge
Finding A New CEO
J.C. Penney is reportedly having a difficult time finding a CEO to succeed Ullman as top retail veterans have been less than enthusiastic about the position. HSN's Mindy Grossman was said to have turned down an offer from J.C. Penney, while Target's new CEO Brian Cornell reportedly expressed no interest in the J.C. Penney job. Cornell's choice to join Target was said to have been partly due to his belief that Target had "much more upside potential".
If J.C. Penney was truly as strong of a turnaround story as is sometimes portrayed, top candidates should be clamoring to lead it. They would be able to take significant credit for regaining billions in lost sales, while acquiring a compensation package with shares that would double or triple in value. Instead, it appears that experienced retail leaders know that J.C. Penney still has a tough fight on its hands to claw back market share in small increments. J.C. Penney is making progress, but there are still more than enough challenges to make potential CEOs wary of risking their reputations.
To be fair, J.C. Penney has attracted solid executive team talent like CFO Ed Record. However, J.C. Penney represents a step up in his career coming from a smaller company like Stage Stores (with 1/5th of J.C. Penney's market cap), and his reputation would remain intact if J.C. Penney slogged through years of stagnant or slow growth.
Notes On Valuation
As I have noted before, even at $13.5 billion in sales (around a 15% comparable store sales increase from J.C. Penney's lows), J.C. Penney would be only be worth around $4 based on historical metrics. One can probably make a case based on past stock price action that somewhere around $5 represents a substantial expectation of bankruptcy though, given that J.C. Penney barely dipped below $5 even when fears were strongest. Therefore, if J.C. Penney muddles around at $13.5 billion in sales, it will probably stay above $6 at least.
On the other hand, if J.C. Penney recovers half of its lost sales (putting it at around $14.5 billion in sales, which requires around a 25% comparable store sales increase from the lows). Based on historical metrics, this would likely make J.C. Penney worth around $12 if one includes the value of the NOLs as well.
Opening and Closing Stores
J.C. Penney recently announced that it is opening its first store in Brooklyn. The lease for the location at Gateway II was signed in February 2013, and J.C. Penney decided to continue with plans to open that location despite announcing the closure of 33 other stores in January 2014.
More under the radar is J.C. Penney's move to put its Gwinnett Place Mall and Regency Mall locations up for sale, with store closures slated for when/if the properties sell. These two locations were not part of the 33 store closures announced before, but appear to be in malls that have faced some challenges in recent years.
These are probably good moves for J.C. Penney, as it involves trimming a couple of poorer performing stores, and adding a new store in a high-potential location. As a whole, the store closings and openings are fairly inconsequential as they represent incremental moves that will have a minimal impact on J.C. Penney's financial state.
Conclusion
From the available evidence, it looks like J.C. Penney has stabilized its business, but hasn't shown any signs of being able to recoup its past market share either. Potential new CEOs have been generally disinterested in the position due to the challenges J.C. Penney still faces. Other data indicates that J.C. Penney is no longer sinking rapidly, but still is far from recapturing its lost customers. That leaves J.C. Penney in a relatively murky middle ground position where it marches along with solid liquidity, but also a very heavy debt load that constrains it from doing more than incremental moves. Since J.C. Penney had moved toward the upper end of the middle ground valuation range (around $6 to $12 based on $13.5 billion to $14.5 billion in sales), I have taken a short position in it again. I also personally feel that J.C. Penney is more likely to end up near the bottom end of that sales range in the long run.
Disclosure: The author is short JCP. The author wrote this article themselves, and it expresses their own opinions. The author is not receiving compensation for it (other than from Seeking Alpha). The author has no business relationship with any company whose stock is mentioned in this article.