DryShips, Inc. (NASDAQ:DRYS) announced earnings on August 5th with better-than-expected results: revenue of $527.6 million was about 10% higher than expectations, and a loss per share of $.01 was $.05 better than estimates. The real highlights came during the conference call as George Economou (Chairman and CEO) outlined the steps being taken to resolve the convertible bond coming due in December 2014.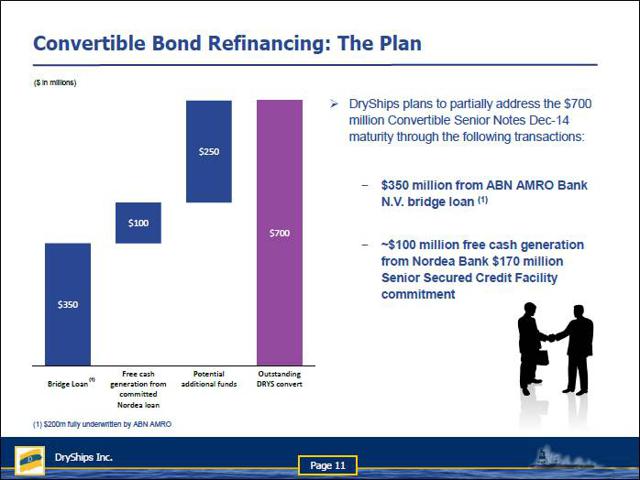 Click to enlarge
(Source: Company presentation)
The company previously announced it had secured a $350 million secured bridge loan and an additional $100 million from a commitment letter from Nordea Bank. The remaining $250 million still needs to be made up, but the underlining message was its not "where are we going to get the money" but "what's the best rate we can get".
Oliver Corlett - R. W. Pressprich

Okay. And so you could do a portion of the 700 possibly with a restructuring of some kind or the whole thing if it turned out that way?

George Economou - Chairman and CEO

Yes, we can, definitely and its intention on the bondholders to do. We just want to see what it would cost us. To us it's not a matter of being able to do it, it's the matter of what's the cheapest way of doing it.
Institutional investors are focused on the ability of DryShips to close this deal, and will likely lead to an increase investment in the company. While talk of shipping rates, fleet utilization, oversupply of ships, and Chinese imports normally dominate the earnings call, every analyst asked a question related to this refinancing:
Michael Webber - Wells Fargo Securities

First just zeroing on the remaining better funding that's needed in the slide on Page 11 is actually really helpful. But around that 250 million, Ziad, this is probably question for you, how many shares are left outstanding that can actually still be placed standard or collateralized?

Keith Mori - Barclays

Okay. And just one for the -- I know Michael asked a question around potential refinancing of the remaining 250 that you highlighted, how many ships are at the fleet that are unencumbered today?

Fotis Giannakoulis - Morgan Stanley

Yes. Hi and thank you. Most of my questions have already been answered.

Oliver Corlett - R. W. Pressprich

Hi. Thanks for taking my questions again. I just wanted to explore on that ABN AMRO $350 million bridge loan, you say that you have a firm commitment for up to $350 million. Does that mean a firm commitment for $350 million or I don't…
The company's strategy is to use the refinancing to push the maturity date back in order to take advantage of the anticipated better shipping rates:
There is initial period of one year, can be extended by the existing little bit the interest. We -- our firm belief is that we need that period to -- for the market to rise, bringing the cash flows, reduce our debt and then we will see where we are after one and half year.

But I think it was a good way to say that, we believe one and half years would be sufficient to be able to find the cheap resolution and what we're going to have to be paying for the bridge facility.
Even with the refinancing, the company still has additional debt that will be maturing over the next two years. The company is confident the improving market rates will enable them to meet all obligations.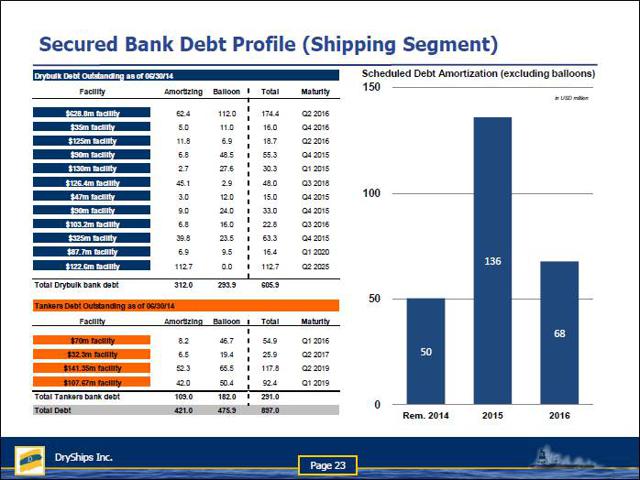 Click to enlarge
Based on these sentiments, I believe institutional investors will increase their stakes in the company. Investors have previously been critical of George Economou, however, he is a leader in the industry and has been able to navigate DryShips through the shipping slowdown. Institutional investors still appear to have faith and confidence in him, and are likely to vote for him with dollars as he moves DryShips forward.
Disclosure: The author is long DRYS. The author wrote this article themselves, and it expresses their own opinions. The author is not receiving compensation for it (other than from Seeking Alpha). The author has no business relationship with any company whose stock is mentioned in this article.