In the upstream MLP sector, Linn Energy (LINE) is the 800 pound gorilla, absolutely dwarfing its smaller peers. However, the company has at times struggled, as was experienced earlier in the year when concerns over the sustainability of the distribution were raised.
That being said, Linn Energy has worked quickly to improve its situation, striking two major asset swaps with Devon (NYSE:DVN) and Exxon (NYSE:XOM) which should in theory boost its distributable cash flow, "DCF", short-to-medium term. As a result, both it and sister-stock LinnCo (LNCO) have staged a recovery, now flat for the year not including any dividends/distributions.
A closer look at Linn Energy's acquisition
On August 4, Linn Energy announced an acquisition of mostly natural gas E&P assets in the Hugoton Basin from Pioneer Natural Resources Company (NYSE:PXD). Below are some of the key details:
Purchase price: $340 million

Current production: 40 MMCFE/D

Production mix: 60% natural gas, 40% liquids (mostly NGLs)

Proved Reserves: ~340 BCFE with an estimated reserve life of 23 years

Cost of proved reserves: $1.00 per MCFE

Working interest in more than 1,200 producing wells and 180 future drilling locations

Immediately accretive to excess of net cash provided by operating activities after distributions to unitholders

Closing is expected for some time in Q3 2014, with an effective date of July 1, 2014.
Along with this production, Linn Energy will receive a 51% operating interest in the 240 MMCFE/D Satanta natural gas processing plant
Linn Energy also announced that it will be selling its rights to the Woodford and Meramec horizons in the STACK play on approximately 26,000 undeveloped acres of the Anadarko Basin for $90 million.
These funds will be used towards funding the Hugoton Basin transaction. The difference between the selling price is anticipated to be made up with a future asset sale.
Linn Energy's rationale for the acquisition
The structure of this transaction is eerily similar to Linn Energy's previously announced deals with Exxon and Devon in that the company will be selling capital intensive "growth" assets in exchange for more mature, cash flow rich, production.
These assets are a good fit for Linn Energy's model. They have a very modest 6% decline rate, are cash flow rich, and require very little sustaining capital.
Furthermore, as shown in the chart below, this production in the Hugoton Basin will add to Linn Energy's legacy position and greatly complement the 85 MMCFE/D of production to be acquired from Exxon.
Also note that Linn Energy will now own all or the majority of two natural gas processing plants in the region, the 450 MMCFE/D Jayhawk natural gas plant, and the 240 MMCFE/D Satanta natural gas plant.
As a result, I expect the company to achieve significant synergies and cost savings as it is now the largest producer in the region. Pro forma, Linn Energy combined production in the Hugoton Field plus the nearby Panhandle Shallow, is estimated to be 275 MMCFE/D.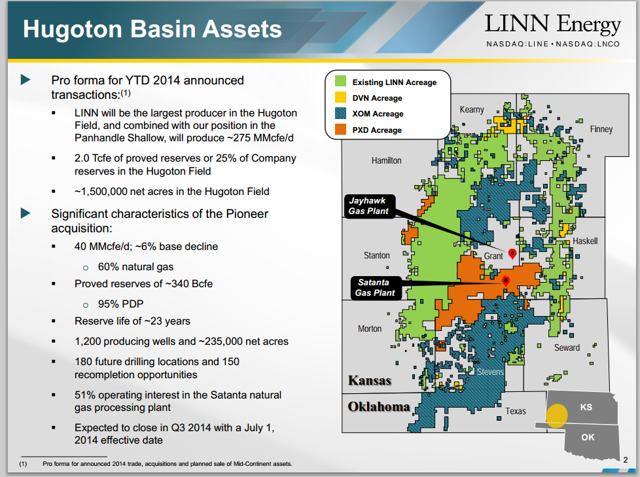 Conclusion
Once again, Linn Energy has made a smart strategic decision. The company should see an immediate boost to its DCF per unit as a result of this added production. I expect to hear more about this transaction after the company reports its earnings on Thursday (August 7).
Disclaimer: The opinions in this article are for informational purposes only and should not be construed as a recommendation to buy or sell the stocks mentioned. Please do your own due diligence before making any investment decision.
Disclosure: The author has no positions in any stocks mentioned, and no plans to initiate any positions within the next 72 hours. The author wrote this article themselves, and it expresses their own opinions. The author is not receiving compensation for it (other than from Seeking Alpha). The author has no business relationship with any company whose stock is mentioned in this article.