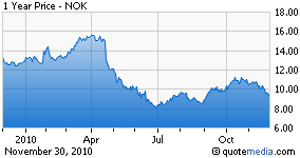 Click to enlargeFinnish mobile phone giant Nokia (NYSE:NOK) has seen better years as it continues to lose market share to the likes of Apple (NASDAQ:AAPL), Research In Motion (RIMM) and Android-based handsets. With a recent power problem for its popular N8 phone, analysts continue to worry about Nokia. But the company posted third-quarter profit that beat estimates and is putting a new management team in place, leading most analysts to see an improving year ahead.
The median price based on the most recent targets tracked by Alacra Pulse is $12.30, up from $10.27 two months ago and higher than Monday's closing price of $9.34. The mean target is $11.98. Of 28 analysts who have changed or reiterated their price targets since the last Prognosis, 16 have a positive rating, 4 are neutral and 8 are negative.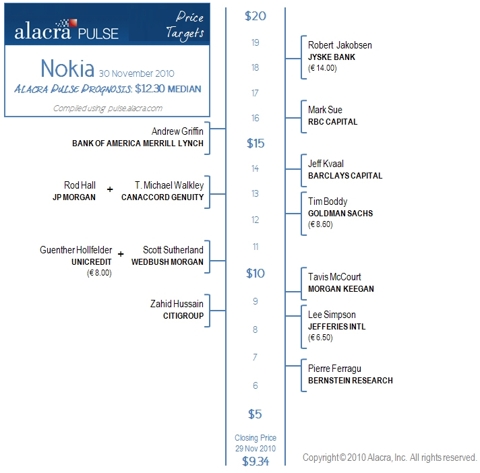 Click to enlarge
(Click to enlarge)
We expect strong smartphone demand, healthy sell-in of Nokia's new Symbian 3 products and an improved basic portfolio. That will boost the company's near-term earnings.
However, according to ABI Research analyst, Michael Morgan, Nokia's high end smartphones are likely to come under the most pressure in the coming years, and Korean firm Samsung Electronics (OTC:SSNLF) could become a top competitor.
Fitch Ratings downgraded its debt rating on Nokia this month to "BBB+" from "A" and indicated the possibility of another rating downgrade. Nokia's growing loss of market share in the low-end mobile handset segment and its inability to find a solution for a foothold in the high-end smartphone segment in North American are key reasons for the downgrade, according to Fitch.
Disclosure: No position