One of the main advantages the patient long-term investor has in their arsenal is patience. By not being a slave to quarterly comparisons, an investor can initiate a position in well run companies at an attractive price due to the crowd's myopic view of events. Such is the opportunity presented to us today after the brutal sell-off Walgreen (WAG) has endured. The article below, will discuss my investment thesis for initiating a position in WAG.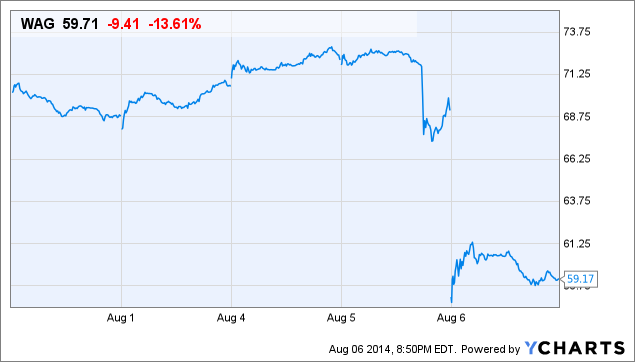 WAG issued a press release announcing their intention on acquiring the portion of Allied Boots they currently do not own. The acquisition will transform WAG into a more global based pharmacy enterprise instead of a strictly US based entity. On the surface, the announcement shouldn't have come as a major shock as WAG already owned 45% of Allied Boots with the intention of acquiring the entire entity. Let's examine the following bullet points of the press release to glean if the sell-off is indeed a buying opportunity.
Walgreens to seek shareholder approval in connection with acquisition of remaining 55 percent of Alliance Boots after initial 45 percent investment completed in 2012
Option exercise accelerated ahead of original option period
Fully combined company to have blended senior management team including Greg Wasson as president and CEO and Stefano Pessina as executive vice chairman of combined company, responsible for strategy and M&A. Pessina also to chair new strategy committee of the board of directors
The new Walgreens Boots Alliance, Inc. holding company will be headquartered in the Chicago area
Company outlines new three-year Next Chapter plan that sets strategic goals for the combined company
Walgreens establishes new adjusted EPS goal for fiscal 2016 of $4.25-$4.60
Company accelerating cost-reduction initiatives targeted to achieve $1 billion in savings by end of fiscal 2017
Walgreens board of directors authorizes new capital allocation policy that includes a new $3 billion share repurchase program; declares 7.1 percent quarterly dividend increase to 33.75 cents per share
I would like to examine the second bullet point where it discusses the management team that will lead the new WAG. I am particularly pleased to see Stefano Pessina taking an active role in the combined entity. Mr. Pessina has a large stake in the combined company and I have no doubt he will make the necessary moves to ensure the combined entities' success. I look for management teams with a large stake in their respective companies. I feel nothing steadies management's focus more than knowing all their financial success is tied to the entity they manage.
The second bullet point I would like to highlight is the combined entities' earnings projections. WAG operates in a very stable, predictable field where demand for their end product (pharmaceuticals) tends to show inelastic demand. I favor companies of this sort as their rather predictable earnings and revenue stream make them ideal candidates for long-term earnings projections.
Using the lower end of the range as a guide, what would an investor reasonably pay for a company with projected earnings of at least $4.25 per share. WAG historically trades at a 10 year P/E average of 19.7, however over the past couple of years as growth has slowed the multiple has compressed. For my projections, I will use an 18 multiple which in my estimation is fair. Applying an 18 multiple to the low end of management's guidance puts a projected share price of $76.5. An investor will also receive an additional $3.375 in dividends which further adds to the appeal of the investment. The total return over the 10 quarter holding period nets out to a 33% return which is quite satisfactory.
Now that we have a projection, I would like to examine if WAG capital allocation plan can help ensure meeting my baseline projection. The following blurb from the press release neatly sums up WAG capital allocation plans for the next 10 quarters.
Returning cash to shareholders by targeting a 30-35 percent long-term dividend payout ratio and a new $3 billion share repurchase authorization through the end of fiscal 2016.
WAG share reduction plan would reduce shares outstanding by roughly 5% based on its current market cap. I suspect the share repurchase plan will greatly aid the combined entity to exceed the low end of their projections. The presence of a meaningful share reduction plan combined with the recession resistance nature of their business bodes well for my estimate.
I would like to take a moment to address the tax inversion issue that seems to be plaguing the shares. WAG made the decision to retain their Illinois based headquarters instead of moving overseas. Judging by the magnitude of the shares' drop over the past two days, many were disappointed by this decision. I suspect the tax inversion issue will be addressed after the upcoming election. WAG action in my view is prudent, as a legislative solution should appear in the not so distant future.
In summary, WAG recent share drop offers in my view an attractive opportunity for the conservative long-term investor. I have initiated a new position at $60 per share and plan on holding the shares for the foreseeable future. I would like to thank you for reading and commenting.
Disclosure: The author is long WAG. The author wrote this article themselves, and it expresses their own opinions. The author is not receiving compensation for it (other than from Seeking Alpha). The author has no business relationship with any company whose stock is mentioned in this article.
Additional disclosure: Investors are always reminded that before making any investment, you should do your own proper due diligence on any name directly or indirectly mentioned in this article. Investors should also consider seeking advice from a broker or financial adviser before making any investment decisions. Any material in this article should be considered general information, and not relied on as a formal investment recommendation.