Two recent IPOs - Just-Eat Group and GrubHub Inc. - both seem to have alarmingly bullish expectations built into current market prices - no doubt a significant factor in the decision of the hedge funds to take a negative view.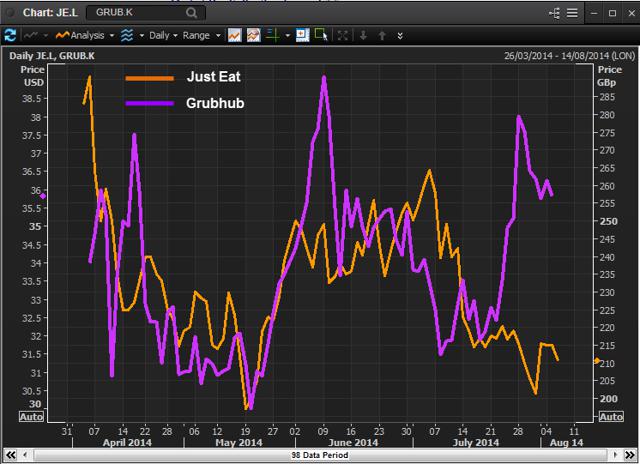 Lift the tablecloth
Investors often assume that recent IPOs somehow are priced so that high returns are assured. Look at the retail demand for Facebook after its recent IPO. They should pause and review some of the literature around the mean/median returns for IPOs - the truth isn't quite so attractive, particularly if the companies that are listed have come from a venture capital background. According to the abstract for a seminal paper by Jay Ritter at the University of Pennsylvania in 1991 --
It is incorrect to assume that investors demand very high annualized and cumulative rates of return to compensate for the risks they are taking by financing ventures in different sectors of the economy. The mean rates of return are found to be, in practice, very moderate, and often, negative.
Such academic findings, uninfluenced by the conflicts of interest inherent in much broker research, are very interesting. It makes you consider the ECM and IPO business lines, and the huge fees created through these listings. Obviously the larger the valuation, the greater the fee to the broker. Therefore the balancing act between ensuring a successful opening and maximising the exit price for their clients is inherently treacherous.
Recent IPOs in the U.K., such as Royal Mail Group Ltd. (OTCPK:ROYMF), have openly exposed this dilemma with government / taxpayer fury at the apparently inexpensive float price. On the other hand, private investors are not quite so generous to those that come after. Certainly neither GrubHub nor Just Eat have performed well subsequent to their flotation.
Turning to GrubHub, the stock has a 10 year implied EPS growth level of 39.4% - meaning the company is going to grow at around 40% every year for the next 10. To Dec. 14 it will achieve a 73.6% growth rate, slowing to 28.1% for FY2, based on StarMine projections.
Any commentator who tells you the long-term growth of a company is fooling themselves - you're attempting to model future company behavior, competitor behavior, economic factors and consumer behavior. Of course, if the company does start to make significant super normal profits, then the numbers of competitors will multiply. What can be said with certainty is that it's very dangerous to assume such a successful bump-free ride for investors. GrubHub also looks eye-wateringly expensive from a P/E standpoint, trading at 100.2 times FY1 earnings.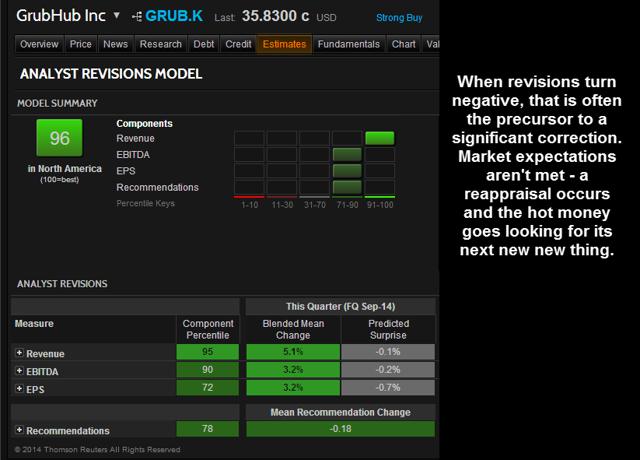 Stir the pot
From a models perspective, StarMine certainly gives pause to think -GrubHub has a short interest model in the bottom 1% (the 1% of North American stocks most shorted based on index data, allowing for the amount of free float). Equally, GrubHub has an Intrinsic Valuation score of 2 and Relative Valuation score of 5. Of course, the company continues to score well based on positive changes in analyst sentiment - it's in the 96th percentile.

Hold the pepperoni
Just Eat is a U.K. equivalent, now providing home delivery options in 13 markets, primarily Europe but also including Canada, India and Brazil. The valuation has recently declined from its post IPO high of 85, down to the current level of 60 times. Despite the selloff, the price remains hard to justify, particularly when compared to Domino's Pizza (NYSE:DPZ) in the U.K., which gets the majority of its orders online. Domino's has an F12M P/E of 19.2, growing EPS at 7% this year and 20% next year.
While Domino's reported revenue of £268.9 million for the year ending 2013 - Just Eat reported £96.75 million for the same period. Yet Domino's market cap is £913 million, compared to Just Eat's £1.21 billion. Is there a secret sauce that justifies the difference in valuations? If the growth rate is sustainable then obviously Just Eat will catch up and exceed Domino's - but the market is ruling that a fait accompli. As Yogi Berra put it - "it's tough to make predictions, especially about the future."
Fundamental change is occurring in the way we purchase many goods and services online - Amazon.com Inc. (NASDAQ:AMZN) is the most obvious example. Yet shareholders in that online behemoth have had a tough run of late. For those looking at other Internet market darlings - order carefully from that menu.
Disclosure: The author has no positions in any stocks mentioned, and no plans to initiate any positions within the next 72 hours.
Business relationship disclosure: Alpha Now at Thomson Reuters is a team of expert analysts that are constantly looking at the financial landscape in order to keep you up to date on the latest movements. This article was written by Steven Carroll, independent commentator and analyst. We did not receive compensation for this article, and we have no business relationship with any company whose stock is mentioned in this article.