Procter & Gamble (NYSE:PG) is nearly 200 years old and over this time, it has grown into a global company with $83 billion in revenues and $11 billion in profits last year. Growing a company's revenues and profits is a desirable capitalistic goal, but how a company is grown matters. Procter & Gamble has grown into an unwieldy mammoth with 180 brands, some of which compete against each other with little differentiation between competing brands. It is hardly surprising that the company just announced plans to dissolve or divest 100 of its brands and focus on the remaining 80. The brand names being cut are not yet announced, but the company wants to preserve brands that operate in growing, high-margin industries.
The company's CEO, A.G. Lafley, had this to say about its change in strategy from acquiring and introducing new brands to substantially paring down unsuccessful brands:
Less will be much more. The objective is growth and much more reliable generation of cash and profit. We're going to be much more agile and adaptable.
Why the Change in Tune Now?
Procter & Gamble has a long history of growing through brand acquisitions and introducing innovation to both current and new brands. So, why does it want to cull brands now? It is likely due to a plateau in revenues and profits since 2008 as shown below.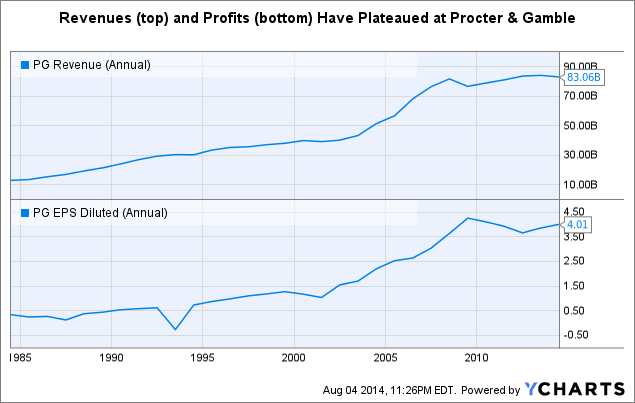 PG Revenue (Annual) data by YCharts
This is not the first rut that Procter & Gamble has ever faced. For instance, in March 2000, the company faced a sales decline and an earnings warning. Shortly thereafter, A.G. Lafley was elected as the company's CEO and redefined innovation at the company. He found a way to more than triple the industry-standard innovation success rate of 15% to 50%. Instead of only 1/6th of product innovations meeting benchmarks of success, under his watch, 1/2 of product innovations were successful. This was done by relying more on external innovations that could be adopted in-house. Some of these innovations came from acquisition of brands like Charmin, Folgers Coffee, Old Spice, Max Factor, Iams, and Gillette. Others came from rewarding managers to regularly go out into the public as consumers in order to generate ideas of unmet needs and from dispersing the need to innovate into all employees.
A.G. Lafley's leadership was seen as critical in bringing Procter & Gamble out of its last rut in 2000. He then retired from the company in 2010, but rejoined as CEO in May, 2013 to take on the task of once again leading the company out of the latest rut it is in. Once again, innovation may be the key. A look below at the company's latest R&D efforts shows a trend of decreasing R&D expenditure as a percentage of revenues over time.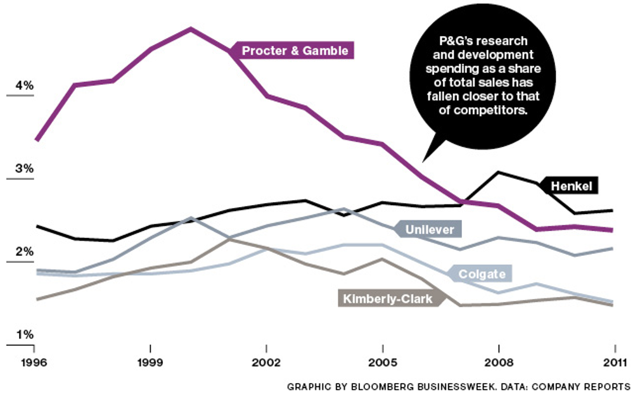 Click to enlarge
Source: BusinessWeek.com
In order to stimulate innovation, it is critical for Proctor & Gamble to reapply the lesson it learnt in 2000 and reverse this trend. However, R&D expenditure in 2013 stayed constant at 2.4% of sales. Lafley needs to once again focus on innovation and increase the R&D budget at Proctor & Gamble so that it can out-grow the rut it is in.
Is Over-Cannibalization Becoming Bad for Business?
Procter & Gamble actively supports cannibalization of its products to increase sales, but this needs to be done in a careful manner. Ideally, cannibalization may hurt sales of the brand being cannibalized, but increase sales of the whole product line. For instance, the company recently introduced a lower-end version of its popular Tide laundry detergent known as 'Tide Simply Clean & Fresh'. In coordination with this product introduction, it increased prices on its 'Plus' line of Tide detergents shown below.

Click to enlarge
Source: Tide.com
This product introduction was meant to attract customers buying cheaper laundry detergents. A price increase of its premium 'Plus' line will compensate for lower margins associated with the lower-end version. This type of clear market segmentation for its different product SKUs seems very reasonable and is likely to increase sales for the overall Tide product line.
However, in addition to Tide, Procter & Gamble also owns the laundry detergent brands Gain, Cheer, and Era. Gain is similarly priced as Tide and is marketed as being better scented, but that is not much of a differentiator from Tide.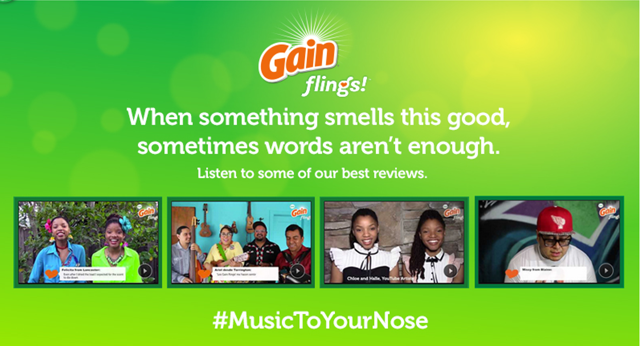 Click to enlarge
Source: ilovegain.com
And what of Era and Cheer laundry detergent brands? How are they different? Given that Procter & Gamble has cut back on marketing of these two brands and that these brands really are not very different from Tide and Gain, it is likely that they will be culled.
Procter & Gamble may be pioneers in embracing product cannibalization, but they also need to walk a fine line here. Diversifying their Tide product line in order to attract a wider customer base makes sense. On the other hand, investing in three other laundry detergent brands that are not well differentiated from Tide or from each other does not make sense. This is because the large cost of establishing new brands and marketing new products are unlikely to outweigh the benefit of gaining additional customers, some of whom may be at the expense of lost customers for their Tide brand. Culling these redundant brands and trimming down the company is a tough call but the right decision for Procter & Gamble.
Conclusions
Procter & Gamble has faced slowing revenue and profit growth since 2008. The man in charge of pulling the company out of its last rut in 2000, A.G. Lafley, was reinstated as the company 's CEO in May 2013. Last time, he led the company by focusing on innovation; however, R&D expenditure as a percent of sales has steadily declined since 2000 and has remained at about 2% for the last three years. He did recently announce to cull more than half of Procter & Gamble's 180 brands, a move that should eliminate many of the brands that competed against each other without any clear differentiators between each other (e.g. Tide, Gain, Era, and Cheer brands of laundry detergents). It is reassuring that Lafley is back at Procter & Gamble to help the company regain its stride and he is already making the right decision to trim back the company, but it is imperative that he once again permeates innovation within Procter & Gamble.
Disclosure: The author has no positions in any stocks mentioned, and no plans to initiate any positions within the next 72 hours. The author wrote this article themselves, and it expresses their own opinions. The author is not receiving compensation for it (other than from Seeking Alpha). The author has no business relationship with any company whose stock is mentioned in this article.