A lot has been said about RadioShack (NYSE:RSH), the beleaguered electronics retailer that many investors think will not be able to avoid bankruptcy. But is RadioShack's failure really a certainty, as many bearish investors would want you to believe?
Other companies have staged successful comebacks when they were standing with their backs against the wall as well. And most importantly, the retail sector itself has a variety of examples of companies that were able to pull of amazing turnarounds, such as the Rite Aid pharmacy chain or top line-challenged Best Buy (NYSE:BBY), an electronics retailer suffering from the same secular demand shifts as RadioShack.
Turnarounds have also been pulled off by companies that faced extraordinary, mind boggling obstacles such as American International Group or Nokia, whose stock price surged after the company sold its device business.
In all cases, investors were overwhelmingly convinced the companies would fail. With all these companies staging strong comebacks, investors should have learned not to declare a business dead before it has indeed fallen or, in the case of RadioShack, filed for bankruptcy.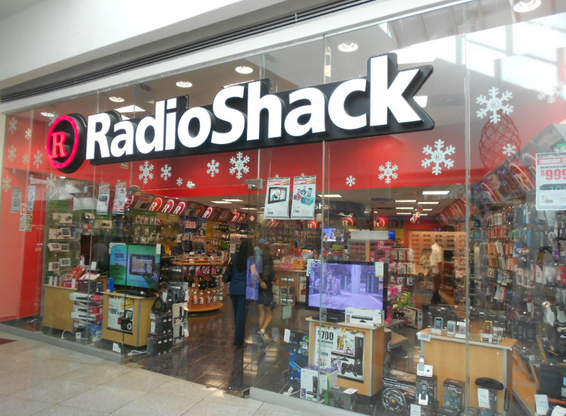 (Source: Wikimedia Commons)
Dismal quarterly results
No doubt, RadioShack's first quarter results were dismal to say the least, and there is no arguing about it: The situation at the electronics retailer does not look great at all. But that doesn't mean that all hope is lost: It is often the most contrarian, most hated investments that outperform the most.
The retailer suffered from an erosion of its top and bottom lines, its free cash flow tanked, and comparable store sales growth numbers sent investors running for the hills.
In the first quarter of 2014, RadioShack reported a decline in sales of 13% to $736.7 million, and same-store comparable sales declined 14% year over year because of traffic declines and weak performance in its mobility segment.
Looking at RadioShack's operating income, free cash flow, and diluted earnings per share can surely be intimidating: All metrics are southbound.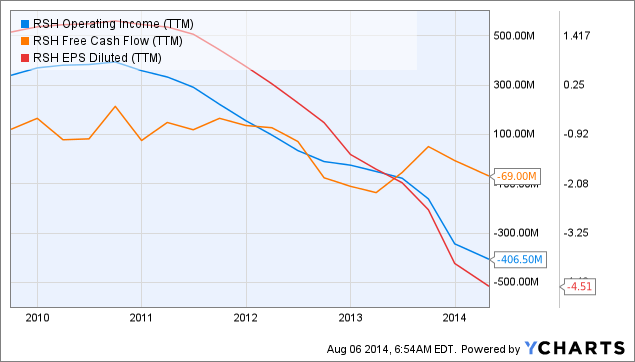 Compare this, for instance, against online retailer Amazon (NASDAQ:AMZN) and it becomes clear that RadioShack's problems are really specific to the company and do not point toward larger industry issues with respect to underlying profitability.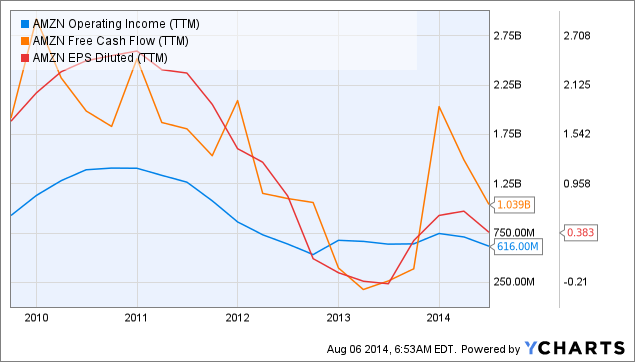 What's next for RadioShack
RadioShack's previous turnaround plan experienced some unexpected opposition from lenders, which didn't approve of RadioShack's intentions to shut down 1,100 stores. Though the radical downsizing would certainly have helped the retailer in reducing its cash burn rate, lenders were clearly worried about a further erosion of RadioShack's sales base.
However, despite the short-term restructuring setback, the company could pursue other options in order to ensure the survival of the company. As the case of J.C. Penney (NYSE:JCP) has shown, RadioShack probably needs to report only one or two quarters of sequential sales growth in order to change investor perceptions about an imminent default. Expectations regarding RadioShacks' sales figures are so low and unproductively negative, that even a stabilization of sales would probably cause serious positive volatility in the stock.
As I have argued in my previous RadioShack article entitled: "Will The Vultures Circling RadioShack Have To Call Off Their Feast?," a company is not dead before it is dead. Though there are a lot of loud Bears in the marketplace who think the company is just days away from failure, I have seen way too often, that a sure thing (a bankruptcy of RadioShack in this case) is really not a sure thing at all.
Options
In order to achieve a turnaround, RadioShack could close a smaller than originally anticipated number of the most underperforming stores, or it could reach an alternate agreement with lenders about store closures that would accommodate concerns of both RadioShack and its lenders.
RadioShack could also pursue a secondary equity offering and tap shareholders in order to bolster up its balance sheet. The case of J.C. Penney has shown that equity offerings can be crucial in pulling off a turnaround; enough cash on the balance sheet would certainly alleviate investor concerns about RadioShack's cash burn rate and buy the company crucial time to remodel stores or initiate new partnerships that would draw more traffic.
Valuation
Both Best Buy and RadioShack trade at almost comical valuations based on their respective price-to-sales ratios which indicates massive investor pessimism.
Amazon, on the other hand, thanks to its dominant market position and positive free cash flows, trades at a substantially higher P/S ratio of 1.77, whereas Best Buy and RadioShack trade at seriously distressed sales multiples as a reflection of their current top line and comp challenges.
Conclusion
As long as RadioShack hasn't filed for bankruptcy, investors shouldn't prematurely write off the retailer. I know it isn't easy to envision the unthinkable and go against consensus opinion, but history is rife with examples of companies that have staged meaningful comebacks when new store concepts were implemented, the product assortment was modified, partners were brought on board, capital raised etc.
RadioShack may be standing with its back to the wall, but the company has not yet run out of options to turn the ship around. Therefore RadioShack might be an interesting, yet asymmetric turnaround play, for hardened contrarians who want to position themselves against the flow. While there certainly is a risk of failure, the payoff could be extreme if RadioShack pulls off the unthinkable and manages to bring in some cash via an equity offering, a new lender agreement or a strategic investor.
Disclosure: The author is long BBY, JCP. The author wrote this article themselves, and it expresses their own opinions. The author is not receiving compensation for it (other than from Seeking Alpha). The author has no business relationship with any company whose stock is mentioned in this article.
Editor's Note: This article covers one or more stocks trading at less than $1 per share and/or with less than a $100 million market cap. Please be aware of the risks associated with these stocks.