As markets start to factor in the possibility of a Fed rate hike, the implications for emerging market equities are mixed: growth conditions are improving (which is good for EM outperformance) but liquidity conditions will be deteriorating (which is the kiss of death for EM relative performance). Which will be the stronger driver?
The historical experience is illuminating. There have been three occasions when the Fed has started hiking rates after a recession when the EM asset class has existed: in 1986, 1994 and 2004. In each case, in anticipation of the first Fed hike, EM equities declined in both absolute and relative terms. Once the Fed hike was implemented, an extended period of outperformance followed.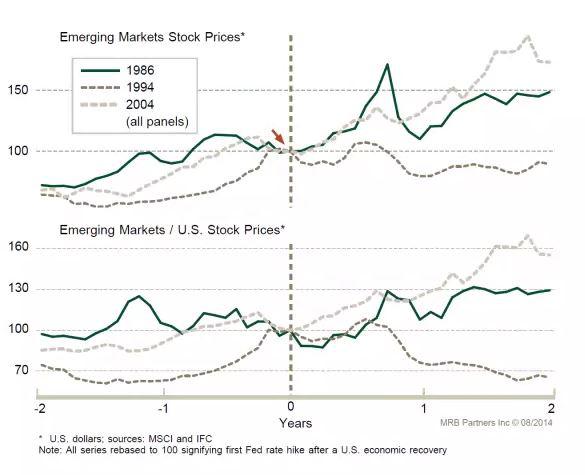 When the Fed eventually gets hawkish, the implications are different. However, we are far from any situation where the Fed stance could be described as "hawkish" i.e. attempting to slow down economic activity because of rising inflation expectations.
Currently, the market expects a first Fed rate hike by mid-2015. Mid-cycle corrections that anticipate such hikes typically occur about six months prior to the Fed decision. As we approach the end of 2014, therefore, there is a material risk of EM equity underperformance, but by mid-2015, the way will be clear for an extended run of outperformance.
Disclosure: The author has no positions in any stocks mentioned, and no plans to initiate any positions within the next 72 hours. The author wrote this article themselves, and it expresses their own opinions. The author is not receiving compensation for it. The author has no business relationship with any company whose stock is mentioned in this article.