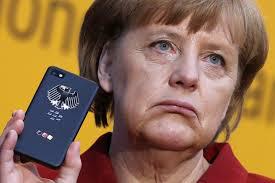 "Nothing comes between Angela Merkel and her BlackBerry." Source: BBC.com
According to Bloomberg News, the Chinese government has excluded Apple, Inc. (NASDAQ:AAPL) devices from the list of products that can be purchased with government money due to security issues. At least ten Apple products - including iPads and MacBooks - were excluded from a list compiled by the Ministry of Defense and National Development and Reform Commission. According to Bloomberg:
Apple is the latest U.S. technology company to be excluded from Chinese government purchases amid escalating tensions between the countries over claims of hacking and cyberspying. China's procurement agency told departments to stop buying antivirus software from Symantec Corp. (NASDAQ:SYMC) and Kaspersky Lab, while Microsoft Corp (NASDAQ:MSFT) was shut out of a government purchase of energy-efficient computers. "When the government stops the procurement of products, it sends a signal to corporates and semi-government bodies," said Mark Po, an analyst with UOB Kay Hian Ltd. in Hong Kong.
Potential Impact on Apple
Chinese officials have shown concern about potential security breaches pursuant to Apple products before. A few months ago Chinese officials were concerned that the iPhone was a national security risk because it collected personal data on users. The news of the ban on Apple computers comes as Apple is set to launch the iPhone 6, the biggest launch of an iPhone in history; first of all, the iPhone accounts for the lion's share of Apple's profits and secondly, the iPhone 6 launch is expected to include China Mobile (NYSE:CHL). How the government procurement ban affects the Apple/China Mobile partnering arrangement remains to be seen. Overall, China is an important market to Apple. While the company's most recent quarterly earnings report revealed flat or single digit revenue growth in the Americas, Europe, Japan and the rest of Asia-Pacific, revenue growth in China was 28% year-over-year.
Lastly, from a public relations standpoint, the shadow cast over Apple's lack of security could harm the reputation and business prospects of Apple's alliance with IBM (NYSE:IBM) to transform enterprise mobility / mobile device management ("MDM"). The partnership also plans to offer iPhones, apps for the iPhone, and security to IBM's blue chip MDM clients and those it expects to poach from BlackBerry, Ltd (NASDAQ:BBRY), Mobile lIron (NASDAQ:MOBL), etc. However, once China puts a moratorium on government purchases of Apple devices for their lack of security, it could drive of stake through the heart of its MDM aspirations and cause my heart to bleed even more for the Apple/IBM alliance.
Edward Snowden Effect
In 2013 former NSA contractor, Edward Snowden, revealed that the NSA was spying on foreign governments with the help of U.S. telecommunications companies. Since, foreign governments have been suspicious of U.S. technology companies and have been loath to share with them confidential information. According to Business Insider, the Snowden Effect could cost cloud computing companies from $22 billion to $180 billion in revenue over the next few years, and also negatively impact the likes of IBM, Cisco (NASDAQ:CSCO), Qualcomm (NASDAQ:QCOM), Microsoft and Hewlett Packard (NYSE:HP). Snowden also confessed that the NSA hacked the iPhone of German Chancellor Angela Merkel, and was listening in on her private conversations. Ms. Merkel subsequently dumped the iPhone and bought 5,000 BlackBerry Z10s for the German government. Now nothing comes between Angela Merkel and her BlackBerry:
After Edward Snowden revealed that the NSA hacked Merkel's phone and was listening in on her calls, the German Chancellor's security advisors dumped the iPhone in exchange for 5,000 BlackBerry Z10s. Ms. Merkel was recently featured in Focus Magazine holding her personal BlackBerry Q10, encrypted by the German company SecusSmart. In effect, other phones' failures are opportunities for BlackBerry.
Is BlackBerry Sitting In The Catbird Seat?
The Edward Snowden Effect has put BlackBerry in the proverbial catbird seat. First, it has brought the issue of "security" - BlackBerry's calling card - to the forefront. Secondly, how better for foreign governments to upset the U.S. than by spurning Apple, IBM and Microsoft for a Canadian company? BlackBerry Is prepared to step in immediately and fulfill the Chinese government's security concerns via the following:
Mobile Device Management - BlackBerry offers some of the most secure enterprise solutions on the planet. Its core business strategy is to offer global enterprise solutions to businesses and governments. As employees and government officials access emails and confidential information of their employers, it is crucial that companies managing these networks of mobile devices have a deep understanding of security. BlackBerry is a leader in offering secure solutions to help protect intellectual property. BlackBerry's recent partnership with NantHealth to offer a connected services healthcare platform in India, is a testament to that.
BlackBerry Passport - BlackBerry's new Passport phone could replace the iPad in the Chinese government's procurement listing. Such "phablets" - a fusion of phones and tablets - are all the rage. The Passport's oversized screen (4.5 inch), can do everything that an iPad Mini does, and then some. Secondly, the larger iPad does not have all the features of a laptop, nor is it easy to carry around like the Passport. The phone's security features and ability to protect against identity theft makes it the device of choice for the BlackBerry/NantHealth healthcare platform. On my previous article I explained how the Passport offered the best of both worlds:
The phone appears to be the best of both worlds - a physical screen big enough to rival the iPhone or Samsung offerings, making it easier for the younger generation to surf the web. It also has a physical keyboard which would assuage old-school BlackBerry fans like myself. On the face of it, the phone looks sleek and nimble, and the fact that it will offer best-in-class security features is a given.
Voice Encryption Handsets - The BlackBerry Q10 which Angela Merkel refuses to leave home without, came encrypted by the German company Secusmart to thwart the NSA, and provided a secure link to the German government's intranet. The phone is touted as the most secure phone in the world. In late July BlackBerry announced it was acquiring Secusmart which specializes in mobile security, device data encryption, and voice data encryption. BlackBerry and Secusmart could also arm the Chinese government with its "Angela Merkel line" of voice encrypted phones.
Conclusion
China's decision to ban government purchases of Apple devices puts sales at risk in the country where Apple's sales are most robust. The ban jeopardizes a successful launch of the iPhone 6 and could cause clients to look askance on Apple's alliance with IBM in enterprise solutions. That said, Apple's loss could be BlackBerry's gain with the potential to provide handsets and maybe even enterprise solutions to the Chinese government. BlackBerry CEO John Chen is on record saying, BlackBerry will not lose the fight on security. He can prove it now by winning business with the Chinese government left by Apple's void.
Disclosure: The author is long BBRY. The author wrote this article themselves, and it expresses their own opinions. The author is not receiving compensation for it (other than from Seeking Alpha). The author has no business relationship with any company whose stock is mentioned in this article.