Mandalay Resources (OTC:MNDJF) recently announced its second quarter earnings. The company earned $4.9 million, or $0.01/share on revenue of $44.8 million vs. last year's earnings of $3.1 million or $0.01/share on $35.9 million in revenues. Operating cash-flow for the quarter rose slightly from $10.4 million to $10.9 million. The increase in each of these is due to an increase in both gold and antimony production at the company's Costerfield Mine in Australia, and an increase in gold production offset by a slight decrease in silver production at the company's Cerro Bayo mine in Chile.
In my January article I argued that Manadalay Resources is an excellent speculation stock. Though the company's mines have limited resources, management has consistently replaced its depleting reserves while growing production without spending a lot of capital. For this reason, the stock has increased by several hundred percentage points over the years and it sits near an all-time high despite the carnage we have seen in the mining sector. The figures the company released for the second quarter reflect this growth and low operating costs.
However there are a couple of things that need to be explained. The first is that production costs rose at Costerfield: all in costs per gold equivalent ounce rose to $1,278/oz. from $1,178/oz. But this was due to the fact that the company is transitioning its mining operation from one part of the mine to another. But gold production rose from 6,879 oz. in Q2 of 2013 to 7,256 oz. in the most recent quarter. Antimony production rose from 738 tonnes to 855 tonnes. Since most investors aren't familiar with antimony, it is worth posting a price chart, which shows near-term weakness but longer term this weakness can be seen as consolidation in a long-term uptrend.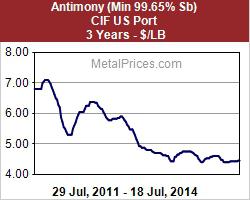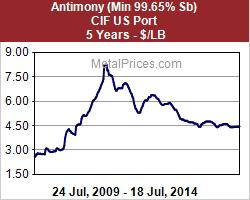 (Source: MetalPrices.com)
At the company's Cerro Bayo Project, silver production fell from 921,895 oz. to 741,382 oz. as ore grade declined. This was offset by an increase in gold production to 6,823 oz. from 6,167 oz. All-in production costs net of gold by-products rose to $12.08/oz. from $11.54/oz.
Generally this was a solid quarter, and Mandalay has a lot of growth ahead of it as it prepares to develop its Challacollo Silver Project in Chile and as it works on cutting costs at its newly acquired Bjorkdal Project in Sweden. I think the company has a lot of potential, and management continues to execute, although the shares are due for a pullback.
Disclosure: The author is long MNDJF. The author wrote this article themselves, and it expresses their own opinions. The author is not receiving compensation for it (other than from Seeking Alpha). The author has no business relationship with any company whose stock is mentioned in this article.
Editor's Note: This article discusses one or more securities that do not trade on a major U.S. exchange. Please be aware of the risks associated with these stocks.