The following is a list of stocks trading near 52-week lows. All of these stocks have a large number of open call option positions relative to put option positions, i.e. bullish options market sentiment.

Options traders seem to be betting on a rebound in these stocks--what do you think? Full analysis below.

Options data sourced from Schaeffer's, short float and performance data sourced from Finviz.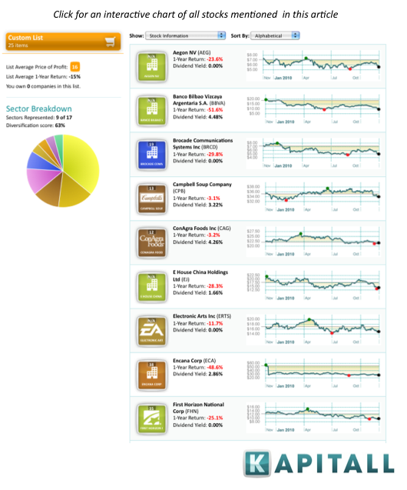 The list has been sorted by the Put/Call ratio.

1. Korea Electric Power Corp. (NYSE:KEP): Electric Utilities Industry. Market cap of $15.28B. The stock is currently 6.82% above its 52-week low. Call open interest at 7,224 contracts vs. put open interest at 599 contracts (Put/Call ratio at 0.08). Short float at 0.39%, which implies a short ratio of 3.74. The stock has lost -13.19% over the last year.

2. Fulton Financial Corp. (NASDAQ:FULT): Regional Bank. Market cap of $1.72B. The stock is currently 7.77% above its 52-week low. Call open interest at 946 contracts vs. put open interest at 112 contracts (Put/Call ratio at 0.12). Short float at 4.2%, which implies a short ratio of 7.13. The stock has gained 1.65% over the last year.

3. AEGON N.V. (NYSE:AEG): Life Insurance Industry. Market cap of $9.45B. The stock is currently 9.5% above its 52-week low. Call open interest at 688 contracts vs. put open interest at 106 contracts (Put/Call ratio at 0.15). Short float at 0.06%, which implies a short ratio of 1.04. The stock has lost -23.62% over the last year.

4. Brocade Communications Systems, Inc. (NASDAQ:BRCD): Data Storage Devices Industry. Market cap of $2.26B. The stock is currently 7.33% above its 52-week low. Call open interest at 424,063 contracts vs. put open interest at 72,362 contracts (Put/Call ratio at 0.17). Short float at 5.96%, which implies a short ratio of 1.46. The stock has lost -29.76% over the last year.

5. Mitsubishi UFJ Financial Group, Inc. (NYSE:MTU): Banking Industry. Market cap of $66.54B. The stock is currently 5.13% above its 52-week low. Call open interest at 4,687 contracts vs. put open interest at 877 contracts (Put/Call ratio at 0.19). Short float at 0.03%, which implies a short ratio of 1.63. The stock has lost -14.21% over the last year.

6. Rite Aid Corp. (NYSE:RAD): Drug Stores Industry. Market cap of $837.57M. The stock is currently 9.27% above its 52-week low. Call open interest at 7,653 contracts vs. put open interest at 1,474 contracts (Put/Call ratio at 0.19). Short float at 3.62%, which implies a short ratio of 5.82. The stock has lost -26.59% over the last year.

7. Ocwen Financial Corp. (NYSE:OCN): Savings & Loans Industry. Market cap of $884.4M. The stock is currently 6.02% above its 52-week low. Call open interest at 660 contracts vs. put open interest at 134 contracts (Put/Call ratio at 0.2). Short float at 7.85%, which implies a short ratio of 8.87. The stock has lost -5.58% over the last year.

8. RRI Energy, Inc. (RRI): Electric Utilities Industry. Market cap of $1.24B. The stock is currently 5.07% above its 52-week low. Call open interest at 17,787 contracts vs. put open interest at 4,119 contracts (Put/Call ratio at 0.23). Short float at 5.75%, which implies a short ratio of 3.97. The stock has lost -28.46% over the last year.

9. Electronic Arts Inc. (ERTS): Multimedia & Graphics Software Industry. Market cap of $4.95B. The stock is currently 6.05% above its 52-week low. Call open interest at 295,747 contracts vs. put open interest at 86,804 contracts (Put/Call ratio at 0.29). Short float at 5.33%, which implies a short ratio of 3.29. The stock has lost -11.72% over the last year.

10. E-House Holdings Limited (NYSE:EJ): Property Management Industry. Market cap of $1.12B. The stock is currently 7.23% above its 52-week low. Call open interest at 4,159 contracts vs. put open interest at 1,383 contracts (Put/Call ratio at 0.33). Short float at 4.53%, which implies a short ratio of 7.04. The stock has lost -27.38% over the last year.

11. Qiagen NV (NASDAQ:QGEN): Biotechnology Industry. Market cap of $4.26B. The stock is currently 8.47% above its 52-week low. Call open interest at 748 contracts vs. put open interest at 251 contracts (Put/Call ratio at 0.34). Short float at 4.27%, which implies a short ratio of 5.71. The stock has lost -17.25% over the last year.

12. The Allstate Corporation (NYSE:ALL): Property & Casualty Insurance Industry. Market cap of $15.67B. The stock is currently 9.19% above its 52-week low. Call open interest at 143,269 contracts vs. put open interest at 52,004 contracts (Put/Call ratio at 0.36). Short float at 1.26%, which implies a short ratio of 1.4. The stock has gained 5.28% over the last year.

13. Quanta Services, Inc. (NYSE:PWR): General Contractors Industry. Market cap of $3.73B. The stock is currently 5.13% above its 52-week low. Call open interest at 29,646 contracts vs. put open interest at 10,793 contracts (Put/Call ratio at 0.36). Short float at 3.7%, which implies a short ratio of 3.44. The stock has lost -6.08% over the last year.

14. FirstEnergy Corp. (NYSE:FE): Electric Utilities Industry. Market cap of $10.7B. The stock is currently 6.11% above its 52-week low. Call open interest at 41,470 contracts vs. put open interest at 15,413 contracts (Put/Call ratio at 0.37). Short float at 8.56%, which implies a short ratio of 7.22. The stock has lost -15.01% over the last year.

15. ConAgra Foods, Inc. (NYSE:CAG): Processed & Packaged Goods Industry. Market cap of $9.45B. The stock is currently 3.19% above its 52-week low. Call open interest at 35,158 contracts vs. put open interest at 13,744 contracts (Put/Call ratio at 0.39). Short float at 1.44%, which implies a short ratio of 1.6. The stock has gained 0.28% over the last year.

16. PMC-Sierra Inc. (NASDAQ:PMCS): Semiconductor Industry. Market cap of $1.68B. The stock is currently 5.84% above its 52-week low. Call open interest at 7,893 contracts vs. put open interest at 3,106 contracts (Put/Call ratio at 0.39). Short float at 1.62%, which implies a short ratio of 1.11. The stock has lost -8.58% over the last year.

17. First Horizon National Corp. (NYSE:FHN): Regional Bank. Market cap of $2.23B. The stock is currently 2.68% above its 52-week low. Call open interest at 11,580 contracts vs. put open interest at 4,729 contracts (Put/Call ratio at 0.41). Short float at 13.46%, which implies a short ratio of 7.31. The stock has lost -29.37% over the last year.

18. Valley National Bancorp (NYSE:VLY): Regional Bank. Market cap of $2.05B. The stock is currently 7.71% above its 52-week low. Call open interest at 10,857 contracts vs. put open interest at 4,463 contracts (Put/Call ratio at 0.41). Short float at 8.53%, which implies a short ratio of 18.96. The stock has gained 4.96% over the last year.

19. General Mills Inc. (NYSE:GIS): Processed & Packaged Goods Industry. Market cap of $22.62B. The stock is currently 7.52% above its 52-week low. Call open interest at 122,080 contracts vs. put open interest at 54,177 contracts (Put/Call ratio at 0.44). Short float at 1.41%, which implies a short ratio of 2.06. The stock has gained 7% over the last year.

20. Jack in the Box Inc. (NASDAQ:JACK): Restaurants Industry. Market cap of $1.11B. The stock is currently 9.2% above its 52-week low. Call open interest at 6,180 contracts vs. put open interest at 2,745 contracts (Put/Call ratio at 0.44). Short float at 8.9%, which implies a short ratio of 7.04. The stock has gained 7.74% over the last year.

21. Jones Apparel Group, Inc. (NYSE:JNY): Apparel Stores Industry. Market cap of $1.18B. The stock is currently 3.75% above its 52-week low. Call open interest at 11,092 contracts vs. put open interest at 5,053 contracts (Put/Call ratio at 0.46). Short float at 4.15%, which implies a short ratio of 1.77. The stock has lost -19.16% over the last year.

22. Banco Bilbao Vizcaya Argentaria, S.A. (NYSE:BBVA): Foreign Regional Bank. Market cap of $34.52B. The stock is currently 8.53% above its 52-week low. Call open interest at 36,329 contracts vs. put open interest at 16,782 contracts (Put/Call ratio at 0.46). Short float at 0.24%, which implies a short ratio of 4.25. The stock has lost -49.53% over the last year.

23. Campbell Soup Co. (NYSE:CPB): Processed & Packaged Goods Industry. Market cap of $11.38B. The stock is currently 7.96% above its 52-week low. Call open interest at 13,002 contracts vs. put open interest at 6,055 contracts (Put/Call ratio at 0.47). Short float at 10.14%, which implies a short ratio of 7.57. The stock has gained 0% over the last year.

24. PPL Corporation (NYSE:PPL): Electric Utilities Industry. Market cap of $12.28B. The stock is currently 9.88% above its 52-week low. Call open interest at 12,056 contracts vs. put open interest at 5,646 contracts (Put/Call ratio at 0.47). Short float at 1.66%, which implies a short ratio of 2. The stock has lost -12.5% over the last year.

25. EnCana Corp. (NYSE:ECA): Major Integrated Oil & Gas Industry. Market cap of $20.4B. The stock is currently 7.18% above its 52-week low. Call open interest at 54,610 contracts vs. put open interest at 26,056 contracts (Put/Call ratio at 0.48). Short float at 1.97%, which implies a short ratio of 4.15. The stock has lost -1.46% over the last year.

Disclosure: No positions