We track detailed weekly country economic trend movements. We use ETFs that represent each geographic region and present the results here.
Major indices around the globe have pointed sharply lower, with sentiment reflecting extreme risk aversion in the resurfacing of the European debt crisis. The countries at the center of the debt crisis have seen their indexes continued to slump and approaching 52-week lows at an alarming rate.
Assets Class

Symbols

11/26
Trend
Score

11/19
Trend
Score

Direction

Mexico

(EWW)

12.91%

15.71%

v

Hong Kong

(EWH)

11.69%

14.5%

v

South Africa

(EZA)

11.24%

17.85%

v

Malaysia

(EWM)

10.47%

13.08%

v

Taiwan

(EWT)

10.4%

11.46%

v

South Korea

(EWY)

9.55%

14.16%

v

Singapore

(EWS)

8.79%

12.91%

v

Russia

(RSX)

8.49%

9.9%

v

Germany

(EWG)

8.33%

12.35%

v

Canada

(EWC)

8.07%

9.6%

v

India

(INP)

6.99%

9.34%

v

Australia

(EWA)

5.72%

10.69%

v

Switzerland

(EWL)

5.55%

9.0%

v

Japan

(EWJ)

5.37%

7.46%

v

Brazil

(EWZ)

4.56%

9.2%

v

Austria

(EWO)

4.24%

9.25%

v

United Kingdom

(EWU)

4.09%

8.98%

v

China

(FXI)

2.26%

4.51%

v

The Netherlands

(EWN)

1.83%

7.86%

v

Belgium

(EWK)

1.67%

8.26%

v

France

(EWQ)

0.89%

7.44%

v

Italy

(EWI)

-3.88%

2.89%

v

Spain

(EWP)

-9.5%

0.07%

v
Top Five Indicators
click to enlarge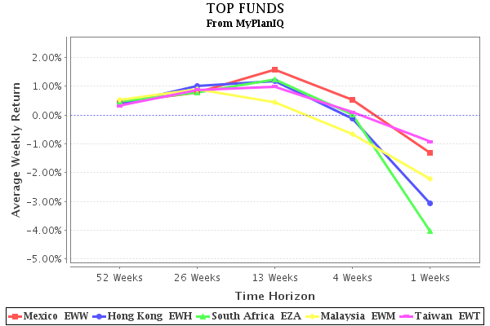 Risk aversion weighs on the top funds. Our top five funds all ended sharply lower on concerns that European debt crisis will spread and deteriorate confidence.
Shares in Hong Kong came under selling pressure on Chinese inflation concerns and expectations that China will raise interest rates. Banks and real estate developers declined on speculation that the PBOC will further raise rates to curb inflation in the country. At the same time, many exporters to Europe have seen their shares sink as Ireland's bailout fails to ease investor concerns over the containment of the crisis.
The bottom five counties deepened their losses amidst fears of spreading contagion in the eurozone. Investors speculated that the eurozone will face more bailouts as debt-strapped nations won't be able to reduce their deficits and that they won't default on their sovereign debts.
Investors were also concerned that the scale of a potential bailout of Portugal and Spain would be much larger than Ireland and Greece's bailout packages and there will not be sufficient funds in the European Financial Stability Facility to be deployed. The size of Spain's economy is twice the size of Ireland, Greece, and Portugal combined. According to a research published by HSBC, Spain will need 351 billion euros over the next three years and the EU may only have 255 billion euros of the 440 billion-euro Stability Facility available for a rescue package for Spain.
In conclusion, there still remain tremendous uncertainties as to whether the debt-riddled countries in the eurozone would be able to restructure their debts fast enough and provide other long-term viable solutions to contain the crisis from spreading further.
Disclosure: No positions