While Congress may be unable to act and get a bill through both the House and the Senate, it appears that the Obama Administration is poised to go it alone in erecting road blocks for companies seeking to do inversions. While the President discussed the need to put an end to this practice at a press conference yesterday for a summit on Africa, he did not dive into details on how he would prevent companies from moving overseas before Congress enacts new legislation. We always thought that the Internal Revenue Service, or IRS, would be used and it appears that the Treasury Department wants to utilize it in this fight, however with the recent scandals there may be a reluctance to enlist the IRS.
We are going to discuss the Russian sanctions a bit more later on in the article, but it is important to look at Russia's latest moves to implement sanctions versus the west. Cutting food imports makes a statement, but now the entire supply chain within the country has to find new suppliers to stock the shelves of stores.
Chart of the Day:
Industrials were one of the sectors we were most bullish on this year, but when we saw certain key charts breaking down we were quick to sell some of those winners knowing we could always circle back once the group went lower. The closer the Industrial Select Sector SPDR ETF (NYSEARCA:XLI) gets to $50/share, the more attractive it gets as a buy.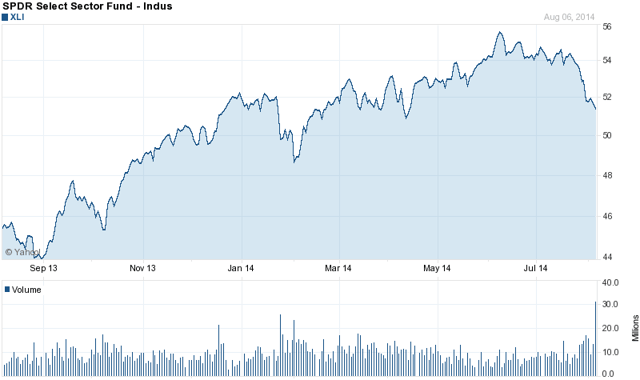 Source: Yahoo Finance
We have economic news today, and it is as follows:
Initial Claims (8:30 a.m. EST): Est: 308k Act: 289k
Continuing Claims (8:30 a.m. EST): Est: 2525k Act: 2518k
Natural Gas Inventories (10:30 a.m. EST): Est: N/A
Consumer Credit (3:00 p.m. EST): Est: $15.8 B
The Asian markets are mixed today:
All Ordinaries -- down 0.05%
Shanghai Composite -- down 1.34%
Nikkei 225 -- up 0.48%
NZSE 50 -- up 0.10%
Seoul Composite -- down 0.30%
In Europe, the markets are lower this morning:
CAC 40 -- down 0.70%
DAX -- down 0.29%
FTSE 100 -- down 0.03%
OSE -- down 0.01%
Russian Sanctions
As the United States and its allies in the European Union put in place sanctions against Russia, the early results indicate that they are in fact having an effect. Russia meanwhile has fired back and enacted their own sanctions and even expanded them this week to be even more far reaching. With this backdrop of escalating sanctions, we were quite surprised to see that Dobrolet, a low cost airline that is owned by OAO Aeroflot, Russia's state-owned airline, was moving forward with plans to purchase a total of $1.5 billion in new Boeing Company (NYSE:BA) jets.
Boeing has had a tough year thus far with a YTD performance, which many investors have found lacking. Potentially losing sales due to political issues is not a headwind the company needs right now, but might be a problem the company has to face as new sanctions continue to be announced between the west and Russia.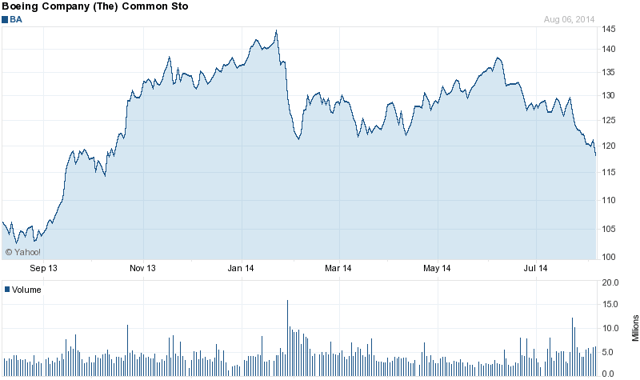 Source: Yahoo Finance
It is an interesting story and will test how far the US is willing to go with implementing their sanctions. The question now is whether Boeing, one of the largest domestic manufacturers in the country, will lose out on the deal due to politics. A Bloomberg article adds more details to this story and can be found here.
Media Companies Already Big Enough?
After Twenty-First Century Fox (NASDAQ:FOX) (NASDAQ:FOXA) announced that they were withdrawing their offer of around $80 billion for Time Warner (NYSE:TWX), both companies reported their quarterly results and held their conference calls. We were surprised to hear both companies explain that they felt that they had enough scale at this time to go it alone and were not interested in combining with other companies.
This is certainly something that one would expect to hear from Time Warner's management, especially after making the argument that they could provide better long-term results for shareholders than the Twenty-First Century Fox deal would offer. Hearing Fox's management team stress, adamantly, that they are dedicated to going it alone was something we thought that they would leave alone, especially if they are in acquisition mode. Based on management's comments yesterday it would seem that the content companies are not going to see a rush to consolidate, at least not from some of the biggest players in the sector.
While some think that Rupert Murdoch is bluffing and backing off to re-inflate his stock price, we think that Twenty-First Century Fox is now on the sidelines for at least the next 12-24 months, because if they make another go at Time Warner or another media company, then management will lose all credibility they have with the investment community... especially if they get rebuffed again.
The other big media companies, such as The Walt Disney Company (NYSE:DIS) and Comcast (NASDAQ:CMCSA) appear to be focused on their recent moves; with Disney developing franchises from its recent transactions and Comcast working towards completing the purchase of Time Warner Cable (TWC). That combination could come with restrictions from regulators, such as the combined company cannot buy new media/content assets for a certain period of time, that impact the M&A market moving forward.
Disclosure: The author has no positions in any stocks mentioned, and no plans to initiate any positions within the next 72 hours. The author wrote this article themselves, and it expresses their own opinions. The author is not receiving compensation for it (other than from Seeking Alpha). The author has no business relationship with any company whose stock is mentioned in this article.