Trina Solar (NYSE: TSL) recently reported their third quarter 2010 earnings (see Q3 results here, and earnings call transcript here), which marked a number of new milestones reached. Revenues surpassed the $500m mark for the first time at 508.3m. Unit Shipments reached new record levels at 290.5mw, which far exceeded the company's internal top end guidance of 260mw. Net income also hit record levels on a quarterly basis at 82.9m, which more than doubled year ago levels. As a result, earnings per share easily beat Wall Street consensus estimates of .87 as TSL reported an EPS of 1.08 on a US GAAP basis.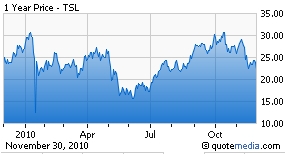 What's also interesting is that based on the company's stated shipments and Yingli Solar's (NYSE: YGE) implied shipments, TSL surpassed YGE by a very slim margin as the number two crystalline module supplier in the world. The company also potentially reached an important metric as viewed within the industry by becoming free cash flow positive in the quarter. This is important because if operational earnings exceed ongoing capital expenditure requirements, then the company would no longer require external funding to manage and grow their business moving forward. Further evidence was TSL's net cash balance, which grew from 58m in the previous quarter to 159m in the third quarter. In all, the company delivered another solid earnings report that not only marked significant earnings growth, but also large market share gains as well.
Dissecting TSL's earnings report has become more tricky as the company itself has become more complex. In the past, Trina Solar was fully vertically integrated, so their cost structure was simple to figure out since there was only one equation. However, in the past year, TSL stepped away from being fully integrated by adding cell and module capacity beyond their wafer capacity. This meant that in order to fully utilize their capacity, the company would need to purchase wafers from third party sources. To further complicate cost analysis, the company also indicated it procures a small fraction of cells from third parties in order to supply customer demands to the highest extent possible. Thus, while TSL does provide metrics for their internal fully integrated production, they do not give exact details on procurement costs and percentages on their wafer and cell purchases. As a result, estimating their blended cost structure in any given quarter will require more approximations, and thus much higher degrees of error.
This step away from a fully integrated model has also brought some confusion for the more casual observer. Because TSL now procures wafers and potentially cells as well, their blended unit costs will rise as they give part of the per watt gross profits away to third party "middlemen." As a result, blended gross margins will be lower with the spread linked to the shipment ratio for wafers and cells purchased vs. overall shipments. For the most recent quarter as an example, TSL posted fully integrated gross margins of 37.6% while blended gross margins were only 31.4% marking a slight sequential decline.
It would be incorrect to assume the decline in gross margins is a potential warning sign, however. The company's gross margins did not decline sequentially because costs increased as reported by some peers. In fact, the company is perhaps the best positioned to contain costs through a highly centralized supply chain as well as having among the highest ratio of large contracted supply volumes. In essence, TSL leverages their scale in dealing with fewer, larger, and more long term oriented suppliers instead of relying on higher exposure to spot market pricing which can be very volatile. Unlike many peers who reported higher input costs during the same quarter, TSL's blended silicon costs on a per watt basis declined marginally. The decline in the company's gross margins on a sequential basis is solely attributable to a higher ratio of wafer and cell procurement to meet higher shipment volumes. Trina Solar isn't in the business of reporting the highest gross margins in the industry. They are in the business of making the highest absolute level of net income at the lowest investment cost possible even if incremental earnings comes at the expense of lower reported gross margins.
Another important area where TSL shifted their tactical planning came in regards to currency hedging. In the past, the company took a more passive approach by only partially hedging current currency exposure. Their view was that, while in any shorter period currency may be volatile, the overall net impact of currency translations over a longer period would be more neutral as long as the currency in question stayed range bound. Indeed, this was the case between the euro and the USD for over the past five years as the rate ranged between 1.25 and 1.55, hitting both extremes multiple times. Given the sudden euro depreciation and ongoing concern about the euro as a currency, many solar companies with high European sales exposure such as Trina Solar took a more active hedging approach.
As a result, TSL not only hedged higher percentage of current exposure, but also forward hedged a portion of their currency exposure. Although this resulted in a net currency translation loss of 8.3m for the third quarter, it makes the company much less vulnerable to a future euro decline. This should be viewed as a positive strategic move given the recent heightened concern over the euro's latest decline. The company stated that with the euro decline from prior quarter levels, it should see a net positive gain from currency translations. This would imply that they are covered against further drops in the euro such that magnitudes in currency gains would increase as the euro depreciated further.
Although the company, as usual, remained on the conservative side and did not formally guide for 2011, they did give some indications of what we might expect if the demand environment for solar doesn't materially change from current conditions. Just like with other direct peers, TSL stated that demand exceeds their capacity to supply customer requests. They are increasing capacity to 1.7gw for next year, up from 1.1gw ending this year. They suggested that they are increasing capacity by 50% and one could expect similar increases in shipment volume. They mention the solar market could range between 16-20gw for next year as predicted by various third party reports, and TSL aims to capture 10% of the overall market share. Thus, while they made no formal guidance for 2011, the company seems to be implying a shipment target of 1.6-2.0gw for next year. This is above capacity expansion targets, but it should also be noted that the company understates their capacity and in recent quarters has shipped well above their stated capacity limits.
With limited visibility on pricing, especially in the second half of next year, it's too early to make reliable estimates currently. While we don't know the exact pricing levels, indications are declines in ASPs are under growth in shipments such that absolute gross profit levels should not decline despite per watt declines in gross margins. This may be the only accurate statement we can make at this moment - TSL should not see declines in net income next year as long as shipment targets even at the lower end are reached. Based on metrics already mentioned by peers, the company should see moderate earnings growth next year. While this may not excite some bulls, it is an early conservative estimate which does not correspond to more negative implications bears have predicted.
Predicting overall solar demand can be extremely difficult. Literally, no one saw the demand boom that took place this year. Many analysts, as they are currently warning about 2011, also warned about 2010 last year. The theme is a recurring one - oversupply, overcapacity, glut, et al. At face value, this seems to be the case, but it has been the wrong conclusion because more factors are involved than just matching supply with demand. Both supply and demand variables are not fixed. As the term price elasticity suggests, demand can increase potentially exponentially as pricing declines. The pricing for supply is also wide ranging because the cost structure for the entire industry is very different. While there may be 25gw of capacity as suggested by some reports, only portions of that capacity can supply at prices demand is willing to accept. That means demand would have to be very strong and head towards global capacity limits for the entire installed capacity to be fully utilized.
If global demand remains flat at around 15-16gw next year, then roughly 9-10gw of capacity will be left unutilized in this example. The first victims are the higher cost producers, which may include less integrated or more fragmented players. While in this example the over capacity amount may seem large, it does not necessarily imply pricing will drop significantly. Some of the higher cost producers simply might not be able to decrease pricing to levels demand can accept. In those cases, they will just shut down. No company will turn on the switches just to lose more money, and this has been exactly the case as seen in the past couple of years. The point here, which is the point TSL tried to make in their conference call, is that Trina Solar is not at the high end of the cost spectrum. They are not even in the middle range. They are at the far low cost end and arguably, the lowest cost crystalline module producer in the world.
This means, as long as global solar demand surpasses their capacity as well as the total capacity below their cost structure, TSL will sell out. Their profitability will be the delta created between the median highest price global demand can accept and Trina Solar's own costs. This is why lower cost providers have seen demand far exceed their capacity. This is also why higher cost producers may face large problems moving forward as some companies may have been built only to exist and feed off a highly subsidized solar market. Thus, if demand isn't strong enough to encompass everyone next year, the solar market might end up being extremely bipolar with boom as well as bust stories on both ends.
Trina Solar did, however, give more clear indications for the upcoming fourth quarter. Their formal guidance is for shipments to range around 300mw, up only slightly on a sequential basis. This may be more a factor of their capacity constraints since as indicated, they are already producing well above stated capacity. Average selling prices on a constant currency basis are also indicated up. There may be confusion about how this may affect reported ASPs in dollar terms for the fourth quarter, but, if we can assume fairly linear shipments in the quarter then the company will post absolute dollar asp gains as well. In essence, it comes down to the average weighted euro for the quarter. For the first couple of months, the average weighted euro exchange rate was around 1.38. Shipments already made were booked at that rate and more importantly, TSL took further steps to hedge completely against currency translation risks.
Even if the euro rate stayed around 1.30 currently for the rest of the year, well below the 1.38 weighted average rate prior, the overall blended rate would still be around 1.35. Even if the euro dropped further to 1.25 and stayed there for there remainder of the year, it would only bring down the blended rate to 1.33. The weighted average euro exchange rate for the third quarter was around 1.29. As a result, it's almost mathematically impossible for the average rate for Q4 to be lower than Q3 unless the euro completely broke down. So, if we can assume shipments were linear throughout the quarter, a higher blended average euro rate combined with higher euro ASPs will yield even higher dollar ASPs for this quarter. This would imply that reported ASPs for Q4 could be 4% higher, if not more. That would translate to very significant per watt ASP increases, and the company itself noted the impact would be meaningful. As a counterweight, the cost side could also increase, as well as processing costs, will stay level while silicon costs could increase by a couple cents per watt. Given the magnitude of ASP gains however, TSL should post a higher per watt gross profit sequentially. On slightly higher shipments, the company should then post a slightly higher EPS for the fourth quarter.
Revenues: 535m
Shipments: 300mw
ASPs: 1.78/watt
Blended Unit Costs: 1.21/watt
Gross Margin: 32%
Gross Profit: 171m
Operating Expenses: 48m
Operating Profit: 123m
Net Interest Expense: 7m
Tax: 18m
Net Income: 98m
Diluted Share Count: 79m
EPS: 1.24
As usual, this number only represents operational earnings, so it excluded any potential one time gains or losses such as currency translations. Based on the company's statements, foreign exchange translations should be neutral to positive if the euro stayed at or below 1.35. An end of year close higher would most likely result in a foreign exchange loss. In addition, a blended unit cost was used this time instead of breaking out cost components. As noted above, since TSL did not give enough information to make an average breakdown of their wafer and cell procurement, using a blended ratio should be accurate enough given the company stated that their procurement mix would stay roughly similar to third quarter levels.
The only change is a slight increase consideration for most likely small polysilicon and wafer procurement costs. This is only a rough estimate based on information the company has given. The actual results could be very different as management has continually given conservative estimates only to beat it by fairly wide margins. Given what appears to be capacity constraints, it's hard to estimate higher shipments, although if TSL's reporting history repeats actual shipments could be higher.
Also, as noted above, the actual gross margin can widely range as well depending on the procurement ratio the company uses during the quarter. As a whole, however, and outside of any unannounced charges and currency effects, the net income estimate above should not be any lower based on all the information presented.
Disclosure: Long TSL and YGE.