The list of tradable VIX ETNs more than doubled today, following the successful launch of six new ETNs by VelocityShares.
Last week in VelocityShares Jumping in to the VIX ETP Space with Leveraged and Inverse Products, I mapped out the new VelocityShares ETNs against existing and announced competitive offerings in the VIX-based ETP space.
Several things struck me about Tuesday's trading in these new issues. First, the six ETNs traded an aggregate of approximately 160,000 shares today, which is an excellent showing and indicates strong demand for volatility products, particularly when there is so much uncertainty swirling around the European sovereign debt crisis. Second, I was interested to see that the most actively traded products were the two leveraged ETNs. To my surprise TVIZ, which uses +2x leverage applied to a five month target maturity, was the volume leader (57,273 shares), edging out TVIX, which applies +2x leverage to a one month target maturity. In terms of opening day volume, the next level of interest was in the +1x (NASDAQ:VIIX) and -1x (NASDAQ:XIV) one month ETN, which overlap with existing Barclays products. Finally, only 100 shares were traded in the +1x (NASDAQ:VIIZ) and -1x (NASDAQ:ZIV) products that target a five month maturity. So, taking the liberty of jumping to conclusions based on only one day of data, investor interest in new VIX-based ETNs seems to be greatest in terms of leveraged products, then the one month maturities, with the five month maturities bringing up the rear.
Of course I expect that sophisticated investors will adjust their strategies based on the shape of the VIX futures term structure. Today the front month VIX futures closed at 2.60 points below the second month VIX futures. On the other hand, the fifth month VIX futures closed only 0.15 points below the sixth month VIX futures. To complete the daily volatility picture, today the front month and second month VIX futures rose at about twice the rate of the fifth month and six month VIX futures.
I see many opportunities here and am even toying with the idea of trading only VIX-based ETPs for the foreseeable future.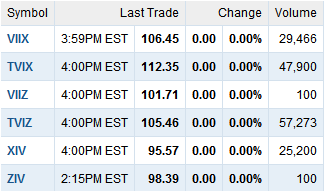 Graphic: Yahoo.com
Disclosure(s): None