by Mike McDermott

Click to enlarge
Shares of Caterpillar (NYSE:CAT) have been steadily rising as infrastructure projects around the world have increased sales. After seeing net income drop by more than 60% from 2007 through 2009, investors are now enjoying a rebound in earnings – primarily driven by emerging market demand.
Caterpillar is well known for its bright yellow industrial equipment – used heavily in a wide assortment of construction projects. The company is also a leader in mining equipment and has recently taken steps to dramatically increase this business line.
If CAT is the 800 pound gorilla in the industrial equipment business, then Deere & Co. (NYSE:DE) should be considered the equivalent in the agriculture equipment industry. With an established base in the developed world, and exciting growth dynamics in emerging markets, DE is likely to be one of the major winners in the current agflation trend.
click to enlarge

Both companies are leaders in their respective businesses. But a number of global trends appear to favor agriculture growth over industrial production, a backdrop which should favor Deere over an extended period of time.
China is NOT a Lock
To a large extent, Caterpillar simply represents another "China growth" trading opportunity. Over the past several quarters, the company has seen significant growth in sales within emerging markets. Management has noted that "developing economies" will continue to lead company growth in 2011, with business in "developed countries" growing at a slower pace.
But perhaps more importantly, emerging market growth is a catalyst even for sales that would not traditionally be lumped into this category.
Consider mining equipment being sold to a developed nation to increase copper production. This purchase order would be categorized as "developed economy" revenue, and yet the demand for copper (and many other mined commodities) is primarily a result of emerging market growth.
Emerging market growth has essentially become a "given" as traders and investment managers seek growth opportunities outside the challenged European and US economies. But as major emerging nations such as China and India become more aggressive in their fight against inflation, we could see this emerging growth called into question.
India has been actively raising target interest rates over the last several months, and China has also been experimenting with tighter policy controls. As Jack mentioned over the weekend, the age-old "Don't fight the Fed" adage now applies to Beijing and we are already seeing a trend shift as traders offload China-related risk (click to enlarge).

Paying Too Much For Growth?
Caterpillar is intensely focused on building out its mining equipment business as evidenced by the recently announced $8.6 billion dollar acquisition of Bucyrus International. This acquisition will roughly double the size of its current mining business and give the company a wider range of products to sell to current mining customers.
The acquisition comes shortly after the company announced a $700 million dollar initiative to beef up its internal mining equipment operations.
Rio Tinto (NYSE:RIO) and BHP Billiton (NYSE:BHP) are major mining equipment customers – incidentally, both of which are recent Mercenary Trader short positions – and CAT is counting on large orders from these customers if the mining investments are to be acretive.
Last month, Caterpillar also paid $784 million for German engine maker MWM – emphasizing management's "commitment to growth" but causing some analysts to wonder whether the company is paying too much for that growth. With revenues approaching $40 billion annually, it's difficult to find opportunities that actually move the growth needle.
If emerging market growth comes under pressure, these acquisitions could easily turn out to be huge mistakes – with management paying top dollar at the peak of the market.
Speaking of peaks, a long-term chart of CAT (click to enlarge) shows the stock approaching all-time highs which were hit in 2007 and tested again in 2008. The $85 – $87 price level could prove to be a significant area of resistance as trapped buyers look for an opportunity to get out at breakeven.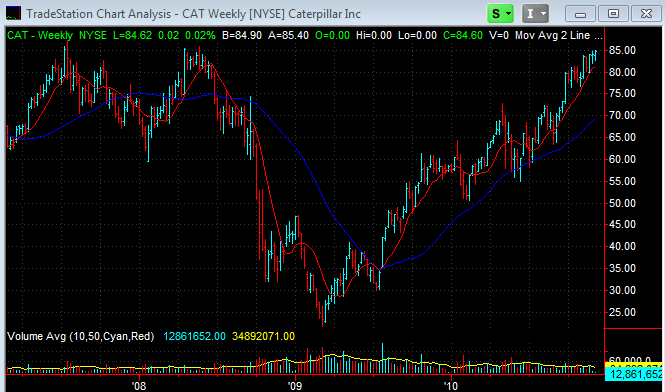 The stock is currently trading at roughly 15 times 2011 expectations. That multiple may seem reasonable, but there could be a significant amount of risk in these forward expectations.
Analysts are currently calling for 46% earnings growth next year – on top of 100% growth in 2010. But as emerging markets hit the brakes, we could quickly see these growth assumptions cut – and with lower expectations, investors may very well apply a lower earnings multiple as well.
The chart hasn't shown signs of a breakdown yet… But fundamentally there are a number of danger signs.
Robust Agriculture Trends.
The agriculture equipment market appears to be much more robust, as global demand for food continues to ramp. Our fertilizer Strategic Intelligence Report discussed some of the agriculture trends including a large portion of the global population that is experiencing a standard of living increase.
As emerging market consumers shift diets to beef and poultry over rice and beans, the amount of grain production necessary to meet this demand is growing quickly. In the short run, this is leading to sharply higher prices for soft commodities. Long-term, farmers across the globe have an incentive to increase production – which should lead to more efficient farming techniques benefiting fertilizer producers as well as agriculture equipment makers.
Deere is fully leveraged to take advantage of this trend, and is actively pursuing opportunities to support emerging market farmers. The company recently introduced a new line of economic tractors in India. These tractors have lower horsepower than the staple "developed economy" equipment lines, but the lower price point makes them accessible to smaller farmers – resulting in market share improvement for DE.
The company's most recent earnings report caused some concern as management issued 2011 guidance that was a bit below expectations. The conservative guidance may simply reflect a management team that is setting low expectations which will be more easily exceeded over the next several quarters. Considering the robust industry and Deere's healthy market share, one would expect the company to perform rather well in the near future.
After the earnings release, Wells Fargo issued an upgrade and increased their price target range from $74-$76 to $90-$93. While these price targets are usually not worth much consideration, the analyst had five worthwhile points backing up his optimism…
Guidance overhang: Now that the company has issued 2011 guidance, investors will have less uncertainty.
Farm cash flow: As farmers see cash coming in the door, they have more discretionary spending available for equipment.
Market share: DE is gaining market share in emerging market equipment sales and should continue to see improvement.
Balance sheet: A healthy cash balance allows DE to aggressively repurchase shares – boosting the stock price.
Guidance revisions: After sandbagging the initial 2011 guidance, management has left itself an out to increase estimates in future reports
Time will tell whether the most recent retracement in DE will turn out to be a buying opportunity or not. Price action will continue to be our ultimate barometer for trade timing.
But looking at the fundamental landscape for these two equipment manufacturers, it appears the opportunities for CAT are largely played out and vulnerable – while DE still offers significant upside as soft commodity production ramps.
Disclosure: As active traders, authors may have positions long or short in any securities mentioned. Full disclaimer can be found here.