Once again, yesterday's many meetings about fiscal and monetary policy all amounted to "Much Ado About Nothing". Although, I can assure you, while it may look like a Shakespearean comedy it definitely won't end with applause when the curtain comes down.
Federal Reserve Chairman Ben Bernanke met with prominent CEOs and business folks at Ohio State University in a vain attempt to figure out how to reduce unemployment. None of the sound bites I heard even mentioned any need to reduce foreign oil imports.
Similarly, the committee to reduce the federal deficit met and held a press conference. While I applaud and agree with the goal of reducing the fiscal deficit, once again, I never heard the words "foreign oil imports" mentioned.
It's like there is a "golden rule": Don't discuss foreign oil imports. So I ask you, how can the civil servants (who are paid salaries by the taxes taken from you and who are supposed to be taking care of our country's fiscal, monetary, economic, and energy policies) possibly be successful when there is a rule not to discuss our biggest economic problem: foreign oil imports?
Examples:
Inflation is most widely reported by the government as "core CPI" which takes out food and energy (foreign oil).
Trade deficits are commonly reported by "non-oil" trade deficit components. For instance, here's their favorite spin: "China will make up 50% of the non-oil trade deficit". Meanwhile, foreign oil imports are more than 50% of the total

trade

deficit!
How can a man with a PhD in economics from MIT not understand and discuss the role of foreign oil imports and $147/barrel oil had on the economic crisis that he is spinning his wheels with "QE2" and other ill-conceived plans in a vain attempt at revival?
Likewise, how can our President (also being paid by our taxes) never mention the role that foreign oil imports are playing in our high unemployment rates?
It's as though sending $30 billion dollars a month out of the country is not a problem. It just seems to me that our public servants are under a "golden rule" not to discuss foreign oil imports. It's like the crazy in-law we have locked in the back bedroom in the hopes that no-one will notice. Every once in awhile the dirty secret escapes out into the open (i.e. $147/barrel oil); but we merely lock 'em back up and hope it won't happen again and go about "business as usual".
How can we ever solve the major problems in this country while not even discussing the root cause? How can we disregard the supply/demand/price/ fundamentals of the most important and strategic commodity of all (oil)? It simply astounds me.
It is no surprise then that gold and silver were up strongly yesterday.

Click to enlarge
It tickles me when American financial experts cop a superior attitude when discussing what is going on in Ireland, Portugal, and with the euro in general. Can anyone doubt that the same thing would be happening in the U.S. right now were our currency not the world's reserve currency? There is no difference - both economies are completely at the mercy of imported oil.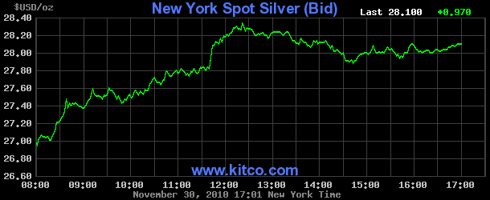 Click to enlarge
My advice to investors: Buy oil stocks that pay good dividends and buy silver and gold bullion. Buy a rifle and a fishing pole and build a garden. Meanwhile, pray like mad that U.S. policymakers at some point get the courage to break the "golden rule", start talking about how to significantly reduce foreign oil imports within 5 years, and adopt a strategic long-term comprehensive energy policy (see mine here) based on natural gas transportation.

Disclosure: Author is long precious metals