It's time to take a look at Johnson & Johnson's (NYSE:JNJ) valuation again, because I like to review the all of my stock holdings twice per year. Currently I'm not seeing whole lot of value, in the US stock market. At times like this I have to sit back, let my cash build. While waiting, I like to analyze the stocks on my watch list and add new ones. Today, I'm going to share my thoughts on Johnson & Johnson . Most of my long term holdings share certain characteristics like brand strength and consistent earnings. I like to run a discounted cash flow model on these types of companies and earlier this week I WROTE about why I think this approach is important. I view my investments in Proctor & Gamble(NYSE:PG) and General Mills (NYSE:GIS) the same way, so feel free to click those links and read my valuations on them as well.
You don't ALWAYS need to be doing something.....sometimes it's best to wait.
Most investors are familiar with Johnson & Johnson, the New Jersey based healthcare behemoth. Since its founding in 1886, Johnson & Johnson has grown to include 128,000 worldwide employees and expand around the globe. For the last 51 years, it has raised its dividend (at least annually) and has 30 consecutive years of rising adjusted earnings. The company operates in the following business segments.
Consumer Products- This division manufactures and sell items like baby shampoo, skin care products, oral care products, antiseptic creams, over the counter supplements/medications, and feminine products. This division is responsible for many of Johnson & Johnson's best known brands including: Motrin IB; Pepcid; Sudafed; Zyrtec; Neutrogena; Bandaid; and Tylenol.

Pharmaceuticals- This division sells various products to healthcare providers, retailers, and distributors for prescription use. These products involve treatments for various blood, heart, neurological and metabolic diseases.

Medical Devices and Diagnostics- This division sells its products to doctors and healthcare facilities (clinics and hospitals). Think of replacement joints, pacemakers, and heart catheters, when you think of this division.
With that background in mind, lets take a deeper look at Johnson & Johnson. Based on a recent stock price in the $100-$101 per share range, the company boasts a dividend yield of 2.7% and a PE (price to earnings) multiple of 19.26. Shares currently trade at about 3.6 times book value. Additionally, the company has more cash and cash equivalents ($31+ Billion) than debt ($17+ Billion). A well capitalized company with a rock solid balance sheet is better able to ride out short term struggles, and should therefore be a more stable investment. Amusingly enough, Johnson & Johnson is one of the few US companies that has higher rated bonds (by the ratings agencies), than the US government does.
I always like to see consistent revenue growth (on a per share basis) from the companies I invest in. With that in mind, check out this chart of JNJ's the revenue growth over the past 10 years.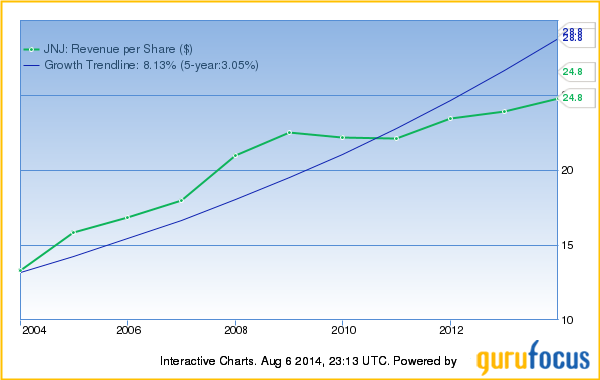 Johnson & Johnson's operating income and net income both increased in FY2013, to $18.4 billion and $13.8 billion respectively. Johnson & Johnson has a long history of steadily raising dividends and buying back shares to reward shareholders. Below is a chart of the most recent 10 years of dividend raises. It is likely that these dividend increases will continue into the future, given the current 50% payout ratio.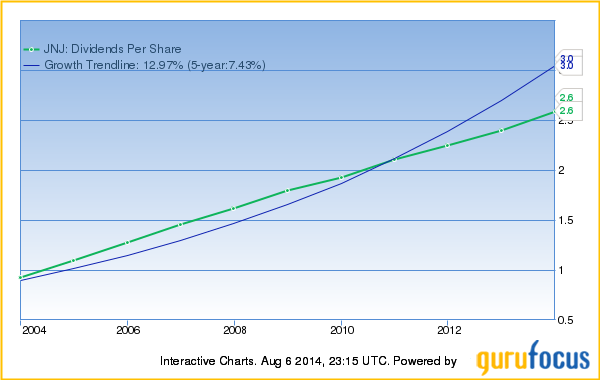 Important Metrics
Return-on-equity (ROE)- Although more recently Johnson & Johnson's ROE has been on the low end of the range, it has a long history of strong ROE figures. For the last 10 years those figures have ranged from 16.7 to 30.5.
Operating Margins- Operating margins at Johnson & Johnson have been holding steady for the past 10 years, in the mid 20% area. For a company of its size, and with its array of products, I think such consistent profit margins are a great sign.
Conclusions
As mentioned above, Johnson and Johnson has a long history of rewarding shareholders with stock buybacks and increasing dividends. The company has spent big money on repurchasing stock each of the past 10 years, including nearly $13 billion worth in 2012 and $3.5 billion in 2013. Given the developed world's aging demographic and declining health, I think healthcare companies like Johnson & Johnson are a great place to invest for the future. I have been a shareholder since 2008 and my only complaint is that I didn't buy more shares in 2008. Yes, I know that's a common complaint in hindsight. My current discounted cash flow model, shown below, suggests Johnson & Johnson's shares are undervalued by about 10%.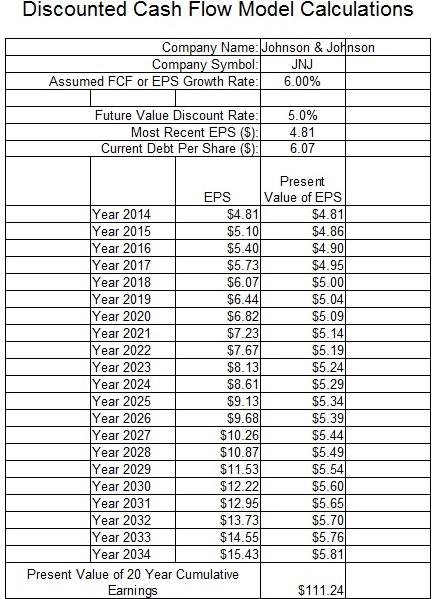 Clearly any discounted cash flow analysis is all about the input assumptions. The 6% growth rate was assumed based on the 6% free cash flow rate and 7% earnings per share (diluted) growth rate experienced over the last 10 years. My discount rate of 5% is quite low, but what else do you do when global interest rates are at these low levels.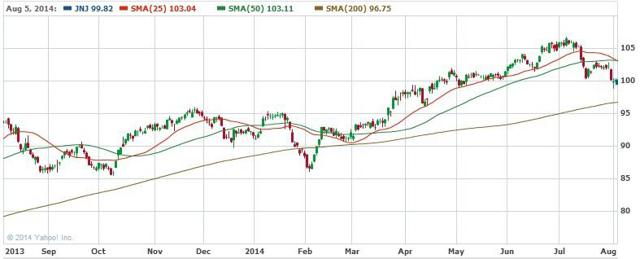 It can take years for Mr. Market to reward shareholders of a given company. Take a look at Johnson & Johnson's share price over the past year, in the Yahoo Finance chart above. Johnson & Johnson was growing and profiting, but investors that bought the stock in 1999 (at $50) still had a stock trading at $50 in 2009. I recognize that those were two very different years, but I want to reinforce the idea that investors may need to wait for years for higher prices. Dividend investing helps me be patient and wait for stock markets to recognize what I believe to be quality investments.
For my portfolio, Johnson & Johnson has the right mix of long term growth and a management that is rewarding shareholders. It also has one of the strongest balance sheets in the S&P 500, which limits the company's downside risk. With all of my bullish comments, and the metrics listed above, you may be wondering why I'm not adding to my shares at these levels. My answer is simple, I believe the broad stock market is overvalued and the company's shares don't appear to offer sufficient upside in the foreseeable future. Whether it is my "mean reverting" tendencies, Professor Shiller's CAPE metric, or artificially low interest rates I just don't see Johnson & Johnson shares as a compelling investment at these levels. Look at the Morningstar.com valuation table below. The company's shares are even trading at a premium by their own recent standards.

Courtesy of Morningstar.com
Disclosure:
I am long JNJ. This article is for informational purposes only and should not be considered a recommendation for anyone to buy, sell, or hold any equities. I am not a financial professional. The information above is provided by Johnson & Johnson's website, Morningstar.com, Yahoo Finance and GuruFocus.com.
Disclosure: The author is long JNJ, GIS, PG. The author wrote this article themselves, and it expresses their own opinions. The author is not receiving compensation for it (other than from Seeking Alpha). The author has no business relationship with any company whose stock is mentioned in this article.