There's a region of North America that's home to just 20 million people, but it's also one of the top 20 largest economies. It has some of the most massive and truly unmatched amounts of resources like timber, coal, gold, and oil, as well as renewable electricity-generation capabilities such as hydroelectric and geothermal power.
It already supplies much of California, Idaho, Washington and Oregon with water and electricity. And it's home to three of the per-capita richest cities in North America.
I'm talking about an as-of-yet non-unified region known as Cascadia.
This region joins the Canadian and American Northwest into one single Pacific coast area encompassing the cities of Seattle, Portland and Vancouver.
For years -- decades, even -- a small secessionist movement has kept the hope of a unified, independent Cascadia alive.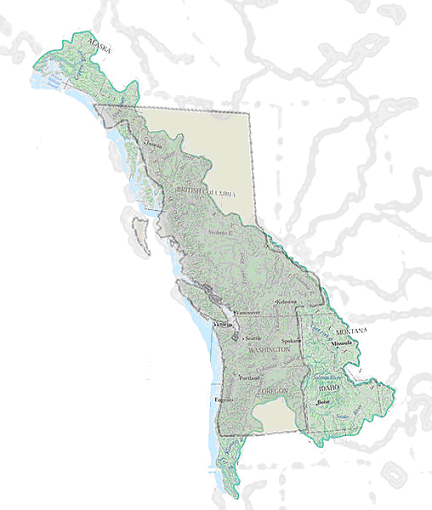 Will it ever happen? Who knows? Who cares? The point is, the area is rich, thriving and ideally suited to benefit from a variety of inevitable factors.
In short, I believe this region of the Pacific Northwest will flourish in the coming years, partly because of the continued commodity bull market.
Besides the abundance of natural resources, this area is home to the fourth-largest port in North America, Vancouver, and is near to an array of forestry and coal production.
If you're looking for a way to diversify and protect your investments from the eventuality of higher oil prices, it makes sense to invest in companies that can cheaply and effectively export vital resources to places that need them.
In order to take advantage of the wealth in this region, you could buy dozens of resource companies. Or you can buy one railroad stock that has a hand in nearly everything that gets shipped from Cascadia to the rest of North America.
I'm talking about Canadian National Railway Company (NYSE:CNI).
CNI is a $30 billion company that transports a variety of goods, including oil products, grain and fertilizers, coal, metals and minerals, forest products, and automotive products. It has rail lines spanning Canada and the United States from t he Pacific to the Atlantic, and down to the Gulf of Mexico.
Rail transport is notoriously fuel efficient -- somewhere in the neighborhood of 70% more efficient than trucking.The Association of American Railroads estimates that freight trains can transport one ton of goods 457 miles on just one gallon of diesel. That's the kind of efficiency that will be vital in the world of sustained triple-digit oil.
Today, you can buy CNI for less than 15 times earnings. It's one of the cheapest large cap rail stocks. It's been around for nearly 90 years, and it currently pays a modest dividend of 1.6% annual yield.
I believe this company will benefit immensely from the likelihood of higher oil prices. It will also be in continued demand to ship coal and timber from the Northwest across North America. I'd recommend buying this company under $75.
Cheap railroad stocks are one of the safest ways to benefit from the continued bull trend in commodities. These are long term plays, so it's important to make sure you get the right price. As always, do your own research.

Disclosure: No positions.