By Karen Schwartz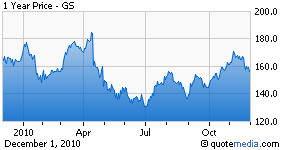 Goldman Sachs (NYSE:GS) continues to face headwinds from the expected shrinking of the derivatives business and reported scrutiny as part of the "expert network" insider trading investigation. But analysts remain positive on the investment bank after it reported quarterly earnings significantly ahead of analysts' expectations.
The median price based on the the 13 most recent targets tracked by Alacra Pulse remains at $190, which would be a gain of 22% from Tuesday's closing price of $156.14. The mean has crept up to $189.89 from $187.67 in early October. None of the tracked analysts have a negative rating on Goldman: 16 are positive and two are neutral.
Graphic shows current 12-month price targets of selected sell-side and independent analysts.
Click to enlarge
Citi analyst Keith Horowitz said Goldman Sach's Q3 "looked good…and outlook remains bright." Citi pointed to the company's $800 million Q3 stock repurchase, noting that "the biggest question is when regulators will give Goldman the green light to return capital or deploy its balance sheet should opportunities arise … either way, the stock looks very compelling value here, trading at just 8.5x our '11 estimate." Horowitz rates Goldman a Buy with a price target of $200.
Rochdale's Dick Bove upped his price target on shares of Goldman Sachs earlier this month from $179 to $194, saying worldwide growth and less competition will push Goldman shares up. "I don't think there will be further government bashing of the company. The political risk is now out of the way and concerns about regulatory uncertainty should be set aside," Bove commented.
Credit Suisse's Howard Chen maintains an Outperform rating and $190 price target on Goldman shares. The company's Oct. 19 results led Chen to note that revenue "fared better than we'd hoped in a quarter marked by weaker client activity levels," and that market conditions "appear to have improved and capital levels remain robust and growing."
"Re-regulation means lower risk and lower returns," said Moody's analyst Peter Nerby. "Goldman hasn't reset its promises to shareholders. In this environment, Goldman will be hard-pressed to deliver a 20% ROE."
Changes resulting from banking reform may drive down pre-tax profit margins for credit swaps to 22% to 23% from about 35%, said Bernstein analyst Brad Hintz. "That's a big drop," he said. "But it doesn't mean the business goes away. It just becomes a cash business like the equities cash business or a corporate bond business." Hintz kept his Outperform rating and $205 target.
Barclays Capital analyst Roger Freeman estimated that before and during the credit crisis, Goldman Sachs generated two-thirds of its credit-trading revenue from derivatives. The contracts now likely contribute about a third, with the rest coming from bonds, he said. Freeman reiterated his Buy rating and $170 price target.
Mike Mayo at Credit Agricole's CSLA said in a research note that lower leverage may make it hard for Goldman to achieve its target 20% return on equity, forecasting a more muted 14% ROE for the next three years. Still, he rates Goldman a Buy, with a target of $200.
(Sources: Alacra Pulse, SmarTrend, Street Insider, CNN, Zacks, Bloomberg/Businessweek.)