The following is a list of top performing high growth, and profitable stocks. This list might offer a good starting point for momentum investors.

To compile the list, we started with a universe of about 250 stocks that have seen sales and earnings grow by more than 10% over the past five years. In addition, all of these stocks also had EPS growth rates projected above 10% for the next five years.

We then narrowed down this universe by only focusing on the top performing stocks over the last year.

Will these companies continue to outperform? What do you think? Full analysis below.

All data sourced from Finviz.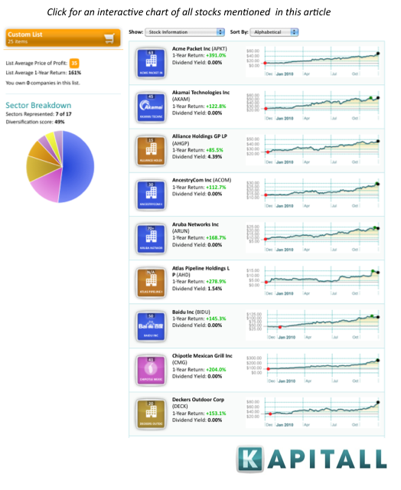 The list has been sorted by performance over the last year.

1. Acme Packet, Inc. (NASDAQ:APKT): Communication Equipment Industry. Market cap of $3.11B. Sales have grown by 54.65% over the past 5 years, with EPS growing by 12.27% during the same time. EPS projected to grow by 32.98% over the next 5 years. Short float at 5.95%, which implies a short ratio of 2.37 days. The stock has gained 377.39% over the last year.

2. Atlas Pipeline Holdings LP (AHD): Gas Utilities Industry. Market cap of $360.1M. Sales have grown by 58.17% over the past 5 years, with EPS growing by 23.11% during the same time. EPS projected to grow by 44.00% over the next 5 years. Short float at 2.21%, which implies a short ratio of 1.34 days. The stock has gained 279.01% over the last year.

3. Netflix, Inc. (NASDAQ:NFLX): Music & Video Stores Industry. Market cap of $10.76B. Sales have grown by 27.25% over the past 5 years, with EPS growing by 42.83% during the same time. EPS projected to grow by 26.56% over the next 5 years. Short float at 20.76%, which implies a short ratio of 1.88 days. The stock has gained 251.19% over the last year.

4. KEMET Corp. (NYSE:KEM): Diversified Electronics Industry. Market cap of $383.32M. Sales have grown by 11.6% over the past 5 years, with EPS growing by 32.01% during the same time. EPS projected to grow by 11.% over the next 5 years. Short float at 0.33%, which implies a short ratio of 0.33 days. The stock has gained 249.38% over the last year.

5. Riverbed Technology, Inc. (NASDAQ:RVBD): Networking & Communication Devices Industry. Market cap of $4.99B. Sales have grown by 173.79% over the past 5 years, with EPS growing by 35.3% during the same time. EPS projected to grow by 28.% over the next 5 years. Short float at 8.24%, which implies a short ratio of 2.2 days. The stock has gained 233.3% over the last year.

6. Chipotle Mexican Grill, Inc. (NYSE:CMG): Restaurants Industry. Market cap of $8.B. Sales have grown by 26.39% over the past 5 years, with EPS growing by 75.1% during the same time. EPS projected to grow by 26.86% over the next 5 years. Short float at 11.63%, which implies a short ratio of 4.12 days. The stock has gained 209.75% over the last year.

7. F5 Networks, Inc. (NASDAQ:FFIV): Internet Service Providers Industry. Market cap of $10.66B. Sales have grown by 25.67% over the past 5 years, with EPS growing by 25.25% during the same time. EPS projected to grow by 23.68% over the next 5 years. Short float at 6.04%, which implies a short ratio of 1.9 days. The stock has gained 180.42% over the last year.

8. Strategic Hotels & Resorts, Inc. (NYSE:BEE): REIT Industry. Market cap of $706.62M. Sales have grown by 12.32% over the past 5 years, with EPS growing by 16.34% during the same time. EPS projected to grow by 11.5% over the next 5 years. Short float at 2.98%, which implies a short ratio of 3.08 days. The stock has gained 174.71% over the last year.

9. Aruba Networks, Inc. (NASDAQ:ARUN): Networking & Communication Devices Industry. Market cap of $2.07B. Sales have grown by 85.78% over the past 5 years, with EPS growing by 76.71% during the same time. EPS projected to grow by 23.33% over the next 5 years. Short float at 16.07%, which implies a short ratio of 5.86 days. The stock has gained 165.5% over the last year.

10. Deckers Outdoor Corp. (NASDAQ:DECK): Apparel Footwear & Accessories Industry. Market cap of $2.96B. Sales have grown by 30.51% over the past 5 years, with EPS growing by 34.07% during the same time. EPS projected to grow by 24.33% over the next 5 years. Short float at 11.3%, which implies a short ratio of 3.39 days. The stock has gained 149.03% over the last year.

11. Hypercom Corp. (NYSE:HYC): Business Equipment Industry. Market cap of $409.89M. Sales have grown by 11.02% over the past 5 years, with EPS growing by 15.43% during the same time. EPS projected to grow by 23.33% over the next 5 years. Short float at 2.81%, which implies a short ratio of 0.89 days. The stock has gained 143.42% over the last year.

12. Baidu, Inc. (NASDAQ:BIDU): Internet Information Providers Industry. Market cap of $36.59B. Sales have grown by 106.85% over the past 5 years, with EPS growing by 151.21% during the same time. EPS projected to grow by 59.75% over the next 5 years. Short float at 2.91%, which implies a short ratio of 0.77 days. The stock has gained 142.22% over the last year.

13. OPNET Technologies Inc. (NASDAQ:OPNT): Application Software Industry. Market cap of $525.07M. Sales have grown by 14.48% over the past 5 years, with EPS growing by 22.69% during the same time. EPS projected to grow by 19.00% over the next 5 years. Short float at 2.31%, which implies a short ratio of 2.51 days. The stock has gained 137.27% over the last year.

14. Tata Motors Ltd. (NYSE:TTM): Auto Manufacturer. Market cap of $18.66B. Sales have grown by 36.1% over the past 5 years, with EPS growing by 15.61% during the same time. EPS projected to grow by 35.00% over the next 5 years. Short float at 4.28%, which implies a short ratio of 6.88 days. The stock has gained 132.32% over the last year.

15. Under Armour, Inc. (NYSE:UA): Apparel Clothing Industry. Market cap of $2.94B. Sales have grown by 33.08% over the past 5 years, with EPS growing by 18.84% during the same time. EPS projected to grow by 21.17% over the next 5 years. Short float at 14.29%, which implies a short ratio of 6.64 days. The stock has gained 125.51% over the last year.

16. Salesforce.com (NYSE:CRM): Application Software Industry. Market cap of $18.29B. Sales have grown by 49.24% over the past 5 years, with EPS growing by 56.9% during the same time. EPS projected to grow by 29.32% over the next 5 years. Short float at 9.15%, which implies a short ratio of 3.12 days. The stock has gained 122.11% over the last year.

17. TriQuint Semiconductor, Inc. (TQNT): Semiconductor Industry. Market cap of $1.9B. Sales have grown by 15.89% over the past 5 years, with EPS growing by 13.64% during the same time. EPS projected to grow by 17.5% over the next 5 years. Short float at 7.06%, which implies a short ratio of 2.58 days. The stock has gained 119.3% over the last year.

18. Fossil, Inc. (NASDAQ:FOSL): Recreational Goods, Other Industry. Market cap of $4.4B. Sales have grown by 10.09% over the past 5 years, with EPS growing by 11.06% during the same time. EPS projected to grow by 17.00% over the next 5 years. Short float at 4.36%, which implies a short ratio of 2.77 days. The stock has gained 119.29% over the last year.

19. Akamai Technologies Inc. (NASDAQ:AKAM): Internet Information Providers Industry. Market cap of $9.52B. Sales have grown by 32.56% over the past 5 years, with EPS growing by 25.26% during the same time. EPS projected to grow by 15.08% over the next 5 years. Short float at 5.09%, which implies a short ratio of 1.94 days. The stock has gained 117.46% over the last year.

20. Ancestry.com Inc. (NASDAQ:ACOM): Internet Information Providers Industry. Market cap of $1.31B. Sales have grown by 12.89% over the past 5 years, with EPS growing by 31.98% during the same time. EPS projected to grow by 21.8% over the next 5 years. Short float at 4.15%, which implies a short ratio of 5.99 days. The stock has gained 117.34% over the last year.

21. VanceInfo Technologies Inc. (NYSE:VIT): Information Technology Services Industry. Market cap of $1.54B. Sales have grown by 78.53% over the past 5 years, with EPS growing by 57.96% during the same time. EPS projected to grow by 27.59% over the next 5 years. Short float at 4.13%, which implies a short ratio of 2.55 days. The stock has gained 114.91% over the last year.

22. Ulta Salon, Cosmetics & Fragrance, Inc. (NASDAQ:ULTA): Personal Services Industry. Market cap of $2.06B. Sales have grown by 20.01% over the past 5 years, with EPS growing by 44.49% during the same time. EPS projected to grow by 24.5% over the next 5 years. Short float at 8.72%, which implies a short ratio of 6.72 days. The stock has gained 112.72% over the last year.

23. Illumina Inc. (NASDAQ:ILMN): Biotechnology Industry. Market cap of $7.52B. Sales have grown by 67.47% over the past 5 years, with EPS growing by 56.04% during the same time. EPS projected to grow by 25.73% over the next 5 years. Short float at 7.34%, which implies a short ratio of 7.12 days. The stock has gained 107.88% over the last year.

24. Lululemon Athletica Inc. (NASDAQ:LULU): Apparel Clothing Industry. Market cap of $3.8B. Sales have grown by 61.87% over the past 5 years, with EPS growing by 52.73% during the same time. EPS projected to grow by 26.88% over the next 5 years. Short float at 19.68%, which implies a short ratio of 7.77 days. The stock has gained 104.89% over the last year.

25. Alliance Holdings GP, L.P. (NASDAQ:AHGP): Nonmetallic Mineral Mining Industry. Market cap of $2.73B. Sales have grown by 13.5% over the past 5 years, with EPS growing by 20.74% during the same time. EPS projected to grow by 14.% over the next 5 years. Short float at 0.81%, which implies a short ratio of 1.37 days. The stock has gained 99.39% over the last year.

Disclosure: No positions