China's PMI in November was 55.2, or 0.5 points higher than in October, continuing to show growing demand and strong manufacturing activity in China. The production index, the new order index, the export new order index, the inventory index, the import index, and the input price index also rose in November.
Most impressively, the input price index has now risen for five months in a row, from 50.4 in July to 73.5 in November -- a 46% increase over a five-month period, and the fastest growing rate in the history of China's PMI. The increased manufacturing cost will certainly be passed on to consumers in the next few months, given the thin profit margin of Chinese manufacturers, which makes the inflation problem worse in the foreseeable future.
But as I've discussed before, Chinese policymakers have taken non-monetary measures to drain liquidity out of the economic system. China's stock markets and interbank lending markets have already shown signs of tightening in recent days. It usually takes one or two months for such policy to impact the real economy; therefore, the November PMI probably represents its peak. But investors should be aware of the calendar effects over the next few months.
Since mid-2008, China's PMI and new order index have usually outperformed their U.S. counterparts. Given the strong performance of China's PMI and new order index, U.S. manufacturing activity will continue to grow in the next few months. However, manufacturing input prices have also risen quickly in the U.S. While consumer prices are constrained by the recent huge holiday discounts and the ongoing high unemployment rate, it is the corporate profit margin that will get squeezed when companies report their earnings next time. But for now, U.S. PMI is likely to give a boost to the equity market, which is plagued by the European debt crisis and by uncertainty over China growth.
Chart 1. China PMI vs. U.S. PMI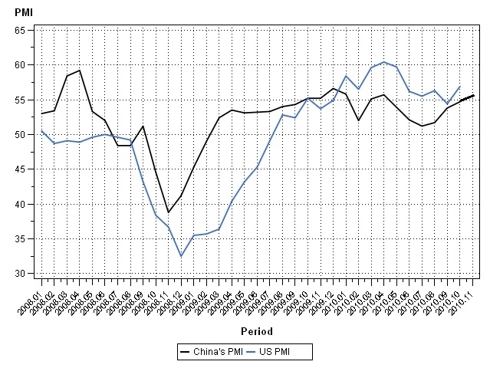 Chart 2. China New Order Index vs. U.S. New Order Index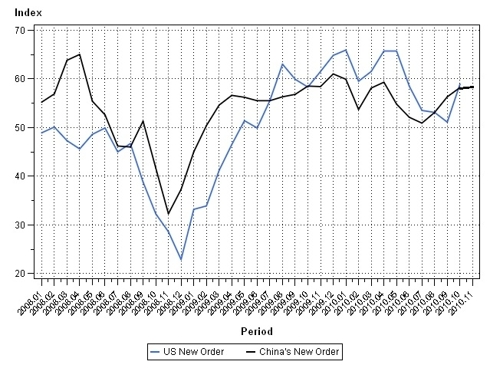 Disclosure: No position.