American Capital Agency Corporation (NASDAQ:AGNC) had its big day last week, as the second largest mortgage REIT in the sector behind Annaly Capital Management (NYSE:NLY) delivered much awaited second-quarter 2014 results.
And strong they were: A sequential book value gain of more than 7% is the biggest accomplishment of American Capital Agency during the quarter and the mortgage REIT made its case as a cornerstone income investment.
Investors do not only face attractive dividend prospects from AGNC (I believe dividends have bottomed out now), but they could also benefit from an increasing market valuation that is underpinned by healthy book value growth.
After CYS Investments (NYSE:CYS) reported an equally whopping quarter-over-quarter book value gain of 6.5% when it released earnings in July, hopes are high that investor confidence will soon return to the mortgage REIT sector providing boosts for company valuations.
Risky business model
American Capital Agency does not trade in oatmeal. The REIT takes on large amounts of leverage and invests short-term funds in long duration assets, such as mortgage-backed securities, in order to make a spread.
As such, AGNC's value is largely dependent on the performance of its investment portfolio and its underlying securities. This business is extremely risky and the earnings volatility displayed by AGNC is certainly evidence of it.

(Source: American Capital Agency Second Quarter Earnings Presentation)
AGNC's volatile EPS history highlights that earnings are going to continue to fluctuate wildly.
Sustained book value growth
Mortgage REITs are staging strong comebacks and second-quarter results so far gave investors all the reasons to return to the sector in order to snatch up some beaten down dividend giants.
American Capital Agency reported a second-quarter book value of $26.26 which represents a 7.2% increase over its first-quarter net asset value of $24.49 per share and a 2.9% increase over last year's $25.51 per share. It was also the second quarter in a row in which American Capital Agency reported positive book value growth.
Two consecutive quarters of book value growth certainly suggests that American Capital Agency's stock and dividends have seen the bottom already. The stock has been in a steady march up north this year and AGNC has handsomely outperformed its closest competitor Annaly Capital Management.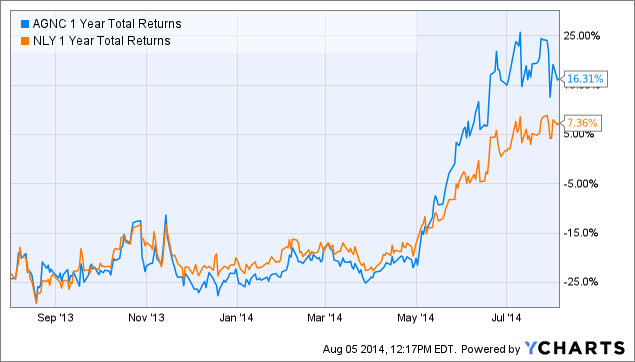 Valuation
American Capital Agency's return to book value growth has another positive implication: The company has more potential to improve its valuation and might even trade at a premium to book value in the near future adding capital appreciation potential to its already juicy dividend yield.
American Capital Agency presently trades at a 12% discount to book value, whereas Annaly Capital Management trades at a roughly 8% discount. Stronger second-quarter results in terms of earnings and book value are surely going to have a valuation impact on these two mortgage REITs and I expect narrower book value discounts in the short-term.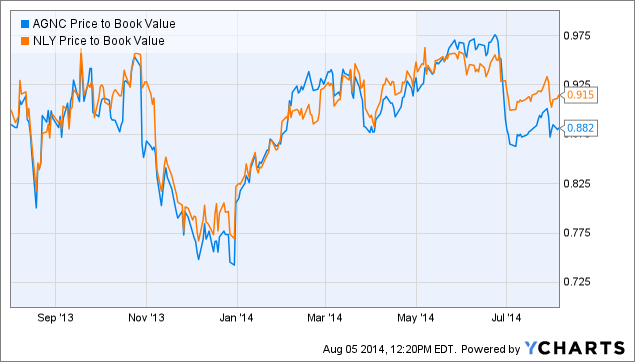 If both Annaly Capital Management and American Capital Agency can sustain book value momentum in 2014, the new growth trajectory could quickly lead to premium valuations for both REITs.
AGNC has a record of relative outperformance
Though I am generally not the biggest fan of mortgage REITs due to their cyclical nature and volatile earnings, American Capital Agency convinces with a strong economic return profile. 2013 was arguably the most difficult year, not only for AGNC, but for the sector as a whole.
On average, however, American Capital Agency has done a great job in achieving high profitability since the company pursued its IPO in 2008, which raises hopes that the mortgage REIT will be able to continue to deliver an outstanding performance in subsequent quarters.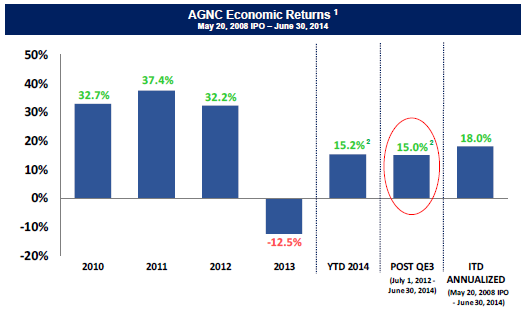 (Source: American Capital Agency Second Quarter Earnings Presentation)
Dividends
Let's not kid ourselves: Investors are buying mortgage REITs almost entirely for income purposes. AGNC and Annaly both have one of the longest dividend track records in the industry stretching back into the 1990s, which also explains their popularity among yield-hunting investors.
American Capital Agency currently offers investors an 11.2% dividend yield and slightly outperforms Annaly's 10.7%. With dividends appearing to have bottomed for both mortgage REITs, AGNC and Annaly could be attractive additions to income-tilted investment portfolios for long-term investors who want to bet that the worst is over for the mortgage REIT sector.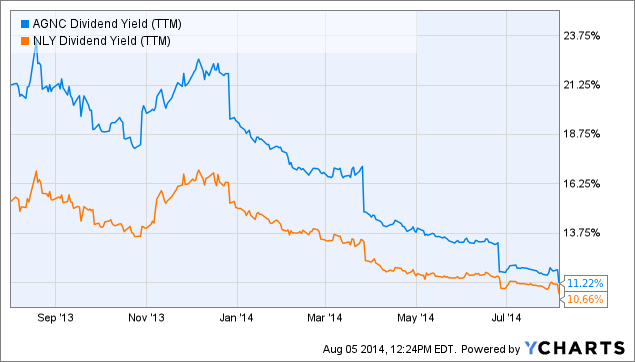 Bottom Line
The big picture in the mortgage REIT sector is more important than anything: After two consecutive quarters of book value growth and a year of terrible returns, mortgage REITs are staging strong rebounds.
Should American Capital Agency be able to sustain book value growth momentum throughout 2014, the mortgage REIT could quickly trade at a premium to net asset value.
Consequently, AGNC does not only offer investors a double-digit cash flow yield, but also the potential to benefit from capital appreciation in the years ahead. Speculative Buy for investors who want to bet that the mortgage REIT storm has passed.
Disclosure: The author has no positions in any stocks mentioned, and no plans to initiate any positions within the next 72 hours. The author wrote this article themselves, and it expresses their own opinions. The author is not receiving compensation for it (other than from Seeking Alpha). The author has no business relationship with any company whose stock is mentioned in this article.