Conventional wisdom may suggest that buying airline stock can be somewhat riskier than sticking with more stable investment choices, especially in the long term. However, stock trading, especially ETFs in British Airways (OTC:BAIRY) looks like a potential opportunity in light of the recently-announced merger between the flag carrier airline of the UK and Iberias Lineas Aereas de Espansa SA. In the works since 2008, the marriage of these two companies for $9 billion presents several positive affects for shareholders. Such mergers are often confidence-builders, encouraging the public to commit to what is perceived as a stronger, financially-healthier union.
Increased control over the profitable trans-Atlantic flight market will create the expected demand-supply opportunity to increase passenger load factors and raise prices. It also offers a low-cost way to handle competition with the larger 2 European carriers, Air France – KLM Group and Deutsche Lufthansa AG (OTCQX:DLAKY). Since the UK regulatory commission seems to be blind to monopoly issues at this point in time, the combination of the consolidation of like-minded airline players and prohibitive fuel prices seems to be ridding the field of smaller, lone-ranger competition. The new merger will create a powerful entity that will be the 3rd largest European airline by revenue and 2nd largest carrier group for that same area.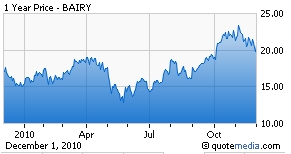 The initial slight dropping in shares of both British Airways (-3.6%) and Iberias (-2.5%) may be a reflection of concern about current labor union problems that British Airways has yet to bring under control. In fact, the 12,000 member cabin-crew union's "Unite" response to the proposed merger was to call for a strike ballot. CEO Willie Walsh expressed little concern about the suggested walk-out. He may be expecting the usual chaos that comes with merging labor unions to dilute the power of Unite, or at least create a more un-unified front.
Both British Airways and Iberias seem to be healthy partners in this new merger with the UK carrier posting a market value increase of 40% during 2010, and Iberias up 70% during the same time frame. Walsh believes that within 5 years the new team will be generating $400 million in synergies. He also expects relevant air traffic that will be diverted from Heathrow in London to Madrid, in Spain to be a positive correction to the overcrowding of the former airport.
When it comes to choosing stock in an airline, timing seems to be the critical issue. Jumping in on the upswing can be opportune for short term profitability. Even outstaying one's welcome will probably work out if you can weather the downturns in this very cyclical industry. Right now, JP Morgan analysts, although not specific to British Airways, are predicting "record prosperity" and "unprecedented" operating income for airline stock for the last days of 2010, 2011, and even into 2012. With air traffic on the rise once more, primarily from business passengers (up 9.55%) and cargo (up 26.5%), planes are once again filling their seats and increasing their revenue.
Although Walsh will be moving over to become CEO for AIG, he plans to stay actively involved in the newly-joined company. His aggressive leadership style has involved cutting costs wherever possible but expanding the fleet with 24 Boeing (NYSE:BA) 787s and 12 Airbus A380s on order, thus pegging a course for Finance Chief Keith Williams to follow. Another 12 carriers may be invited to join British Airways, strengthening the group even more. A deal with American Airlines (AMR) to share booking codes is also a piece of the expansionist policy Walsh has set in forward motion. With the cash capital infusion and lower expenses that a merger usually produces, the new company should be in good position to enjoy the current updraft from all this activity.
If it is true that "airlines have always been trading vehicles…" this may the time to consider buying stock in British Airways. While no one can predict the future of the very unpredictable airlines industry or the length of this current positive upswing in consumer travel, this company appears to have strategically positioned itself for maximum potential growth and revenue. Flying larger and fuller planes to a greater number of destinations sounds like profitability to me.
Disclosure: No positions