While I still might call buying shares of Bank of America (NYSE:BAC) a bet, I do believe that now might be the right time to go long on this stock. As everyone reading this knows, I have been negative on BAC since I sold it, feeling that the litigation overhang would be with us for an extended period of time.
Any good investor will not ignore the facts or changes when they slam us in the face. The news that the Fed has granted BAC the ok to raise the dividend is the first step, and the rumored news that FINALLY BAC is headed towards a settlement with the Department of Justice, is enough for me to take a long position in Bank of America shares.
Let's Not Kid Ourselves
I can be as stubborn as the next guy I guess but fooling ourselves is akin to planting one's head firmly in the sand by ignoring the negatives. For myself, buying shares right now makes sense, and the price is still as it was while I was pounding the table about it being a weak stock to take a new position.
I do not believe that I ever once suggested anyone to dump their shares completely, but I certainly was more than accurate about it being a very risky stock to buy until the grey clouds cleared.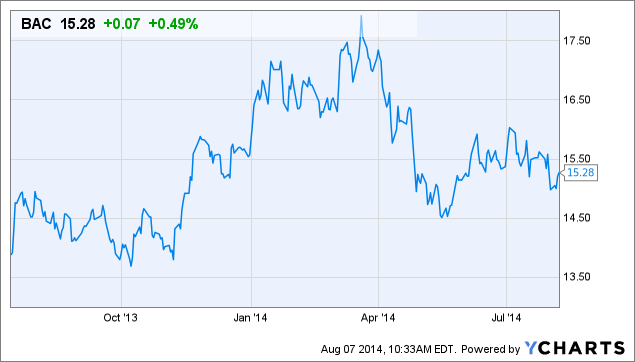 While those who might have been trading the stock over the last year could have made some nice profits, those who had invested for the longer term a year ago, have seen virtually no return on their money. Those who have owned shares at $5.00 are the obvious soothsayers and have turned out, as of now anyway, to be correct, and kudos to those who have stuck it out.
It does not require a PhD to see that the bank is turning a very scary corner without falling off the cliff. The board of directors of BAC are finally settling with the DOJ.
Bank of America directors are supportive of its proposed $16 billion to $17 billion mortgage-securities settlement with the Justice Department, according to someone familiar with the matter, and the final details of the deal are expected to be ironed out in the coming days.

If things proceed apace, this person added, a final deal with some $9 billion in cash penalties and an additional $7 billion to $8 billion earmarked for consumer relief could be announced formally as early as Monday.
Not every speed bump has been corrected but I believe that buying shares right now could produce an immediate short-term pop in the share price for those who like to trade the stock, and for those who seek to invest for the long haul, the road ahead seems to be much less dangerous.
At the same time, the Fed has approved the bank's resubmitted plan:
Bank of America Corp said on Wednesday the Federal Reserve has approved its plan to raise its quarterly dividend for the first time since the financial crisis......The dividend increase is the latest step toward normality for a bank that is still trying to move past the financial meltdown. But the dividend would still be far below its pre-crisis level.....The bank won approval to increase its dividend only after having its prior proposals for the 2014 process rejected twice. The Fed nixed the bank's first request because it was too high, and its second request because the bank found a mistake in the way it accounted for its liabilities for regulators that ended up cutting its capital levels, or its assets minus liabilities......Raising the dividend has been a top priority for Chief Executive Brian Moynihan. Prior to the crisis, the bank paid a quarterly dividend of as much as 64 cents per share, a level that it cut in half for the fourth quarter of 2008 and then cut to a penny a share in 2009. Those high dividend payouts made bank stocks a standard holding for investors seeking income from their portfolio.
Still only $.05/share but this too is a fact that cannot be ignored, and if growth continues, and dividends are regularly increased, it becomes a real possibility that BAC could become a ground floor opportunity as a dividend growth stock, believe it or not.
Now We Can Look At The Price To Book Value Metric
I have been saying all along that the share price of BAC was well below book value for a reason. To me, the reason was that the conservative money was waiting for a reason for the stock to begin moving towards book value.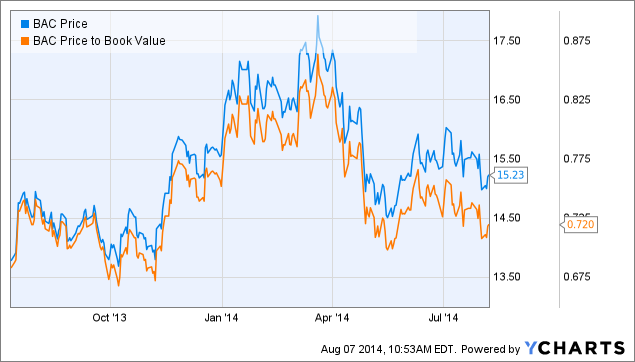 At a 28% discount as of this writing, I believe that there is now a reason for the share price to finally close the gap. That would mean an upside potential from this metric alone, of roughly $18-$20/share over the next 12-18 months.
Keep Your Eyes Open
While I have taken a position in BAC, today, I will keep my eyes open to any sort of future litigation issues that linger. From either individuals, or from States. If I see cloud storms forming, I will have no problem dumping this stock once again.
That being said, while I am not day trading the stock, I will take a 30% pop in the share price in a relatively short time, any day of the week.
The Bottom Line
Getting to the heart of the matter does not need to be a heroic effort. It simply takes being aware. Of course I could have held from $5.00/share when I first owned it and been part of the BAC fan club, but I did leave about $5.00/share of profit on the table, a fact that cannot be disputed, but my money was put to work elsewhere while this mess was sorting itself out.
Of course anything can happen after I write this, but I see no problem for me to go long at this time.
Disclaimer: The opinions of the author are not recommendations to either buy or sell any security. Please remember to do your own research prior to making any investment decision.
Disclosure: The author is long BAC. The author wrote this article themselves, and it expresses their own opinions. The author is not receiving compensation for it (other than from Seeking Alpha). The author has no business relationship with any company whose stock is mentioned in this article.