Background: Cisco (NASDAQ:CSCO) designs, manufactures and sells IP and other products related to the communications and information technology industry. For most web requests, it's a virtual certainty that the 0s and 1s passed through a Cisco device before reaching your computer.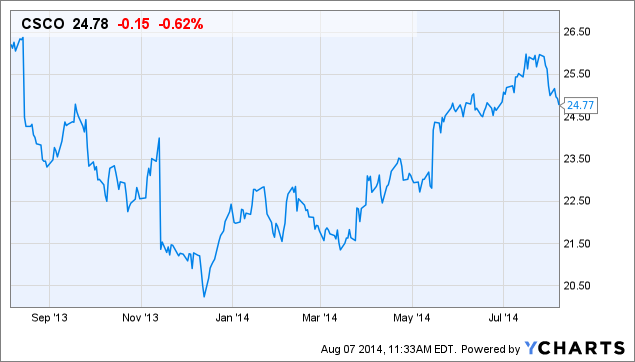 Wall Street and investors are planning on more of the same in the upcoming fourth quarter earnings report after the market closes on August 13, 2014. The consensus opinion is presently 53 cents a share, a slight improvement of 1 cent over 52 cents during the corresponding period last year.
Estimates from analysts range from a low of 51 cents per share, up to the highest estimate of 54 cents per share.
The whisper numbers I have examined start at 53 cents and go up to 59 cents. In simple terms, Cisco Systems will need to beat and guide higher to push the share price materially higher. If Cisco Systems can meet or exceed, the earnings will also exceed last quarter. Last quarter sequentially, the company generated profits of 51 cents.
Compared to Cisco's 11.6 forward price-to-earnings ratio, Juniper (NYSE:JNPR) has a P/E of 12.50, and Microsoft (NASDAQ:MSFT) has a P/E of 13.3. While I like Microsoft better (it has been my number one pick for over a year), both Microsoft and Cisco fall into the same category of reliable tech that delivers results year after year.
After Microsoft's strong appreciation during the last couple of years, the dividend yield fell below 3%. Cisco's 76 cents a year dividend, or 3.1% yield is superior, and from that perspective, i.e. as a dividend collecting stock, Cisco wins by a nose, but outside of a pure yield play, Microsoft is my preferred stock due to what I believe is greater growth opportunity.
Over half the analysts covering Cisco Systems rate it as a buy or strong buy. Twenty-five of the 43 analysts covering the company give a buy recommendation, 12 analysts rate it a hold, and 6 recommend selling. I currently have a buy rating for Cisco as well.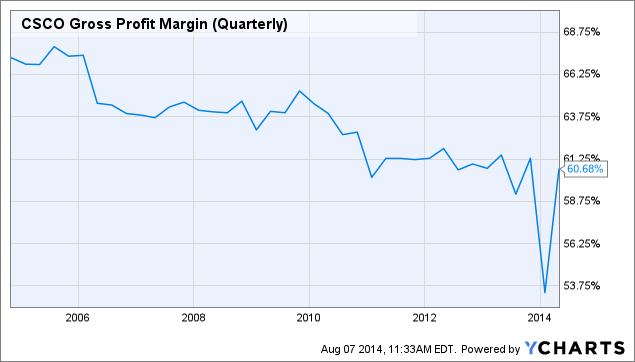 CSCO Gross Profit Margin (Quarterly) data by YCharts
Investors haven't made progress this year. Shares in the company have fallen 5% from a year ago. It's not so bad after factoring in the dividend payments, but with a market up over 20%, it's tough. The average analyst target price for Cisco Systems is $25.93. I'm slightly more confident with a $26.50 12-month price target.
At 1.25 Beta, the shares trade with more volatility than the overall market and considerably more than Microsoft. It's much less than Juniper's 2.2 Beta though.
That's not all bad though. If you're a fan of covered call writing, Cisco handily beats Microsoft, and Cisco is one of my favorite covered call stocks due to its market leadership and long-term stability. Some may consider option writing a short-term strategy, but it doesn't have to be, especially when stringing together back month expiration dates over several years.
Investors can also gain valuable insight through the options market. The price of calls and puts indicates the level of expected price volatility through the earnings release. The greater the premium, the farther investors believe the stock's price may change.
Based on current option premium, investors and traders are wagering on a 7%, or about $1.66 move in the next 10 days.
Another way to word it is that investors need to plan on the shares trading down to $23.31, or as high as $26.63, while remaining within a single standard deviation percentage. If you're not already fully prepared for at least that much volatility (and there's no guarantee it won't move beyond the expected range), you want to make the necessary adjustments before the last minute.
After last quarter's results, the shares gained a lot of lost ground from a year ago, and rose a modest 5.8%, or $1.31 from the close before the earnings release to the closing after. The closing trade before the release was $22.69 and ended at $24.00 the following day.
Investors are used to upside surprises for earnings per share, but it's not the case for revenue. If Cisco beats on EPS, make sure you take a look at revenue before taking any action. If Cisco doesn't turn around the revenue decline, this reported quarter will mark the fourth drop in a row.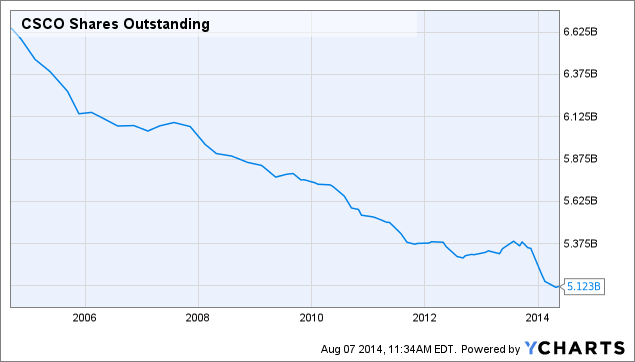 CSCO Shares Outstanding data by YCharts
The company's share buyback program is working. The number of shares continues to fall creating greater concentration for long-term holders. This also makes paying the fat dividend cheaper.
Many are betting a combination of server and related services to bolster the company's bottom line, and indeed, revenue in that segment is growing at a double digit clip, but Microsoft and Amazon (NASDAQ:AMZN) are practically in an all-out price-war for cloud services. Google (NASDAQ:GOOG) (NASDAQ:GOOGL) hasn't fully stepped up to throw its weight around, but the key takeaway is that investors should expect further margin compression in this and related spaces.
NetApp (NASDAQ:NTAP), a Cisco partner in FlexPos products, is watching its shares drift rather aimlessly as well. Simply put, it's hard to get excited about the offering when Google may flex its muscle at any point to squeeze what small margin in computer services there may be left.
From a technical perspective, the charts remain bullish and positive. The 60 day moving average is above the 200 day moving average, which is one of the first things I look for. Cisco Systems is in a classic bull trend. The moving averages are increasing, and shareholders are happy. Trend followers love this pattern and will hold their long position until a technical break results in a signal to exit.
The last reported short interest is paltry and without reason to consider it a meaningful influence at only 1.4% of the average trading float. Not surprising considering Cisco's leadership position.
While the internet is maturing, strong growth remains in Africa and parts of Asia. Surprisingly to some, North America remains a potential growth area as well. For being first to offer commercial internet access, we're no longer the first in terms of bandwidth and population.
During my trips to China I found most of the coastal cities to have as fast or faster internet than in the U.S. As I traveled inland, the speeds declined and delays (measured in milli-seconds) increased, but remained impressive for a place that many (wrongly) believe is far behind the U.S.
Disclosure: The author has no positions in any stocks mentioned, and no plans to initiate any positions within the next 72 hours. The author wrote this article themselves, and it expresses their own opinions. The author is not receiving compensation for it (other than from Seeking Alpha). The author has no business relationship with any company whose stock is mentioned in this article.