Low interest rates have hampered banks both big and small from generating a spread on the loans that they originate. The interest rates have kept costs down, as long as the banks are not pumping up the deposit rates they are paying to draw in new customers, but interest rates on loans are also down. This hits the community banks much harder than the largest financial institutions as the FDIC indicates in a recent study from December 2012.
In times of economic growth (1991 - 2005), ROA averaged between 1.31% and 1.56% before dropping to 0.60% in the five years between 2006 and 2010 as interest rates were lowered and the Great Recession hit the banks hard. Banks headquartered in a metropolitan area (such as Saint Louis, Kansas City, or Phoenix) were hit even harder as ROA was comparable in times of growth, but dropped to 0.45% from 2006 to 2010.
Historically, community banks have produced better margins of net interest income than the larger banks. All banks tend to see a rise in net interest income as interest rates rise. From 1992 - 2001, the Fed funds rate rose from approximately 3% to over 6%.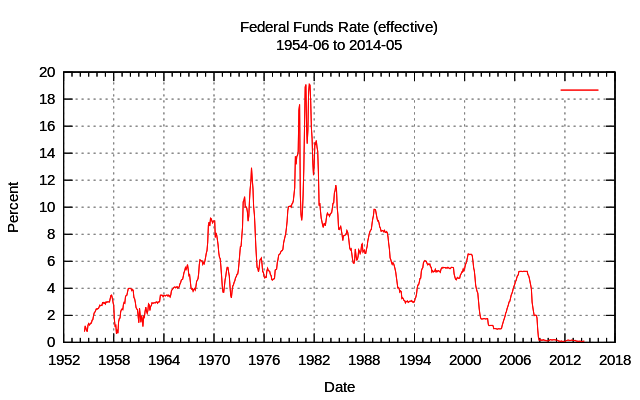 During this time, the net interest margin and the ratio of net interest income to assets both rose steeply as the Fed began to raise rates (1991 - 1993) and then held fairly stable while the Fed continued to raise rates (1994-2001). Net interest margin and the ratio of net interest to assets show a sharp decline from 2007 - 2009 and started to rebound slightly.
If history is any indication, community banks should see a nice bump in net interest margin as the Fed begins to raise interest rates.
The Fed has signaled, in my opinion, that they will raise the target rate by 25 basis points no later than June 2015.
This graph indicates that there is no strong consensus on what the Fed will do, except that it will raise rates in 2015 and 2016. The "long term" outlook is a solid indicator that the Fed will have rates back up over 300 basis points in 2017 or 2018, at the latest.
Raising the rates could pose problems for the overall stock market. Leverage is at record highs as hedge funds and institutional investors use the cheap capital created by the low interest rates to goose their returns. I don't claim to know what will happen with this leverage, but if interest rates rise and earnings meet expectations, I would think it is most plausible that some leverage is taken out of the market and multiples contract. The S&P 500 already trades at 18x forward earnings. This number, while reasonable, is in the high end of the historical range for the market.
These factors are why I am looking at regional banks as investment opportunities. The decreased overall market leverage when combined with increasing net interest margins can provide excellent opportunities to find a port in the storm.
Enterprise Financial Services Corp. (NASDAQ:EFSC) is the holding company for Enterprise Bank, a regional bank servicing the St. Louis, Kansas City and Phoenix markets. This is a bank that focuses on serving their local community through deposit relationships, small business lending, smaller commercial real estate lending, some consumer lending, and wealth management services. The company divested its life insurance brokerage unit in 2011 to focus on their core competency of banking services.
Based on information posted on Scottrade as of 8/5/14, EFSC trades at a reasonable multiple of 13.6x for the trailing twelve months. The company pays a quarterly dividend of $0.0525. This provides a modest dividend yield of 1.2%. Net Income has been positive and increased over the last four years from $0.21 per share to $1.68 per share.
The bank has steadily decreased their loan loss provision over the past 4 years (from $34 million to $4.3 million), which is an indication of the strengthening balance sheet, credit quality, and future revenue generation. The bank has had limited loan growth (from $2,196 million to $2,262 million) and has seen deposits decline (from $2,791 million to $2,535 million) in the past three years. The deposit shrink does offer some reason for concern, but the bank is still properly capitalized and could weather the decrease in deposits while still increasing loans.
Cash from operations has remained positive for the past five years. My preferred cash flow calculation depends on the actual operations of a business and I determine net cash flow as cash from operations minus CAPEX minus dividends paid. This "net cash flow" has remained positive for the past 3 years and was only interrupted by a large CAPEX in 2010. The chart below is in $ millions.
| | | | |
| --- | --- | --- | --- |
| | 2013 | 2012 | 2011 |
| Cash from Ops | 29 | 37 | 27 |
| CAPEX | 1.34 | 4.68 | 0.91 |
| Dividends | 3.95 | 5.47 | 5.33 |
| Net Cash Flow | 23.71 | 26.85 | 20.76 |
While I'm not expecting a dividend increase, the above cash flow demonstrates that there is room for additional increases, if the bank decided to reward the shareholders.
On July 24, 2014, EFSC released their second quarter 2014 results, with increases in loan balances and net income. The release indicates core net interest income margin of 3.39%, which is slightly down over the trailing twelve months (from 3.56%).
It is my assertion that the Fed will raise interest rates in 2015 and beyond, with the Fed funds rate reaching 1% (from its current rate of 0.25%) no later than March 31, 2016. By that time, net interest margin should rise above 5% (vs. 4.04% for the most recent quarter). My EPS estimate for the quarter completed March 31, 2016 is $0.41. At that level, the bank could expect a multiple of 13.5x for a price target of 22.14 per share. Given the current price of 17.26 per share at this time, that would be a return of 28.3% over 20 months, excluding dividends paid.
The caveats to consider would be a downturn in mortgage fees due to an interest rate increase. I put little weight on this argument as mortgage rates are still at historic lows, housing prices have cooled, and the Fed plans to slowly raise rates over time. The unemployment rate is dropping and I feel there is still pent up demand from younger buyers who have yet to purchase their first home due to scars from the recession and slower than normal recovery. It can be expected that mortgage refinancing by prime borrowers will slow, but this can be offset by some loosening standards and refinancing by borrowers with less than perfect credit (I am doing all I can to avoid labeling these borrowers as sub-prime).
With that said, EFSC primarily operates in the Midwest, with some exposure to the Phoenix market. They entered the Phoenix market through the purchase of a collapsed mortgage lender that they acquired from the FDIC. Therefore, I believe that their risk/exposure to the higher variance of the Phoenix market is well maintained.
Overall, I think EFSC presents a solid value at current levels. I am looking for an optimal entry point of 16.79 per share, which represents 110% of book value per share. The 110% level is my personal standard for deep value on community banks. I would be looking to enter an order for half of my normal position at that level, with the second half entry at 15.26 (current book value per share). Current trading volume levels are pretty thin and that may present somewhat of an entry/exit problem, but my trades are not large enough to encounter these issues so I place minimal weight to that resistance.
Disclosure: The author has no positions in any stocks mentioned, but may initiate a long position in EFSC over the next 72 hours. The author wrote this article themselves, and it expresses their own opinions. The author is not receiving compensation for it (other than from Seeking Alpha). The author has no business relationship with any company whose stock is mentioned in this article.