Offshore drilling giant Noble Corp. (NYSE:NE) announced its second-quarter 2014 results on Wednesday, July 30, 2014. Overall, these results were quite good and showed a significant amount of stability despite the oft-reported weakness in the offshore drilling industry. Noble also showed some of its forward growth potential, although that potential will be greatly tempered in the near-term due to the spin-off of Paragon Offshore (PGN) that was completed on August 4. That spin-off had no impact on the company's second-quarter results, however. Overall, there were several things in this report that shareholders should be pleased with.
As my long-time readers are already aware, it is my general practice to share the highlights from a company's earnings report before analyzing its results. This is because these highlights provide a background for the article and help to frame the following analysis. Therefore, here are the highlights from Noble's second-quarter results:
Noble reported total revenue of $1.2 billion. This represents a 7.69% decline from the $1.3 billion that the company brought in during the first quarter and a 20% increase over the prior-year quarter.
Noble reported an operating income of approximately $346.6 million. This represents a 36.5% increase over the company's operating income in the prior-year quarter.
Noble's contract backlog fell quarter-over-quarter from $14.3 billion to $13.4 billion.
Noble reported a net income of $235 million in the second quarter of 2014. This represents a decline of 8.2% from the $256 million that Noble earned during the first quarter of 2014, but an increase of 32.8% over the prior-year quarter.
Noble's net income works out to an earnings per share of $0.91.
One of the first things that is likely to be noticed is that Noble's revenues and net income were both lower, albeit slightly, than in the previous quarter. There is a reason for this. During the second quarter, the rigs in Noble's fleet spent fewer days in operation than they did in the first quarter. This is due to six rigs spending at least part of the quarter undergoing regular maintenance. As drilling rigs are compensated based on the number of days that they operate, these six rigs generated lower revenues quarter-over-quarter. The downtime that was caused by this maintenance work is also nothing to be concerned about. Offshore drilling rigs are very specialized and sophisticated pieces of equipment and like all other pieces of machinery require regular maintenance to continue operating at peak efficiency. In addition, a few of these rigs needed to be inspected by the regulators of the nations in which they operate in order to ensure that the rigs are in compliance with all relevant laws. This is also nothing that investors need to be concerned about as periodic inspections are simply a legal requirement. Thus, the downtime is not a sign of any problems at the company but is instead something that all offshore drilling companies will experience from time to time.
The reduced revenues due to these six rigs being out of commission for part of the quarter was almost entirely offset by increased revenues from newly constructed rigs beginning work on their first contracts and four rigs that saw their dayrates increase. These dayrate increases, which were on the Noble Bully II, Noble Roger Lewis, Noble Jimmy Puckett, and Noble Discoverer, were partly responsible for the increase in the average dayrate that Noble saw in the second quarter. At the end of the quarter, the average dayrate earned by a rig in the company's fleet was $231,000, up from the average dayrate of $223,600 at the end of the first quarter. The reason for this increase is both new rigs leaving the shipyard and beginning work on their first contracts along with existing rigs that had older contracts receiving new contracts that carry higher dayrates. Although dayrates on newly awarded contracts are lower than the levels that they were at last year, they are still significantly above the levels of 2009-2011.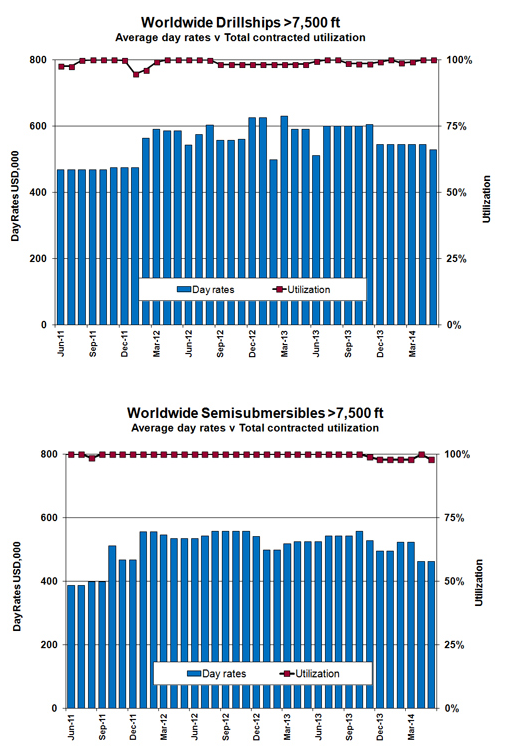 Source: IHS Petrodata
This will prove to be beneficial for Noble going forward. This is because the increased revenues caused by the start up of operations for the company's new rigs as well as the higher dayrates that some of its rigs are receiving will persist for a much longer period of time than the reduced revenues caused by the maintenance downtime. Once the maintenance on these six rigs is completed, they will leave the shipyard and resume normal operations and will thus generate higher revenues than they did in the second quarter. However, those rigs that generated greater revenues quarter-over-quarter will continue to generate these higher revenues going forward. This will result in forward growth for Noble.
Despite the quarter-over-quarter decreases in both revenue and net income, Noble actually managed to grow its operating cash flow in the second quarter compared to the first. In the second quarter, Noble reported that it had an operating cash flow of $526 million compared to $506 million in the first. This is a 3.95% increase. This was achieved despite the decrease in revenues over the same period. In many ways, this figure is much more important than net income since it tells us how much cash the company actually brought in from its regular operations after paying all expenses (except for capital expenditures). Thus, this is the most important figure when attempting to determine how much cash the company is producing that it can use to grow or to pay its dividend.
Noble also has some near-term forward growth prospects. The company has two rigs that will begin work on their first contracts in the third quarter. The first of these rigs is the ultra-deepwater drillship Noble Sam Croft, which has secured a contract with Freeport McMoran (NYSE:FCX) in the U.S. Gulf of Mexico. The rig will start working for Freeport McMoran in mid-August 2014 at a dayrate (including amortization of the mobilization fee) of $632,000. This will prove to be accretive to Noble's revenues and net income once the rig begins operating. Therefore, it will increase the company's revenues in the third quarter and then increase revenues further in the fourth quarter, as that will be the first quarter in which the rig operates for the full quarter. Since the rig will operate for more days in the fourth quarter, it will generate more revenue.
The second rig that will begin work on its first contract in the third quarter is the high-specification jackup rig Noble Sam Turner. This rig has secured a contract with Maersk (OTC:AMKAF) to perform drilling operations in the North Sea. This contract was expected to commence in mid-July and will result in Maersk paying Noble $215,000 for each and every day that the rig operates. As with the Noble Sam Croft, the commencement of this rig's assignment will result in revenue growth in both the third and fourth quarters. However, because the rig will have operated for most of the third quarter, the incremental growth due to the greater number of operating days in the fourth quarter will be much less than for the Noble Sam Croft.
With all that said, it is a certainty that Noble's revenues will be much lower going forward because of the spin-off of Paragon Offshore that was completed on August 4. This is because Noble transferred nearly all of its older and non-high specification rigs to this company. Noble itself retained the high-specification and modern drilling rigs. Because of this spin-off, the new Noble has a much smaller fleet than before, which means that it will have fewer rigs generating revenue. Investors need to keep this in mind when considering the company's forward growth. As has been discussed throughout this article, Noble is well positioned for forward growth. However, this growth will be from a much smaller revenue base and as such could make it appear as if no growth is occurring if the results from Paragon Offshore are not also considered.
Disclosure: The author has no positions in any stocks mentioned, and no plans to initiate any positions within the next 72 hours. The author wrote this article themselves, and it expresses their own opinions. The author is not receiving compensation for it (other than from Seeking Alpha). The author has no business relationship with any company whose stock is mentioned in this article.
Editor's Note: This article discusses one or more securities that do not trade on a major U.S. exchange. Please be aware of the risks associated with these stocks.