Home Prices fell 2.0% in the third quarter according to Case-Shiller - The S&P/Case-Shiller Home Price Index declined 2.0% in the third quarter, but remains up 4.9% since the first quarter 2009 lows. From the peak in June/July 2006 the 20-city composite to the first quarter of 2009 the decline was 32.6%.
Ciick to enlarge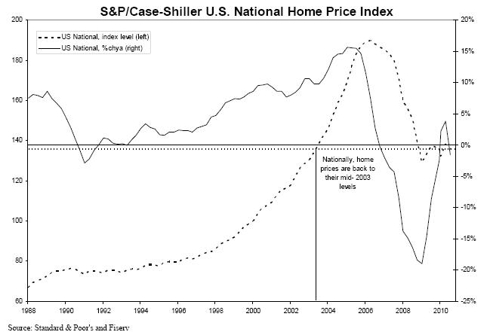 Freddie Mac also reports a decline in the third quarter -
Freddie Mac's (OTCQB:FMCC) Conventional Mortgage Home Price Index – the Purchase-Only Series registered a 1.9% decrease, down 7.4% annualized relative to the second quarter, and down 3.1% year over year.
Consumer confidence
came in as expected with a reading of 54.1, up from just below 50.0 in October, but keep in mind that 90 to 120 is the neutral zone. A reading of 54.1 is extremely weak. The neutral zone for the Conference Board Consumer Confidence is 90 to 120. To be robust, confidence needs to be above 120.
Disclosure: No positions.