This morning, NQ Mobile (NYSE:NQ) released one of their patented partnership press releases. The company came out to announce that they've reached a deal with China Unicom to put (NYSE:CHU) NQ's Music Radar technology into the client service that China Unicom uses.
After a momentary spike at the open, the market yawned at the news.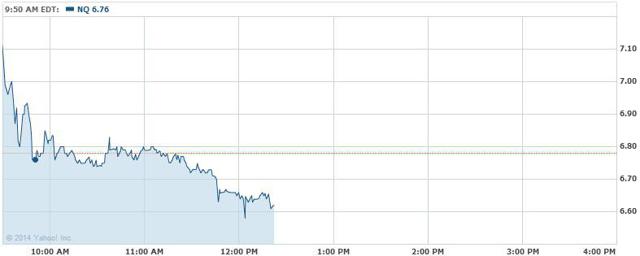 The issues with the partnership PRs that NQ continues to put out are twofold. First, none of them seem to be bearing a ton of fruit up front and therefore are not affecting the price of the equity. As a matter of fact, there doesn't seem to be a ton of follow through on a lot of their announcements, as well.
Second, none of them do anything to address the underlying questions still plaguing NQ Mobile. Is the company fraudulent, as claimed by Muddy Waters? What does the company's relationship with Yidatong look like now? Will the new auditors be able to issue a clean audit with a clear conscience based on the facts as presented to them now?
These are, in essentia, the questions that can really move the needle for NQ stock. If you're simply a trader and looking for the volatility and not interested in the saga, these are the questions that you need answers to. The answers will be on their way eventually. For now, it's hurry up and wait.
One thing about the press release this morning stuck out in my head. You can call me a bit nuanced and paranoid, but it stuck out nonetheless.
The press release read:
Available for both Android and iOS platforms, Music Radar is an innovative, content-based music information retrieval (MIR) application that gives users the ability to discover matching audio files from a variety of input, including the singing or humming of a tune. Since launch in October 2013, Music Radar has experienced rapid organic user growth and attracted high-profile partners in China and the US for its streamlined user experience and increased accuracy, which enables partners to simultaneously increase customer satisfaction and revenue.

The deal with China Unicom is an important step in NQ Mobile's aggressive expansion plans for Music Radar as part of the company's mobile platform strategy. In 2012, Chinese record label organization CMIC estimated the total value of the digital music sector in China at RMB30 billion (US$4.9 billion), demonstrating the extremely attractive market opportunity for music services such as Music Radar.
The last line, highlighted in bold, is something that I feel like I'd read from a penny stock promotion. Lest we forget the fact that they're using a 2012 figure and it's halfway through 2014 (moot), what is the point in putting that $4.9 billion figure out there? As someone who formerly (and still does) make a living opining over the nuances of wordsmithing and presentation of communications, this stuck out to me. I get that they're trying to put out that this is a big market, but I know many a securities lawyer that I've worked with in the past that would have sent that copy back with a huge red line through that last sentence with a comment like, "this could potentially be construed as deceptive and doesn't hold any bearing here."
Humor me, if you will. This would be like Bank of America (NYSE:BAC) putting out a press release announcing that they're going to be implementing check reading ATM technology in partnership with Citigroup (NYSE:C) and then ending the PR with, "In 2014, the estimated amount of global banking transactions that take place worldwide per annum was valued to be upwards of $2 trillion, demonstrating an extremely attractive market opportunity for ATM usage."
You'd say to yourself, "what?"
But this isn't a $4.9 billion deal. Who knows what this deal will account for in terms of the P/L at the end of the day.
And this piece isn't really so much about the press release, it's simply to note the arbitrage in the non-binding buyout deal that NQ seems to have on the table. If I had told you, when NQ was trading at $20, that a buyout of $9.80/share would be on the table and that the market was valuing the common at $6.65/share, you'd be likely to lend credence to Mr. Block's arguments regarding the company. The arbitrage here says a ton.
The market thinks that the likelihood of this deal going through at $9.80 is so small that they're offering you a nearly 48% premium to the common equity price as it trades today. That's ridiculous.
But, for an equity that spiked 20% when their fired their auditor, who knows what is possible. Those with the stones to play this now could be entitled to a massive sum on their investment at these levels.
QTR, however, remains on the sidelines and contends that's still your best bet when dealing with an entity like NQ; where material changes could occur overnight, any day. The pricing of the common now shows that this market is in no way ready to take this company on their word, and I'm not quite ready to do so either. I continue to contend that NQ is a risk, and advise caution to all investors.
Disclosure: The author has no positions in any stocks mentioned, and no plans to initiate any positions within the next 72 hours. The author wrote this article themselves, and it expresses their own opinions. The author is not receiving compensation for it (other than from Seeking Alpha). The author has no business relationship with any company whose stock is mentioned in this article.