SanDisk Corporation (SNDK) belongs to the data storage devices industry, and designs and manufactures NAND-based storage products for enterprises and consumers. Its products range from microSD, embedded storage, to SSD, and most of its revenue is generated from the removable segment, which includes cards, USB flash drives and A/V players. After analyzing the security, SanDisk's score comes out to be 1.94, a weak buy.
(Click to enlarge)

Qualitative Analysis (1.5)
Outlook: Significant themes in technology include the rapid expansion of mobile devices such as smartphones and tablets, as well as the growth of the Internet of Things industry. These two themes will drive the growth of SanDisk's NAND-based storage products, as NAND flash memory serves as a critical component in their design. In addition, a growing trend in the PC market is the shift towards faster, better-performing SSDs over mechanical disks. If this trend continues to hold true, and technological advances and discoveries allow the price of SSDs to fall, SanDisk should be poised to capture the future growth.
There are three major factors to look out for in technology: total addressable market, growth rates, and technological edges. NAND demand is currently outpacing supply as a result of mobile and the IoT, and because of this, analysts expect the total addressable market for NAND to grow at a CAGR of 10% until 2017. Moreover, total hardware spending in the industry has seen a very steady climb over the past four years, which is worth noting. SanDisk is also already an industry leader, as it is a supplier to numerous manufacturers and its client and enterprise SSD products are qualified by well-known OEMs. In April, the company also announced that it is introducing 15nm technology, the most cutting-edge NAND flash process in the entire world. Senior VP Dr. Siva Sivarim states,
"We are thrilled to continue our technology leadership with the industry's most advanced flash memory process node, enabling us to deliver the world's smallest and most cost effective 128 gigabit chips. We are delighted that these new chips will allow us to further differentiate and expand our portfolio of NAND flash solutions."
Porter's Five Forces:
Threat of New Entrants - Weak. Manufacturing in technology is incredibly capital intensive, and the need to create fabrication facilities and spend money on R&D in order to remain competitive keeps away new companies from entering.
Threat of Substitutes - High. There is already much competition within the industry, and the continued growth of online storage is something to be weary of.
Bargaining Power of Suppliers - Weak. As with many other manufacturers, SanDisk has multiple small suppliers, allowing it to keep the bargaining power of any one supplier to a minimum.
Bargaining Power of Buyers - Moderate. Similar to the previous point, there are multiple small buyers. However, Apple (NASDAQ:AAPL) represents over 20% of its customers, allowing it to have huge leverage over the company.
Rivalry within the Industry - High. There is constant pressure on manufacturers to come up with cutting-edge products making the industry very volatile and prone to change.
MD&A 2013 10-K: In FY 2013, SanDisk saw a 20.9% increase in revenue largely due to the increased sales of its client and enterprise SSD products as well as its embedded memory products for mobile devices. Revenue grew in all geographic regions, but the largest increase came from the Asia-Pacific region, where the company was indirectly aided by mobile networks such as China Mobile (NYSE:CHL) opening up its markets to new phones. Additionally, the company's gross margin increased by 70% due to favorable industry supply/demand and a successful mix of enterprise SSD products and high-performance retail products. In the 10-K, the company stated that its biggest investment was its decision to invest into a vertically integrated business model by purchasing a majority of its supply through Flash Ventures. This business model will help the company to reduce its costs, improve the quality of its products, and assist logistics.
Q2 Earnings and Conference Call (July 2014): SanDisk announced an 11% YOY increase in Q2 revenue to $1.63 billion. Net income increased 4.58% YOY to $274 million. The company attributes these successes, again, to the growth of its SSD segments and its retail products. In the 2013 10-K, SanDisk stated that its priority going forward is its SSD line, and the Q2 results show strong signs of that as SSD solutions made up 29% of Q2 revenue compared to only 16% in the previous year. During the quarter, the company introduced five new products, including the industry's first 4TB SSD, a new 1TB SSD with the industry's first 10-year warranty, and an embedded flash memory solution for low and mid-end phones in emerging markets.
Ratio Analysis
Competitor's Ratios (3) - SanDisk does not have any huge divergences compared to its competition, as a majority of its ratios are in line or only slightly better/worse than their respective peer medians. Although the company posts a slightly higher PE ratio compared to its peers, its PB ratio of 2.85 is lower than the peer median of 3.61, showing that it may be trading at a discount. In addition, the company has higher margins compared to its competition, although profitability ratios such as ROA, ROIC and ROE are slightly worse than their medians.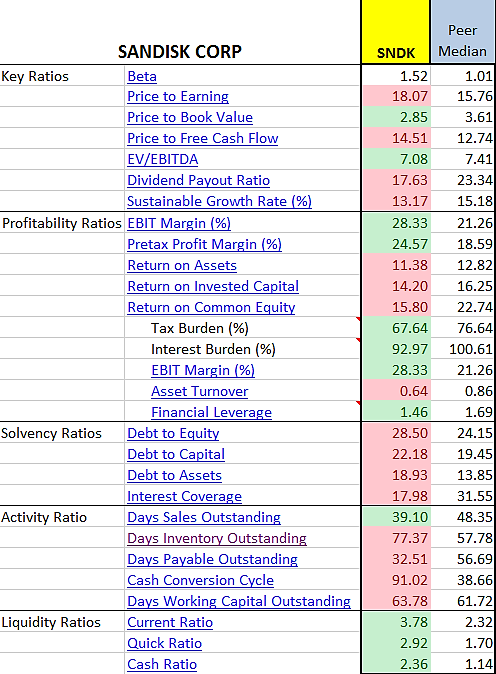 Ratios Overtime (2) - The company has an upward trend in almost all of its ratios, and its key ratios and profitability ratios are undoubtedly growing because of the company's performance in its key segments. It is worthwhile to note, however, that compared to previous years, the company has started to increase its use of leverage. Though, this could be due to larger R&D expenses in the industry as well as new acquisitions such as its planned takeover of Fusion-io.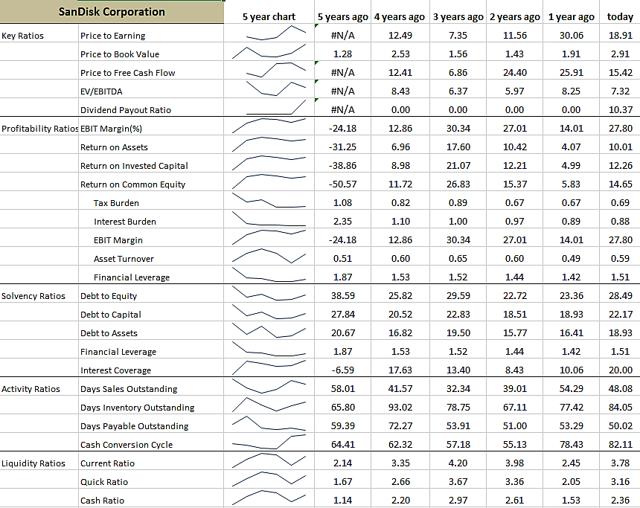 Tobin's Q Ratio (4) - According to the Tobin's Q ratio, SanDisk is overvalued at 1.84 because the value of its stock is more expensive than the cost of replacing its assets. The ratio also is above the peer median of 1.67. However, this measure does not hold a huge weight in the valuation due to being a simplistic measure.
R&D to Net Sales (1.5) - R&D to Net Sales is a useful measure in the technology industry because it helps investors understand how effectively a company utilizes its R&D expenses in order to generate sales. Compared to the peer median of 19.67, SanDisk has a value of 12.03, which can be interpreted to mean that the company is doing well, as it has seen consistent increases in revenues and sales while maintaining stability in its R&D expenses.
PEG Ratio (1) - With a low PEG ratio, investors can capture future earnings growth for a low price. SanDisk's PEG ratio is currently at a very low 0.89 compared to the peer median of 1.66, meaning that it is undervalued in this sense.
Put/Call Ratio (1) - With a put/call ratio of 0.19, the number of investors who believe that the price of SanDisk will fall in the future is only a fifth of the number of investors who believe that it will rise. This is an extremely bullish signal for the stock. Despite this, it is interesting to note that short interest has picked up over the past month.
Technical Analysis
Short Interest (3) - With short interest at 6.25% of all outstanding shares, this value is relatively low for SanDisk compared to other companies in the technology industry. However, short interest has picked up over the past month and is on a steady upward trend. This could be due to investor sentiment regarding the company's lowered guidance for the upcoming quarters.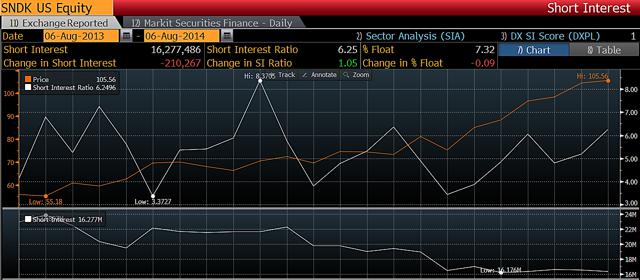 MACD (4) - MACD is currently well below the signal line, indicating that the stock has experienced strong downward momentum in its price. It should be noted that it has recently leveled out and is looking to trend up, meaning that it should soon see an increase in its positive momentum.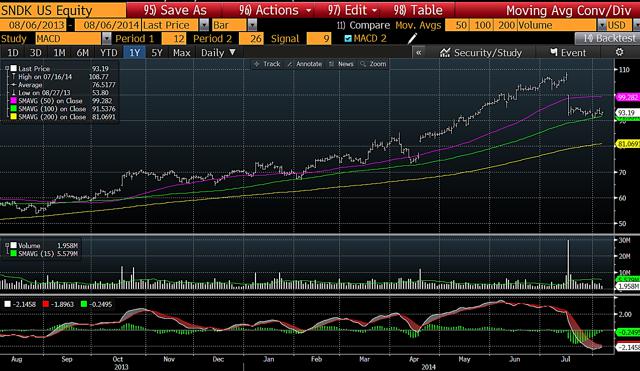 Bollinger Bands (1.5) - When short interest hits the lower bound, it is interpreted that a security may be oversold and presents itself to be a good buying opportunity. Using two standard deviations, SanDisk is currently near that point.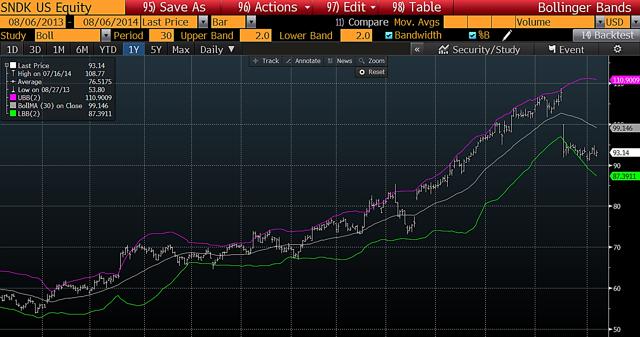 Valuation
DCF (1) - Utilizing DCF analysis on large-cap hardware companies such as SanDisk works effectively because at this point in their development, they seek out quality earnings. The assumption for sales growth is based on the company's guidance taken from its 2013 10-K, and it is moderately high as SanDisk plays a vital role in supplying the needs of the industry for flash memory in mobile devices and the Internet of Things. Also, with SSDs becoming more prevalent solutions for data storage in hardware, the company is expected to capture that growth. In FY 2013, the company's EBIT margin came out to be 27.80%, representing an upward trend over the course of two years. The DCF, however, uses a slightly more conservative measure of 20.00% projected out for each of the future years. Capital expenditures can become difficult to predict in the industry, so the DCF uses a modest 1.00% CapEx/Sales to model the company's history. The base case predicts SanDisk's value per share to be 102.13, a 10.97% premium. The bull case predicts 110.63 (highly undervalued) and the bear case predicts 80.54 (overvalued). Note: The DCF uses at-the-surface data taken from the financial statements in FactSet.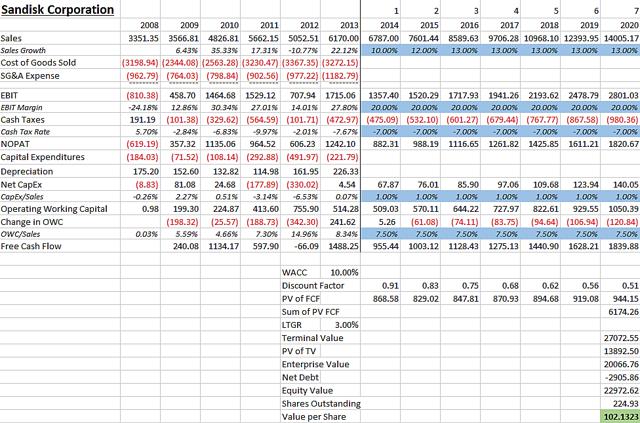 CAPM Alpha (4) - Using a three-year data set of weekly returns from 2011 to 2013, the CAPM regression model yielded an intercept of -0.1497, meaning that SanDisk returned 14.97% below expectations each week during that time frame.
Fama-French Alpha (2) - Fama-French is more sophisticated than CAPM in the sense that it is a three-factor model. Fama-French regression comes out with an intercept of 0.0559, meaning that SanDisk returned 5.59% above expectations each week. The SMB intercept is -0.6171, indicating that the stock has a fairly strong negative correlation with small-cap securities. The HML intercept also is negative, but comes out to -0.1468. These values may be because SanDisk, as well as many other companies in the technology industry, are showing growth due to new industry trends.
Regression - Performing a P/E regression shows that SanDisk is highly undervalued, although the astronomical predicted share price should not be taken to heart. The ROE Decomp also indicates that the stock is undervalued. Performing a P/B regression, however, shows that the stock is currently trading above its fair value. The EV/EBITDA regression shows that the company's predicted ratio is higher than its current value. For the custom factor regression, operating margin was used. In the industry, operating margin is a key measure because high margins show that a company has a technological edge. This is why in technology, there are numerous articles speculating on gross margins and related measures such as Build of Materials breakdowns. Using the custom factor regression, SanDisk is shown to be trading at a discount.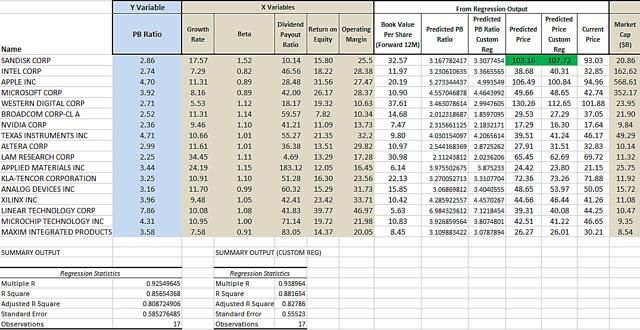 Conclusion
Especially with the hit SanDisk took over the past month, the company is a clear buying opportunity for investors looking for exposure to the data storage industry. SanDisk is set to capitalize on ongoing industry trends and the company's valuation indicates that it is undervalued at its current price point.
Disclosure: The author has no positions in any stocks mentioned, and no plans to initiate any positions within the next 72 hours. The author wrote this article themselves, and it expresses their own opinions. The author is not receiving compensation for it (other than from Seeking Alpha). The author has no business relationship with any company whose stock is mentioned in this article.