"What a difference a day makes." No, it's not just an expression, but the title to the age-old song. I suppose many market participants could have sat back yesterday (Wednesday, December 1, 2010), grinning at their screens and humming the melody that goes with the song's lyrics:
What a difference a day made, twenty four little hours.

Brought the sun and the flowers, where there used to be rain….

What a difference a day makes, there's a rainbow before me.

Skies above can't be stormy, since that moment of bliss, that thrilling kiss.
The 'kiss' of course must refer to the one that Jean-Claude Trichet, President of the European Central Bank, blew to the markets in the form of his warning not to be underestimated in his resolve, and that of financial officialdom in Europe, to contain and to tackle the current fiscal stresses. Couple that with China's strong PMI, the positive economic news that we received in the US with ADP payrolls climbing over 90k, the President headlining with a push for some form of tax deal by yearend (ie: within the next 4 weeks) and the Deficit Commission airing details of their plan, and you have the recipe for the mother of all kisses in the form of yesterday's 250 point move in the Dow (DJIA closed up 249.76).
Surprised?
Only if you've been betting against 'political will', meaning, the desire for political officials around the world to do what's necessary to avoid a return to the '08 abyss. Now, don't misread…this is not an endorsement of 'politicians' per se…far from it. In fact, seeing the US Senate effectively kill the bill that would have attempted to do away with 'earmarks' was quite disheartening. That said, there continues to be reasonable evidence that in times of perceived crisis, politicians and other officials in financial positions of power, are rising to the occasion and finding new 'weapons of crisis destruction' with which to calm markets and try to propel economic growth.
When the day comes that the "will" part of "political will" gets called into question, I'll re-examine the entire global investment outlook. For now, though, the basic premise that I laid out in "Portfolio Positioning with Caution and Bullishness" and before that, in "Portfolio Shifts in the Face of 'New' Risks" still stand. (I'd urge a read or re-read of both of those articles for more detail).
While each investor is obligated to opine and decide for themselves as to the appropriateness of anything written in this article to their unique financial profile, risk tolerances and portfolio goals, by discussing the moves I've made in my managed accounts, I'm only aiming to provide some food for thought, NOT personalized investment advice in any way.
Here are some things to chew on: Since writing those articles I've added to Energy positions in SLB and DVN. In the Materials space I added NUE. In Industrials I added some UTX. When Utilities have lagged an up-trade in the overall market, I've added to ED, DUK and EXC. And finally, I've added to the REITs involved in the senior care business, OHI and SNH.
Without going into detail on each stock, there are a couple of comments specific to some of the names mentioned that might shed light on my personal portfolio perspectives:
NUE: I wrote about NUE back in September, two articles, "Something NUE to Consider" and "Time to Take a NUE View". While some of the financial information needs updating, many of the premises still hold. I have owned NUE for some time and have not been pleased with its price performance.
click to enlarge images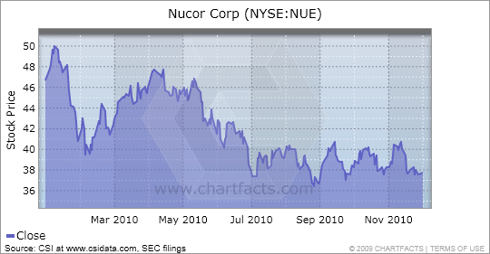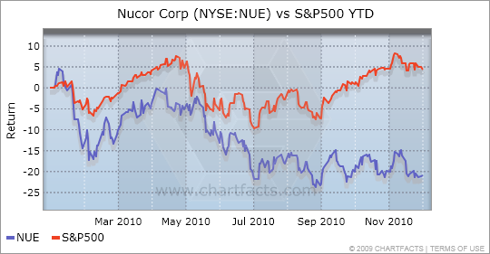 (Source: ChartFacts.com)
What I have been pleased with is its 3.8% dividend and the view, in my mind, that as the US economy continues to bottom and climb, demand for steel will grow. There are reasons that the stock has languished, one being their highly concentrated business in the slow-growing US, which means they're not involved in the more robust growth countries in Emerging Markets. There are others including delays in building a pig iron plant in Louisiana, stiff competition in various components of their overall business and Chinese overproduction of, and therefore excess supply of, certain products central to NUE's revenue generating capability. That said, there are some counterbalancing positives that keep it compelling for someone with a positive view on growth in the US in 2011….as Morningstar.com noted in their October report:
Nucor's balance sheet is much stronger than its peers, positioning the company to seize growth opportunities and gain market share….The company's vertical integration through its scrap processing subsidiary mitigates earnings volatility when scrap prices fluctuate and helps ensure adequate supply to Nucor's steelmaking operations, as weather disruptions and strong overseas demand can cause shortages in the U.S. scrap supply….Nucor developed and holds exclusive rights to the breakthrough Castrip technology, which significantly lowers operating costs and demonstrates Nucor's position as a leading innovator in the industry.
UTX: This is one of those stories that begin with "a funny thing happened to me on the way to…", in this case, reading about China. I discovered that Chinese authorities are considering opening up their airspace to smaller private and commercial aircraft. So what? So that led to a hunt for companies that are involved in the small craft business who might benefit from the opening of the Chinese skies. Several helicopter and small aircraft manufacturers emerged as likely candidates, but along the way I spent considerable time digging into UTX, a conglomerate of sorts, most notably of iconic brand name companies such as Otis Elevators, Pratt & Whitney engines and Sikorsky helicopters.
With well over 50% of sales coming from international markets, this company fits well with my view of global growth in emerging and emerged countries around the world. To be sure, UTX's businesses that are dependent on US military purchases are likely to face headwinds especially as the Deficit Commission suggestions evolve from "ideas" to "laws", but the breadth of product line and expanse of geographic reach should help to offset those drawbacks. In late October after the company released its Q3 results, Morningstar analyst Anil Daka noted:
Our overall thesis on United Technologies is unchanged after reviewing the firm's results. While we expect the firm's end markets to continually improve with time, its numerous cost-cutting measures are keeping margin upside alive at the firm. Further, the firm's $5.7 billion war chest will enable it to make acquisitions, buy back shares, or reinvest money back into its businesses, as it attempts to improve earnings under uncertain economic conditions.
SNH: In my recent article "Portfolio Positioning with Caution and Bullishness", I mentioned that I had added SNH, which ignited a flurry of reader comments about the senior care sector of the REIT business and specifically with regard to the anticipated impact of Obamacare on the company itself. The string of Comments is worth a read. To sum, after communicating directly with the company and digging through the Q3 10-Q Report, I reflected that a substantial majority of SNH's business is not reliant on government reimbursements, and the one sector that is most vulnerable to cuts in Medicare/Medicaid, namely, the Skilled Nursing business, is one that SNH has been underemphasizing and in fact reducing as a percentage of their portfolio in recent years.
That said, Obamacare is still considered a risk given how many uncertainties exist as to its impact once it's rolled out over time. In the Comment string, we also addressed the so-called "dividend" that SNH pays, currently 6.6%. Readers will need to speak to their own tax advisors for specifics, but generally, REIT payments to shareholders are not considered qualified dividends subject to the beneficial tax treatment, but rather comparable to interest income and taxed accordingly. Therefore, investors should consider the 'after-tax' payout when comparing to other stocks that pay qualified dividends. Of course if this is held in a qualified retirement account, this shouldn't be a consideration, but you MUST check with your own accountant and tax counsel to get facts specific to your situation.
Finally, a parting thought on yesterday (December 1, 2010)....Just as yesterday was appropriate for the entire song mentioned above to be sung, these markets seem to offer the opportunity to at least recite the opening stanza pretty often (what a difference a day made, twenty four little hours)! That said, as much as the world felt pretty safe and secure today, I for one am not forgetting how it felt yesterday and in fact, for several days before. Korea tensions, Chinese foot on the brakes, eurozone battles with 'bond vigilantes', US political paralysis, painful unemployment, housing and mortgage crises....In the words of the song above, these are indeed "rains" that "used to be" but can be again! And the skies can in fact get stormy again. And when they do, who or what will be there to throw us a kiss??
Disclaimer: Please read and consider important information related to all communication made by Soos Global on Seeking Alpha by clicking here.
Disclosure: Long FXI, SLB, DVN, NUE, UTX, ED, DUK, EXC, OHI, SNH, and many stocks in SPX and QQQQ. Positions can change at any time without notice.