As a relatively young dividend growth investor in her late 20s, I take opportunities to sprinkle some higher growth companies into my Whistler Income and Growth portfolio. I felt the opportunity came when Qualcomm (NASDAQ:QCOM) pulled back by about 12% from $82 to $73. In my portfolio, Qualcomm serves to be a holding for higher growth and one which has a dividend growing in the double digits as well. So, Qualcomm is a capital gain and dividend growth play.
About Qualcomm
Qualcomm is the global leader in 3G, 4G and next-generation mobile technologies, and has about 26,600 employees spread across 188 locations around the world. Qualcomm includes its licensing business and its vast portfolio of patents.
Qualcomm's Business Model
"Through our own R&D accomplishments and through strategic partnerships with other forward-thinking companies, Qualcomm develops the breakthrough technology wireless companies need to power their business. We then openly license these innovations across the wireless industry, providing all companies - big or small - an equal opportunity to shape the future of wireless."1
Qualcomm's Revenue
From FY2004 to FY2013, Qualcomm's revenue grew from $4,800M to $24,866M. That is a compounded annual growth rate (OTCPK:CAGR) of 20%, while from FY2010 to FY2013, the rate is even more impressive at 31%.
Qualcomm has three main revenue streams:
Qualcomm CDMA Technologies (QCT) - QCT develops and supplies integrated circuits and system software for use in voice and data communications, networking, application processing, multimedia and global positional system products. These products are sold to and/or licensed to manufacturers which use Qualcomm's products in wireless devices, most notably, mobile phones.
Qualcomm Technology Licensing (QTL) - "QTL licensing revenues are comprised of license fees as well as royalties based on worldwide sales by licensees of products incorporating or using (Qualcomm's) intellectual property. License fees are fixed amounts paid in one or more installments. Royalties are generally based upon a percentage of the wholesale (i.e., licensees) selling price of complete licensed products. Revenues generated from royalties are subject to quarterly and annual fluctuations. The vast majority of QTL revenues have been generated through our licensees' sales of CDMA2000- and WCDMA-based products, such as feature phones and smartphones."3
Qualcomm Wireless and Internet (QWI) - QWI consists of 4 divisions: Qualcomm Internet Services, Qualcomm Government Technologies, Qualcomm Retail Solutions, and Qualcomm Strategic Initiatives.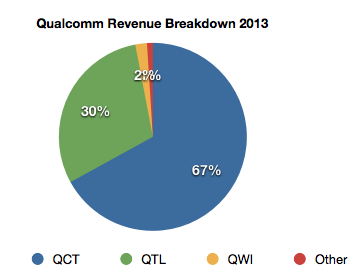 Qualcomm Valuation and Estimated Earnings
The F.A.S.T. graph below shows that the fair value estimation is $85, which means it's trading at almost a 17% discount. Coincidentally, Morningstar.com also gives a fair value estimate of $85, rating Qualcomm as a 4-star, undervalued company.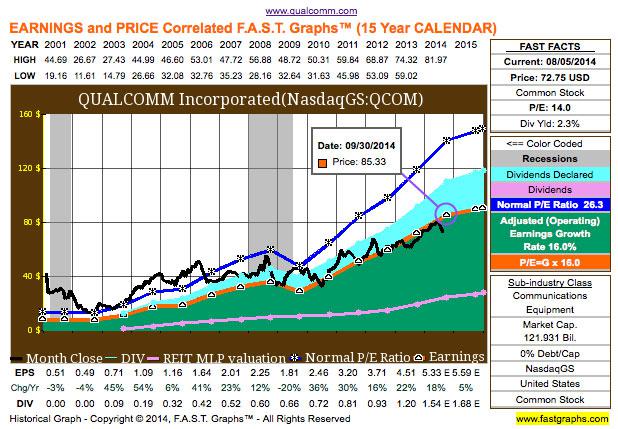 F.A.S.T. Graphs also indicate consensus analyst estimated earnings for Qualcomm for the next five years is at 13% annually.
Qualcomm's Dividend and Dividend Growth
Qualcomm currently yields 2.3%, which to my surprise is its all time high yield point.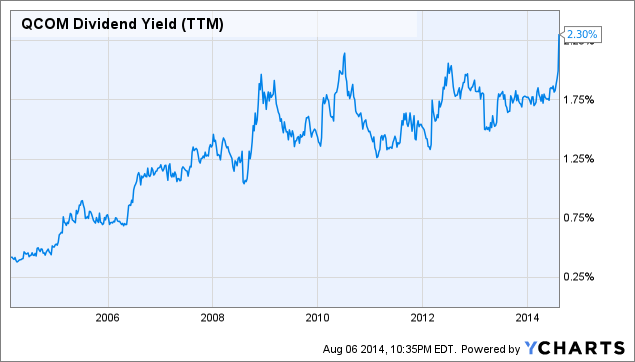 QCOM Dividend Yield (NYSE:TTM) data by YCharts
Management at Qualcomm has shown commitment to share profits with shareholders by paying out higher dividends. Qualcomm has been raising its dividend for 12 consecutive years. For the past decade, its payout ratio hit a low of 18.5% in 2004 and a high of 69.4% in 2009, but the ratio has generally oscillated between 25% and 35%. Its current payout ratio is 35.4%. If we expect Qualcomm to keep its payout ratio the same, then we can expect its dividend to grow 13% shall the estimated earnings growth rate materialize.
| 1-yr DGR | 3-yr DGR | 5-yr DGR | 10-yr DGR |
| --- | --- | --- | --- |
| 34.7% | 20.7% | 16% | 26.9% |
Dividend growth rates sourced from David Fish's Champions, Contenders, and Challengers of July 31 2014.
FY2014 Q3 Earnings Release
"We are pleased to report another record quarter with revenues, earnings per share and chip shipments reaching all-time highs, driven by broad-based demand for our industry-leading 3G/4G chipset solutions. Looking forward, although we have lowered our near-term financial outlook for the licensing business, we are pleased to be raising our fiscal year earnings per share guidance on better than expected performance in our semiconductor business," said Steve Mollenkopf, CEO of Qualcomm Incorporated.2
Third Quarter Results (GAAP)
| | | YOY | Sequentially |
| --- | --- | --- | --- |
| Revenues | $6.81B | 9% | 7% |
| Operating Income | $2.08B | 24% | 4% |
| Net Income | $2.24B | 42% | 14% |
| Diluted EPS | $1.31 | 46% | 15% |
| Operating Cash Flow | $2.67B | 29% | - |
Qualcomm also returned $2.06B to shareholders, including buying back $1.35B (17M shares) of common stock and paying out dividends of $706M ($0.42 per share).
Third Quarter Results (GAAP) data2
Stock Repurchases
During Q4 of FY2014, Qualcomm expects to complete at least $1B in stock repurchases. The diluted earnings per share estimate in the table below already reflects the effect of the repurchases.
Qualcomm's Business Outlook Summary
Although total device sales is expected to decrease, the MSM chip shipments continue to grow strong. Notably, earnings per share is anticipated to continue to grow in the double digits, which ensures the safety of the dividend and its future growth.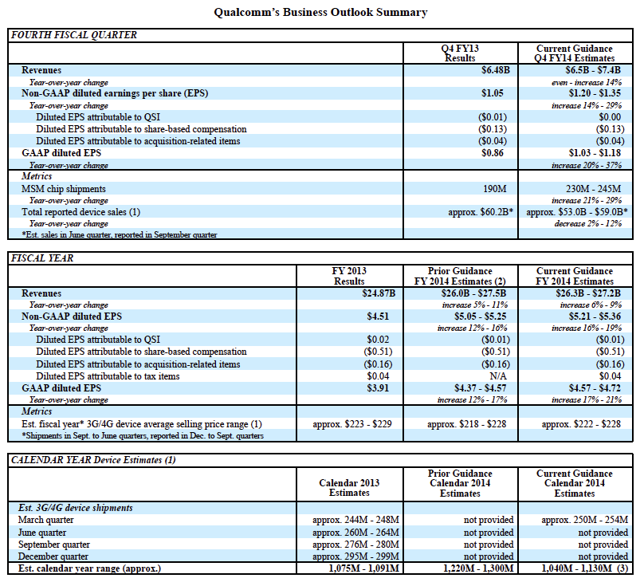 Tables from p5 of Q3 Earnings Release2
China Concerns
China continues to present opportunities for Qualcomm, especially with the rollout of 4G LTE. However, at the same time, therein lie challenges such as Qualcomm's "business practices continue to be the subject of an investigation by the China National Development and Reform Commission (NDRC)." In addition, "(Qualcomm) believe(s) that certain licensees in China currently are not fully complying with their contractual obligations to report their sales of licensed products to us (which includes certain licensees underreporting a portion of their 3G/4G device sales and a dispute with a licensee) and that unlicensed companies may seek to delay execution of new licenses while the NDRC investigation is ongoing."2
The Chinese government doesn't seem to like non-domestic companies very much, so I'm afraid there's no way around the NDRC investigation, but the company will try and keep a good relationship with them. Also, the issue of licensees underreporting of sales is unlikely to be resolved in the short-term.
Additionally, in 2013, almost half of Qualcomm's revenues came from China.
| | China | South Korea | Taiwan |
| --- | --- | --- | --- |
| FY2013 Revenue | 49% | 20% | 11% |
| FY2012 Revenue | 42% | 22% | 14% |
| FY2011 Revenue | 32% | 19% | 17% |
Data from Qualcomm 2013 Annual Report3
Conclusion
Even though the underreporting of sales in China is concerning, it doesn't change the fact that Qualcomm is priced at a 16% discount. That is why I added to my position at the end of July around $74. Now, it is even cheaper around $73. Qualcomm has what seems like a low yield of 2.3% (but it's still 23% higher than SPY's yield of 1.86%), but grows its dividends at a double-digit rate. I expect that to continue. Furthermore, I expect that as the dividend grows, the capital gain will also come.
References
Disclosure: The author is long QCOM. The author wrote this article themselves, and it expresses their own opinions. The author is not receiving compensation for it (other than from Seeking Alpha). The author has no business relationship with any company whose stock is mentioned in this article.